Lawn Care Solutions
Lawn Products & Care
In addition to great advice, your local SummerWinds Nursery carries a variety of products to help you grow and maintain a healthy lawn all year round!
Grass Seed
At SummerWinds, we offer two types of grass seed so you can enjoy a lush lawn all year long! For healthy summer lawns, we offer Bermuda grass seed. And for winter lawns, we offer Ryegrass seed. Click the buttons below, to learn more.
Soil Conditioner & Seed Cover
Once you've prepped the surface and spread your new grass seed, we recommend lightly covering the seed with SummerWinds Soil Conditioner & Seed Cover (no deeper than 1/4 of an inch). This will help keep the seeds moist between watering and provide cover from opportunistic birds.
Lawn Fertilizers
We have three different types of lawn fertlizers available:
---
Solutions to Pests & Disease
Lawns are susceptible to pests and disease. Following are highly effective products that will help you maintain a healthy lawn:
BioAdvanced Season-Long Grub Control plus Turf Reviatalizer: Creates a season-long protective zone to kill Grubs before they do damage. Protects against over 15 types of pests. Plus, it strengthens roots for thicker turf! Designed for all types of lawns.
BioAdvanced Complete Insect Killer: Kills more than 40 insects, and kills surface insects in 24 hours. Provides 3 months of subsurface protection. Developed for all types of lawns, and can also be used on ground covers, in flower beds, and around trees and shrubs.
Tip Top Bio-Control beneficial nematodes: Tip Top Bio-Control beneficial nematodes can be added to your soil. Nematodes are microscopic worms that naturally occur in the soil and are a predator to over 200 wood boring and soil dwelling pests. Will attack grub worms and larvae safely and naturally, and is an alternative to chemical pesticides.
Fertilome F-STOP™: Developed for, "Picture-Perfect, Disease-Free Turfgrass." Provides systemic prevention and control of turfgrass diseases. Prevents over 15 major lawn diseases. Designed for use on all tyeps of home lawns. One application protects for up to 4 weeks.
---
Learn More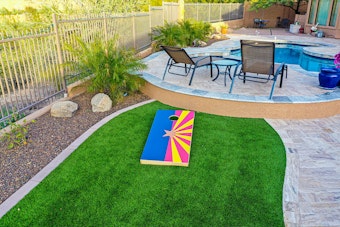 To learn more about caring for your lawn and how to best utilize these products, check out the following blogs:
To learn more about how to grow and care for a beautiful lawn all-year long, speak with one of our Trusted Garden Advisors.