Soil Amendments

Soil Amendments
Nutrient-rich soil is key to your plants' succuess! Knowing what type of soil your plants need, what type of soil you have, how to amend and fertilize your soil, and what options you have for organic pest and weed control will ensure that your plants thrive!
The experts at SummerWinds Nursery can help you navigate all of these choices and select the best high-quality, nutrient-rich soil amendments.
---
Soil Amendments & Conditioners Include:
SummerWinds Natural & Organic Planting Mix (developed with E.B. Stone Organics) – This all-purpose natural and Organic transplanting mix is ideal for all types of flowers, vegetables and ornamentals, including annuals, perennials, ground covers, shrubs, fruit and shade trees. Now registered cdfa! For Best results, pair with E.B. Stone Organics Sure Start fertilizer.
Bio-Flora® Compost Exclusive Composted Nutrients – Designed to meet the highest standards for compost amending soil.
Chicken Manure (by E.B. Stone Naturals) – Works as both a fertilizer and soil amendment. Great for starting a new garden.
Citrus & Palm Planting Mix (by E.B. Stone Organics) – Ideal mix for all citrus, palms and other tropicals. Blended to provide excellent aeration and water retention so that your plants thrive. Can be used on its own as a potting mix for citrus, palms and tropical plants. Registered cdfa.
Happy Frog® Soil Conditioner (by FoxFarm) – This hand blended soil conditioner helps to reduce the acidity in soil, loosen clay soil and aids in healthy root development.
HuMic Granular Humic Acid (by Fertilome) – A highly concentrated soil conditioner that makes a great soil amendment for use in vegetable gardens, flower beds, indoor plants and compost bins. Derived from the remains of decomposed organic plant materials, humic acids enhance nutrient uptake, stimulate soil microbial life and encourage root development.
Organic Compost (by E.B. Stone Organics) – Ideal for anything from vegetable gardens to flower beds, shrubs and trees, this compost helps loosen soil, adds organic matter and encourages strong root growth. Also a good seed cover for lawns. Registered cdfa.
Raised Bed & Potting Mix (by E.B. Stone Organics) – An ideal soil for any raised bed. Can be used alone or mixed with garden soil. Designed with carefully selected, premium ingredients. Registered cdfa.
Rose & Flower Potting or Planting (by E.B. Stone Organics) – A versatile mix that can be used as either a soil amendment or a potting soil. This 100% natural and organic, slightly acidic, soil mix was blended for growing roses and flowers. Registered cdfa.
Soil Booster (by E.B. Stone Organics) – A unique blend of 100 percent natural and organic ingredients designed to create the ideal soil conditions for your herbs, vegetables and flowers to reach their full potential. Can be used as a soil conditioner to break up hard clay soil, and to add organic material to help sandy soils hold onto water and retain nutrients. Registered cdfa.
Soil Conditioner & Seed Cover (by SummerWinds) – This 100% Organic composted mulch will help turn hard packed clay soil into a richer more productive soil in which flowers and vegetables will thrive. When used in sandy soil, it aids in the retention of moisture, which reduces the frequency of watering and feeding of plants. An excellent cover for newly seeded lawns. Helps seeds germinate by retaining moisture.
Top Soil Plus (by E.B. Stone Naturals) – A unique blend of sandy loam, redwood compost and mushroom compost. This general purpose soil mixture was developed for virtually any outdoor use—as a fill material in a garden area that needs rebuilding or as a soil conditioner in the garden. For best results, use one part Top Soil to one part native soil in any gardening application. Because it doesn't contain any nutrient value, we recommend using it in conjunction with an E. B. Stone fertilizer (such as their All Purpose Plant Food) to organically fertilize your entire garden.
---
Grow It Coco Coir Mix – Retains up to 8 times as much water as regular soil and improves aeration. Use indoors or out as a water-smart alternative to traditional potting mixes. Ideal for houseplants, tropicals, flower beds and hydroponics.
---
Gypsum – Gypsum is particularly good for tomatoes due to its calcium content. At SummerWinds Nursery, we offer three types of Gypsum:

Arizona's Best Gypsum – Helps neutralize soil, loosen compact soils and promotes strong root growth. Gypsum has a natural slow release component and thus can be used as an amendment before planting or to amend soil any time of year.
Arizona's Best Lawn & Garden Gypsum – Works well to loosen compact soil and clay and improves drainage and moisture retention.

E.B. Stone Naturals Granular Gypsum – Supplies calcium and sulfur to the soil. Used to help overcome alkali soils and to loosen clay or adobe soils.
---
Lava Sand – We offer two brands of Lava Sand:

The Organic Garden Guy's Lava Sand Extreme Soil Builder – This all natural, lava sand soil builder is earth-friendly. This product absorbs nutrients and water and then slowly releases them back into the soil without affecting the pH value of the soil. Encourages root growth and excellent drainage.
Nature's Way Lava Sand – Helps to retain moisture and nutrients for all types of plants. Can be used once a year as a mineral supplement or as a top dressing for fresh sod.
---
Peat Moss – We offer two brands of Peat Moss:

E.B. Stone Organics Peat Moss – Improves moisture retention for any soil. Registered cdfa.
Sunshine Peat Moss – A natural way to condition and aerate your soil.
---
Perlite – We offer two types of Perlite:

E.B. Stone Organics Perlite – Excellent for loosening up potting mixes. Pair with E.B. Stone Organics Seed Starter Mix .
Uni-Gro® Perlite – Ready to use perlite will work with all plants as well as seed starting. Can be blended with soil to increase aeration.
---
Play Sand – GardenTime Play Sand is great for kid's sandboxes and also as a mortar or base material for bricks and pavers. This is a super fine-grained sand comparable to what you see on the beach.
---
Soil Moist Granules – These eco-safe, water-storing granules absorb and release water in the soil as needed. Designed to reduce plant waterings by 50% and last several seasons. Reduces transplant shock. Great for use with both indoor and outdoor container plants.
---
Soil Sulfur – We offer three types of Soil Sulfur:

E.B. Stone Naturals Soil Sulfur – This essential plant nutrient helps adjust the pH level of your soil and helps plants maintain their green leaves. Also assists plant in the use of nitrogen fertilizer.
Arizona's Best Soil Sulfur – Acts as a soil conditioner by helping to lower the pH in excessively alkaline soils, helping to maintain green color in plants. Because of its natural slow-release characteristics, Soil Sulfur can be used any time of the year either as a pre-plant soil conditioner or after planting. Avoid application during periods of extreme heat in the summer months.
Hi-Yield Soil Sulfur – Increases acid in soil and is ideal for vegetables, lawns and any plant that thrives in acidic conditions.
---
Steer Manure – Gro-Well El Toro Steer Manure Compost is a great way to amend soil in the spring and fall. Best for gardens and seed covers.
Vermiculite – Uni-Gro® Vermiculite is an organic soil additive that increases water retention, aeration and slowing nutrient release. Excellent for use in containers.
---
Worm Castings – We offer two types of Worm Castings:

E.B. Stone Organics Super Earthworm Castings – An ideal addition to local soils, this organic soil conditioner helps improve the overall health of your soil. Registered cdfa.

WormGold® Plus Pure Worm Castings – Great organic addition to potting soil mixes. In addition to being used as a soil amendment, can also be used for making compost tea.
---
Watch our "How to Prep Your Soil" Video
The quality of your soil is essential to a successful garden. Watch our How to Prep Your Soil video to learn how to prepare your soil for planting vegetables or flower beds.
---
Potting Soils, Fertilizers & Organic Controls
In addition to soil amendments, SummerWinds Nursery offers a wide variety of potting soils, fertilizers, natural and organic garden care products, and organic pest and weed controls—all for exceptional plant growth and development.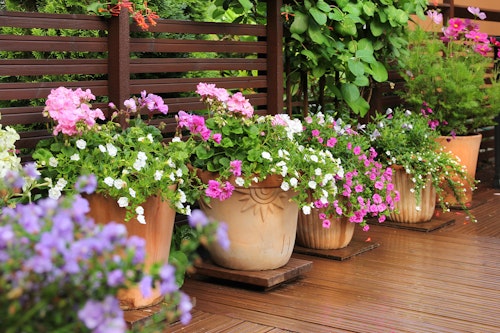 At SummerWinds Nursery, our Trusted Garden Advisors are available to answer all of your questions about how to create the ideal growing conditions for your plants. Visit your local SummerWinds Nursery today.