Aquatic Plants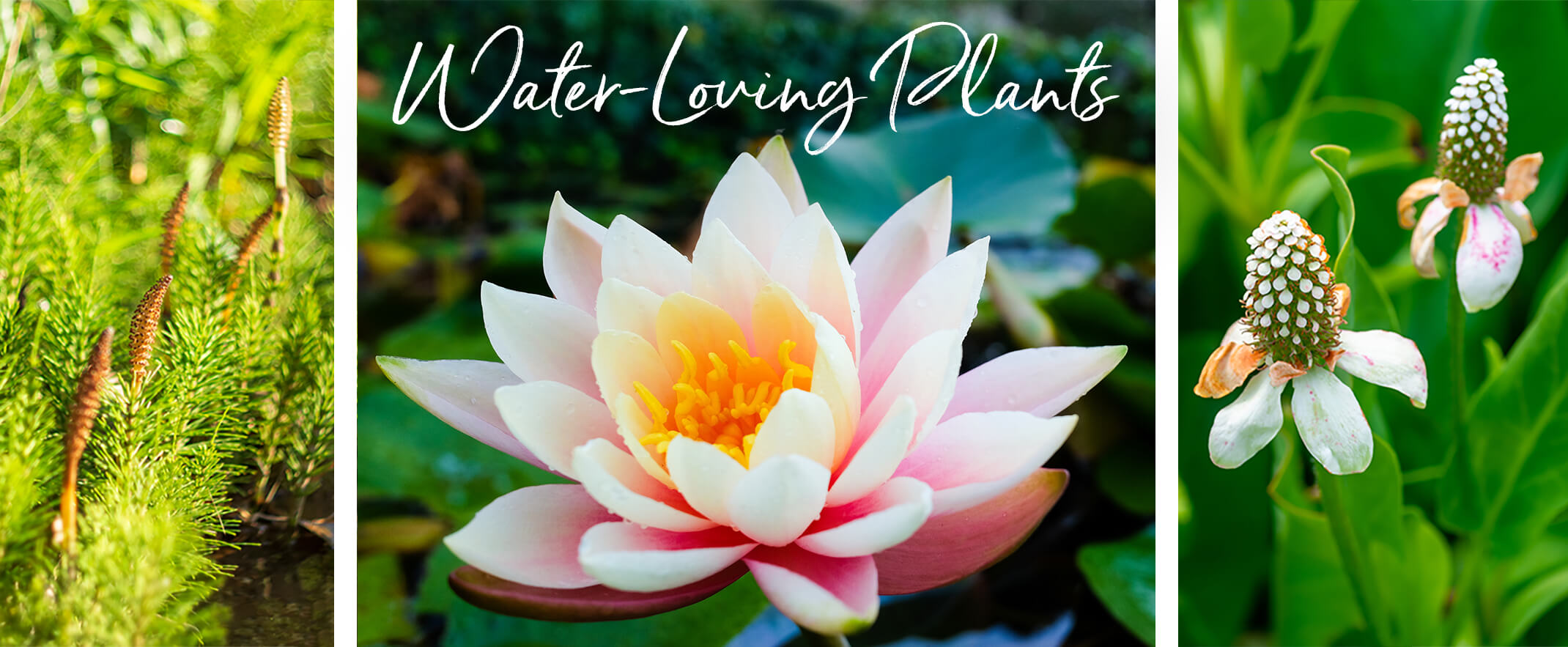 Aquatic Plants
There are different types of water plants that are essential to maintaining a balanced pond or water garden. Below are some favorites, typically available seasonally at your local SummerWinds (but currently unavailable).
---
Marginal Plants
Margin plants, also known as emergent plants, are aquatic plants that grow around the edges of your water garden. Their roots are below the waterline and their foliage grows above. These include the following plants: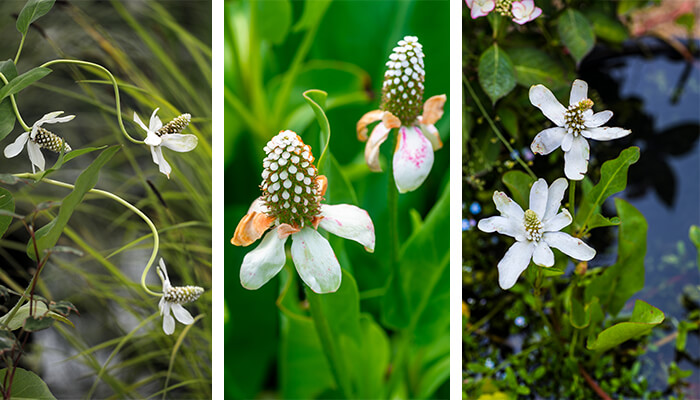 Yerba Mansa
(Anemopsis californiaca)
- This flowering perennial is also known as Lizard Tail. Numerous small white flower bloom in spring. This upright, spreading plant has a pleasant fragrance is fast growing. As the blooms mature they develop red stains and ultimately turn bright red in the fall. Prefers part shade to sun. Plant goes dormant in late summer and re-grows from its roots in late winter.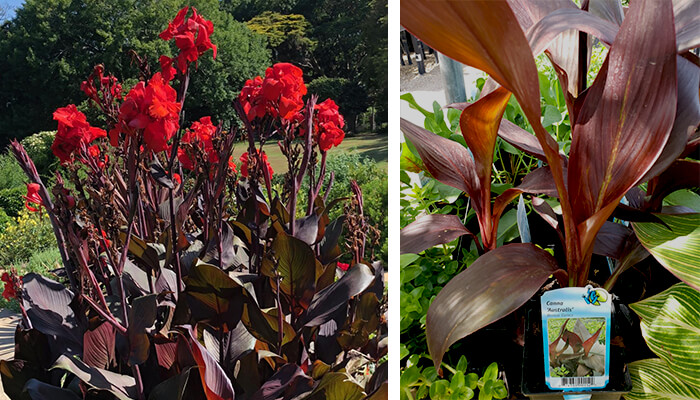 Bronze Water Canna
(Canna Australia)
- This tender perennial boasts bright red-orange flowers and blooms repeatedly late spring thru mid-fall. Has evergreen, herbaceous burgundy-bronzish foliage. Prefers full sun and grows 6 to 8 ft. tall.
Giant Dwarf Papyrus
(Cyperus percamenthus)
- Also known as Oxymoron Papyrus. This easy to care for, spredding, green, grass-like perennial can grow to 2.5 feet tall. Prefers full sun to part shade. Recommend wintering indoors.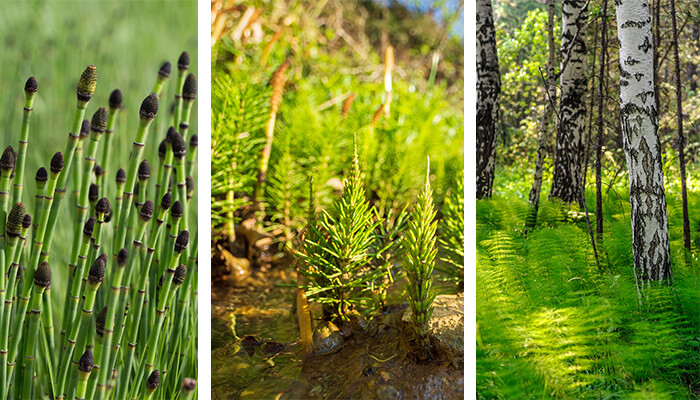 Horsetail
(Equisetum varieties)
- These perennial living fossils are spredding herbs with rhizomes. They are hollow and have jointed stems with leaf nodes. Their small, whorled leaves fuse into sheaths and terminal spore cones. There are numerous varieties available.
Burgundy Aquarius Hibiscus
(Hibiscus acetosella 'Burgundy Aquarius')
- This herbaceous perennial boasts showy deep-red flowers with glossy burgundy foliage. Blooms mid-summer to early fall. Attracts butterflies and hummingbirds. Quickly grows up to 5 feet tall and 2 feet wide. Prefers full sun to partial shade.
Louisiana Iris Mix
(Iris ser. Hexagonae)
- Also known as the Dixie iris, this spredding rhizomatous perennial has boasts small groups of spring-blooming flowers, usually in various shades of blue—purple. Has yellow-green to bright green sword-shaped leaves. Grows approximately 1-3 feet tall. Available in numerous varieties, most of which prefer full sun.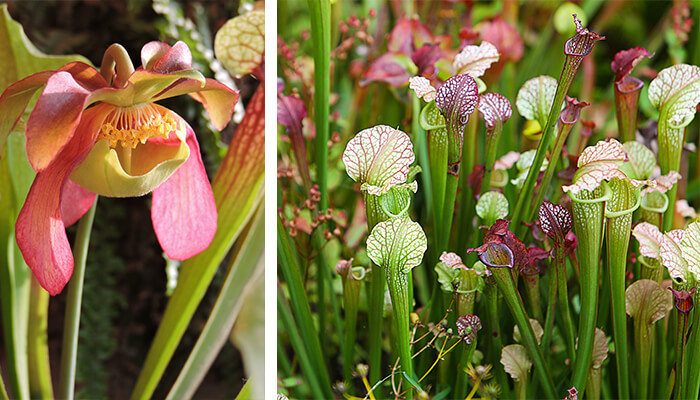 Pitcher Plant
(Sarracenia varieties)
- Loved for their large, showy and colorful flowedrs and foliage. These carnivorous plants use insects that get caught in their funnel-shaped traps as a source of nutrients. Available in numerous varieties.
And many more varieties...
---
Oxygenators
Submerged water plants act as oxygenators in your pond. These fully-immersed plants have a number of beneficial functions, including: filtering the pond water, keeping algae growth in balance, providing oxygen to the water, providing shelter to fish, and filtering out pollutants. Oxygenator plants include: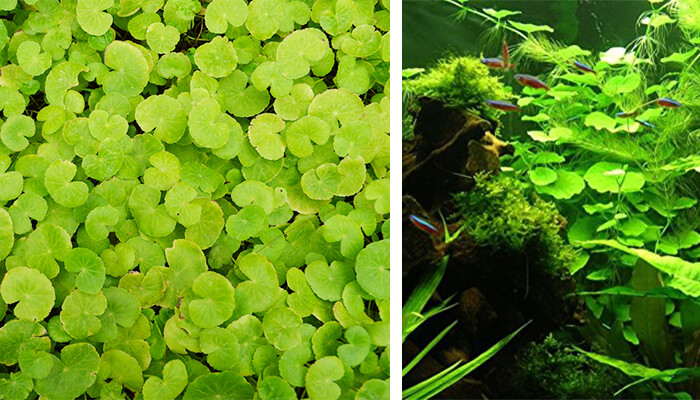 Brazilian Pennywort
(Hydrocotyle nova zealandiae)
- This mid-summer blooming plant enjoys full sun, to light shade.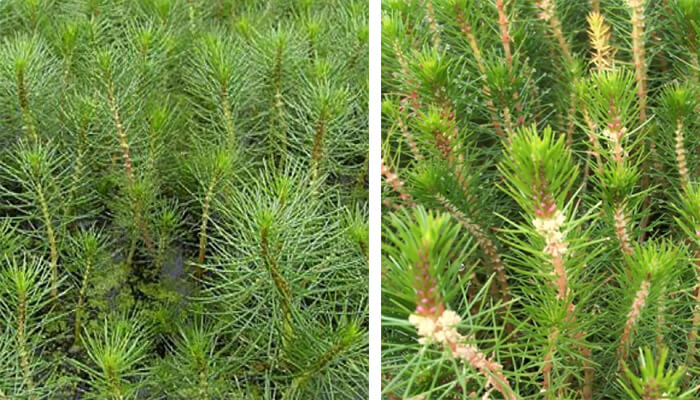 Parrot's Feather
(Myriophyllum proprium)
- Boasts a profusion of delicate, feathery, bright blue-green whorled leaves. Stems can be up to 5 feet long. Blooms July to August. Enjoys full sun to part shade.
---
Water Lilies
At SummerWinds, we have offer both Tropical and Hardy Water Lilies.
The main difference between Tropical and Hardy Water Lilies is their response to cold. As their names suggest, Tropical Water Lilies prefer warmer temperatures and Hardy Lilies do well in cold and can withstand freeze if left in the pond. Tropical Lilies come in both day-blooming and night-blooming varieties and are generally larger and have more blooms. Hardy Lilies only bloom during the day and have round, thick, waxy leaves that are typically solid green or sligthly mottled. Tropical Lilies grow from round tubers and Hardy Lilies stem from horizontal rhizomes or tubers.
The following water lilies are available at your local SummerWinds:
Tropical Water Lilies - Available in Blue, Pink and Purple
Hardy Water Lilies - Available in Peach, White and Yellow
To learn more about creating your own water feature and the plants you need to success, speak with one of our Trusted Garden Advisors.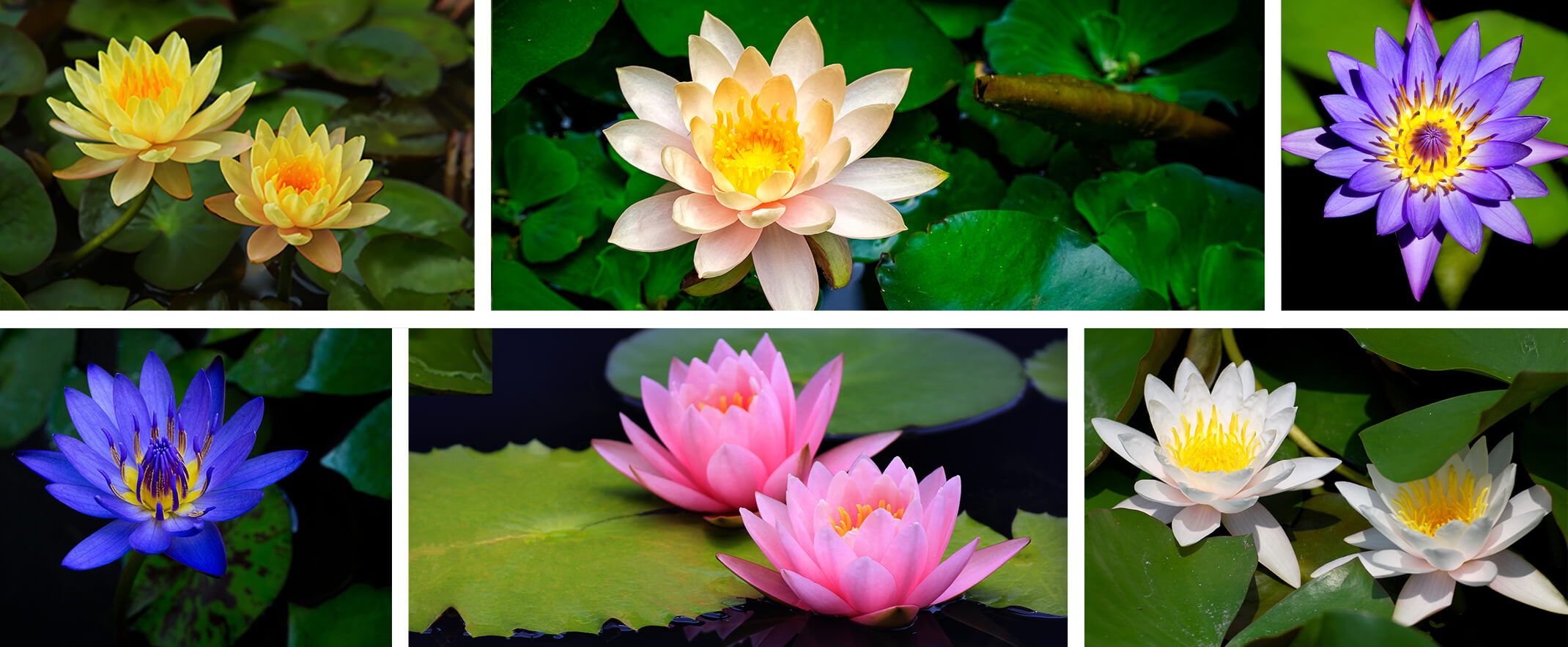 At SummerWinds Nursery, We Guarantee Success!