Gift Ideas for Dad
Wondering what to get Dad this Father's Day?
Dad doesn't have to be an avid gardener to enjoy these great gift ideas this Father's Day—Sunday, June 18...
1. Adeniums & Plumeria
These desert succulents have a unique shape and can make a wonderful addition to Dad's garden, patio or bright office. To learn more about adeniums, read our blog, "Adeniums, the Desert Rose."
Want to remind Dad about that trip to Hawaii he's thinking about? Plumerias are colorful, tropical and help create a relaxing atmosphere through their fragrance alone! Learn more about plumeria.
2. A Bird Bath or Statue
Stop by your local SummerWinds Nursery to explore our selection of bird baths and statues—from small to large, traditional to modern, colorful to Earth toned.
3. Bonsai Trees & Accessories
Looking for a gift Dad can enjoy for years to come? Growing and caring for a Bonsai can be a relaxing and rewarding tradition that can be passed down through generations! Your local SummerWinds has a variety of Bonsai trees to choose from, as well as Bonsai accessories including a how-to book, pots, trimmers and more.
To learn more about this ancient art, read our blog, The Art of Bonsai.
4. Cacti & Sun-Tolerant Succulents
Once established, cacti and sun-tolerant succculents can make a great addition to Dad's desert garden landscape. Choose from a variety of cactus plants and sun-tolerant succulents that grow well, even in the heat!
5. An Elevated Greenhouse Planter or Deck Box
Make gardening easy on Dad's back with an elevated greenhouse planter or Dylan Deck Box planter.
6. Summer Herbs
Does your Dad enjoy cooking with fresh herbs or adding them to his favorite summer beverage or dish? SummerWinds has a great assortment of summer-growing herbs to choose from.
7. Houseplants & Accessories
Retreat from the heat with houseplants! Your local SummerWinds has a wide variety of houseplants to choose from, including some that help clean the air. Plus, we have a great selection of indoor pottery and houseplant accessories to choose from.
8. Palms
Add a tropical flair to Dad's home or garden with palms. We've got a variety of palms to choose from—for indoors and out.
9. Plants for Homebrewing
Does Dad enjoy making his own beer or wine? There are many plants that can be used in homebrewing to add distinctive flavors to Dad's creations, such as:
Fruits like: Strawberries, Elderberries, dried cherries, apricots, grapes, apples, pears...
Herbs like: Cinnamon, dandelions, fresh ginger, cardamon, rosemary, lemon balm, red clover...
Flowers like: Ox-eye daisies and rose hips...
Check out our blog to learn more about plants you can use in homebrewing.
10. Pollinator Plants
Want to attract beneficial pollinators to Dad's garden? We've got a wide variety of desert-friendly plants that attract butterflies, hummingbirds, bees and more!
11. Pottery
Your local SummerWinds Nursery has a great selection of outdoor pots! Choose from a variety of styles and colors, including: modern, traditional, bright colors, Talavera, Earth-toned or Terracotta.
12. Tools - Help Dad Discover His New Favorite Tool!
Your local SummerWinds Nursery has a wide variety of tools to choose from including:
Handtools: including gloves, pruners, specialty tools and more
Garden landscaping tools
Hats: choose from a wide variety of styles – including our straw hats with extra large brims
Rolling plant caddies: make moving large pots easier for Dad!
13. Warm-Weather Vegetables
Does Dad love to grill? We have a fabulous selection of warm-season vegetables, that grow well in the heat, that Dad can easily grow in his garden or raised garden bed.
14. Wind Chimes
Our selection of Wind Chimes offers a variety of tones, styles, sizes and materials. We're sure to have one that Dad will love! Great for enjoying on Dad's patio or deck, or in the garden!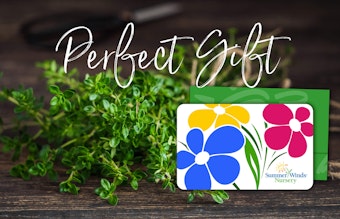 15. A SummerWinds Nursery Gift Card
Always the perfect gift...
Still not sure what to get Dad? Give Dad the gift of green with a gift card to SummerWinds Nursery. Physical gift cards are available for purchase in-store at your local SummerWinds Nursery, or purchase a convenient eGift Card online!
Buy a Gift Card