Herbs

Turn Up The Flavor With Fresh Herbs
Herb gardens are filled with incredibly versatile plants that are fragrant, look beautiful and can be harvested and used in the kitchen. An herb garden is easy to maintain and offers abundant rewards. Some popular varieties grown in Arizona are lemon verbena, sage herb, oregano plant and thyme plant.
There are three categories of herbs—annual herbs, biennial herbs and perennial herbs: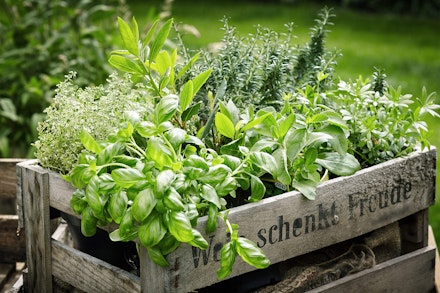 Annual Herbs can be broken down into cool-season and warm-season annuals:

Cool-Season Annuals: cilantro/coriander, dill, chamomile, fennel, garlic, lovage and tarragon
Warm-Season Annuals: basil, epazote, fennel and stevia

Biennial Herbs include borage and parsley
---
Herb List A-Z
Borage (Borago officinalis)
Catnip (Nepeta cataria)
Chamomile (Matricaria chamomilla)
Chives (Allium schoenoprasum)
Cilantro/Coriander (Coriandrum sativum)
Dill (Anethum graveolens)
Epazote (Dysphania ambrosioides)
Fennel (Foeniculum vulgare)
Garlic (Allium sativum)
Lavender (Lavandula species)
Lemon Balm (Melissa officinalis)
Lemon Verbena (Aloysia citrodora)
Lovage (Levisticum officnale)
Mint (Mentha species)
Oregano (Oiganum vulgare)
Parsley (Petroselinum species)
Rosemary (Rosmarinus officinalis)
Sage (Salvia officinalis)
Stevia (Stevia rebaudiana)
Tarragon (Artemisia dracunculus)
Thyme (Thymus vulgaris)
---
In addition to the list above, SummerWinds Nursery offers an expanded selection of many herb varieties, including those listed below.
Basil Varieties (Ocimum basilicum)
African Blue Basil (Ocimum kilimandscharicum × basilicum 'Dark Opal')
Amethyst (Ocimum basilicum 'Amethyst')
Cinnamon Basil(Ocimum basilicum 'Cinnamon')
Floral Spires Lavender (Ocimum 'Floral Spires Lavender')
Fino Verde (Ocimum basilicum 'Fino Verde')
Genovese Basil (Ocimum basilicum 'Genovese')
Greek Columnar Basil (Ocimum basilicum 'Greek Columnar')
Holy/Sacred Basil(Ocimum tenuiflorum)
Italian Large Leaf (Ocimum basilicum)
Large Leaf Nufar (Ocimum basilicum 'Nufar F1 Hybrid')
Purple (Ocimum basilicum)
Red Rosie (Ocimum basilicum purpurascens)
Red Rubin (Ocimum basilicum purpurascens)
Red Ruffles Basil (Ocimum Red Ruffles)
Salad Leaf (Ocimum basilicum 'Salad Leaf')
Spicy Globe (Ocimum basilicum "Spicy Globe")
Sweet Basil (Ocimum basilicum)
Sweet Mammoth (Ocimum basilicum 'Sweet Mammoth')
Thai Basil (Queenette / Siam Queen / Anise Varieties)
Variegated Basil (Ocimum x citriodorum 'Pesto Perpetuo')
---
Mint Varieties (Mentha species):
Apple/Woolly Mint (Mentha suaveolens)
Chocolate Mint (Mentha x piperita 'Chocolate')
Cordifolia Mint (Sida cordifolia)
Curly Mint (Mentha spicta crispa)
English Mint (Mentha spicata)
Mojito Mint (Mentha villosa)
Orange Mint (Mentha x piperita citrata)
Spearmint (Mentha spicata)
Peppermint (Mentha piperita)
The Best Mint (Mentha spicata spp.)
Pineapple Mint (Mentha suaveolens 'Variegata')
Growing Mint – Mints can be invasive. We recommend that you grow them in containers and to avoid combining mint varieties so that the flavors stay true.
---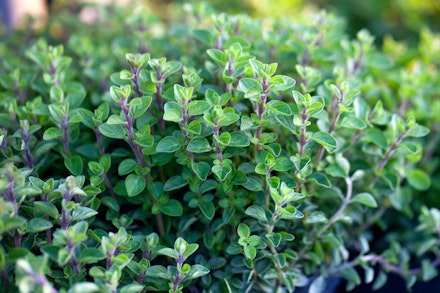 Oregano Varieties (Origanum vulgare):
Greek Oregano (Origanum vulgare ssp hirtum)
Hot & Spicy Oregano (Origanum vulgare)
Italian Oregano (Origanum x majoricum)
---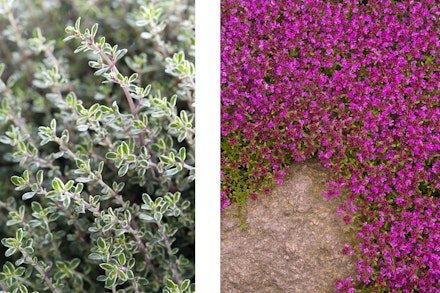 Thyme Varieties (Thymus vulgaris):
Coconut Thyme (Thymus sp.)
Creeping Red Thyme (Thymus praecox 'Coccineus')
Lemon Thyme (Thymus x citriodorus)
Lemon Variegated Thyme (Thymus 'Lemon Variegated')
Mother Thyme (Thymus serpyllum)
Orange Thyme (Thymus 'Fragrantissimus')
Pink Chintz (Thymus serpyllum 'Pink Chintz')
Wooly Thyme (Thymus pseudolanuginosus)
Silver Thyme (Thymus vulgaris 'Argenteus')
---
Herb-Themed Gardens
Herbs can be grown together in combinations that can be enjoyed by the senses, enjoyed by wildlife, paired together for use in particular culinary styles, or grown for medicinal purposes.
---
How to Grow a Successful Herb Garden
When growing an herb garden indoors our outside, consider the following to ensure your success:
---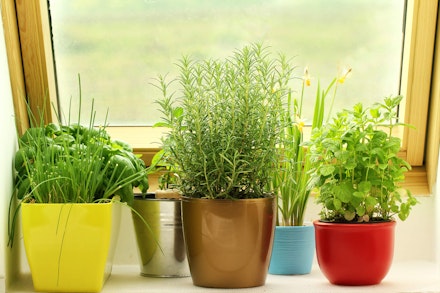 How to Grow Herbs Indoors
The key to a successful indoor herb garden is finding the right spot. Herbs need a lot of natural sunlight, at least 4 hours a day. A south facing window is best, however, east or west facing windows work as well. Water your herb garden when the soil on the surface is dry. You'll also want to be sure you select a container with drainage holes and soil that allows water and moisture to pass through. Do not let your plants sit in water as this will cause the roots to rot. These plants prefer temperatures around 65° to 70° F and do better with some moisture in the air. If you are in a dry climate, rinse or spray the leaves once a week.
We recommend fertilizing with Espoma Organic Indoor Houseplant Food or Ozmocote Flower & Vegetable according to directions.
---
Outdoor Herb Gardens Companion Planting
Companion planting can help ensure a successful herb garden. Here are some ideas to consider:
Compatible Vegetables: Consider planting your herbs with compatible vegetables. Taller plants can help shade smaller vegetables and herbs as they grow throughout the season.
Beneficial Insects: Insects such as lady bugs, praying mantis, spiders, wasps and several species of flies are beneficial to the garden. The small flowers of carrots, dill, parsley and coriander have strong fragrances that attract these beneficial insects.
Pests: Companion planting naturally lowers pest problems in the garden without chemical intervention. Chives, garlic, onions and other select herbs produce offensive chemicals or smells that repel insects and disease.
To learn more about creating your own herb garden, stop by your local SummerWinds Nursery to speak with one of our Trusted Garden Advisors!