Just for Houseplants - Accessories, Soils & More

Accessorize Your Houseplants and Give them What they Need to Thrive!
Plant Accessories
Bonsai Related - We've got a great selection of Bonsai pots, tools, soil, amendments, fertilizers and more, so you can expertly care for your Bonsai!
Pottery - At SummerWinds Nursery, we have a wide variety of colorful and textural pottery, available in a range of sizes perfect for your every houseplant.
Macramé Plant Hangers - Available in multiple sizes and colors.
Moss Pots, Poles and Trellises - In addition to moss-covered decor, we've got moss pots—perfect for favorite houseplant!
Mossify Houseplant Accessories - Award-winning bendable moss poles, and LED plant lights.
Plant Stands - We have a range of metal plant stands, from short to tall and small to large in diameter.
Plant Saucers - Available in a range of sizes, materials and colors—for use indoors or out.
Raised Planters - Want to raise your houseplant pot off the ground? We sell stylish pots that sit inside raised wooden frames.
Rolling Plant Caddy - Give your back a break with a rolling plant caddy that makes it easy to move your pot around!
Grow Lights - To help give your houseplants supplemental light where needed.
Watering Aides

- Including moisture and light meters, Scheurich Bordy water plant reserve, Froggy plant water supplier, and glass and terracotta Syndicate Never Dry Plant Pals.
---
E.B. Stone Organics - for Houseplants that Thrive!
Not all houseplants require the same care, soil or conditions. We have a wonderful line of high-quality soils, fertilizers and amendments developed by E.B. Stone Organics, perfect for all of your houseplant needs, including:
Potting Soils & Planting Mixes—all Registered cdfa
SummerWinds Potting Soil - This natural and organic potting soil was developed with E.B. Stone Organics and is an excellent potting soil for a wide range of houseplants. Great for all indoor and outdoor container gardening.
Recipe 420 Potting Soil - This 100% natural formula from E.B. Stone Organics is carefully crafted for vital growth and optimum impact to provide the ideal conditions for cut flower production.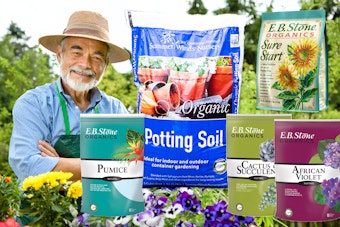 African Violet Mix - This special soil blend from E.B. Stone Organics has been developed for all types of indoor flowering plants.
Azalea, Camellia & Gardenia Planting Mix - This versatile mix from E.B. Stone Organics can be used as both a soil amendment or a ready-to-use potting soil. This mix for acid-loving plants can also be used on most varieties of evergreens, ferns, rhododendrons and begonias.
Bonsai Planting Mix - A unique transplanting mix from E.B. Stone Organics was developed for all types of indoor and outdoor bonsai plantings.
Cactus Mix - From E.B. Stone Organics, this is an ideal potting mix for all types of indoor cactus and succulents.
Orchid Mix - A coarse potting mix from E.B. Stone Organics specifically formulated for the unique growing requirements of orchids.
Fertilizers & Other Amendments
All Purpose Plant Food

- This 5-5-5 organic fertilizer from E.B. Stone Organics is ideal for vegetables, trees, shrubs, lawns and flower gardens. Registered cdfa.

Sure Start - This 4-6-2 fertilizer from E.B. Stone Organics encourages the development of strong roots and is ideal for newly transplanted plants. Registered cdfa.
Peat Moss - E.B. Stone Organic's Peat Moss improves moisture retention for any soil. Registered cdfa.
Volcanic Pumice - E.B. Stone Organic's Volcanic Pumice is a natural way to improve aeration and water retention. Great for use potting soils and containers.
---
hakki Organics' Houseplant Bliss
Houseplant Bliss by hakki Organics was designed to be, "A dream team of beneficial bacteria for all potted plants." Their organic formula is made from naturally occurring bacteria, providing your plants with the perfect balance of good science and good nutrition.
It's like a probiotic... for plants!
The living microbes (good bacteria) in their organic formulas act as protectors and boosters—so that you can discover happier houseplants plants in as little as one week!
Houseplant Bliss:
Improves plant nutrient uptake
Helps extend time between watering
Supports root and overall plant growth
Great for starting seeds and repotting plants
Works on all colors and kinds of houseplants
Available in 3 convenient sizes.
---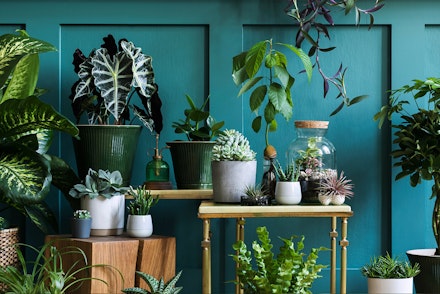 Hundreds of Houseplants
We have hundreds of houseplants in stock at your local SummerWinds Nursery. To learn more about the varieties available, and to read helpful blogs on how to care for your houseplants, which houseplants clean the air you breathe and more, click the button below.