Celebrate Mom - Sunday, May 8, 2022

Fabulous Gift Ideas for Mom
Mother's Day is Sunday, May 8: Mom's in luck this Mother's Day and so are you! We've got some great gift ideas for Mom to enjoy from SummerWinds Nursery...
---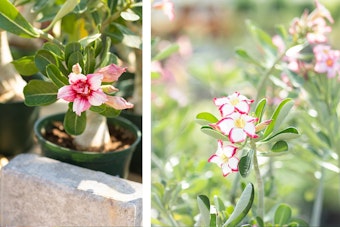 1. Adeniums - The Desert Rose
Also known as Desert Roses, Adeniums are summer-flowering succulents that are prized for their beautiful blooms atop an unusal form.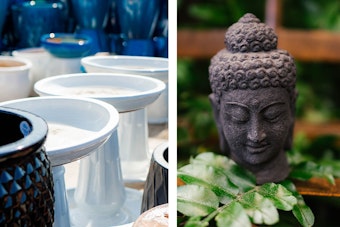 2. Birdbaths & Statues
Looking for an extra special something for Mom's garden? How about a birdbath or statue. We have a wide variety of styles available including those listed below.
Birdbaths: We've got traditional and modern stone birdbaths, solid color ceramic birdbaths, and colorful Talavera birdbaths.
Statues: Our selection ranges from small to large, traditional to whimsical, including: religous statues, fun animals, mystical creatures, bells and more!
3. Bonsai Trees
Looking for an extra special, long-lasting gift for Mom? The art form of Bonsai takes the beauty of the natural world around us and replicates nature's grand masterpieces in miniature versions that symbolize life. Bonsai can be grown in a number of styles and with a variety of trees for indoors or out. Plus, we have the know-how and tools Mom needs to grow and maintain her masterpiece.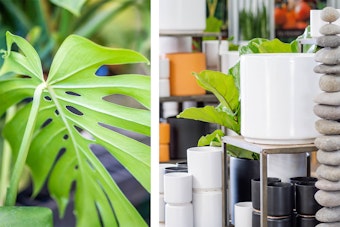 4. Houseplants, Indoor Planters & Accessories
Houseplants are many things... From Tillandsias (air plants) and Ferns, to Peperomia, Sansevieria and ZZ plants, houseplants can not only add color and texture to your home, some can also help to purify the air. SummerWinds has a large selection of houseplants in a wide range of sizes, and that thrive in various light conditions; learn more.
Indoor Planters: We have a great assortment of indoor planters available in numerous styles, colors and sizes to complete your gift. Whether it's a minature African Violet or a large Swiss Cheese Plant, we've got the perfect pot for Mom's new houseplant, including modern Peach & Pebble ceramic planters available in white, black and terracotta.
Houseplant Accessories: Your local SummerWinds Nursery also has an assortment of accessories designed just for houseplants, including plant nanny's to help Mom water while she's on vacatioin, spray bottles for plant misting, plant hangers, saucers, hooks and more!
5. Heart Pots & Flower Pillows
Looking for a special hand-made something for Mom? We've got ceramic heart pots made by artist Lisa Howe, as well as flower pillows made locally by MBS Clayworks.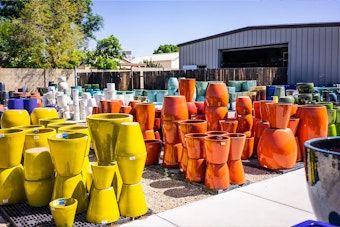 6. Outdoor Pottery
At SummerWinds, we have a beautiful selection of outdoor pottery. From colorful, modern and metallic, to traditional or earthy, we've got the perfect pot for Mom's garden, patio or deck, as well as a wide variety of summer flowering plants to plant inside them!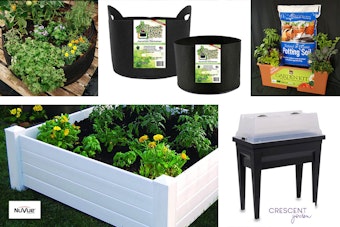 7. Raised Garden Beds & Planters
Make growing Mom's favorite veggies, herbs and flowers that much more convenient—and back and knee-friendly—with raised garden beds and planters. Choose from Smart Pots, EarthBoxes, NuVue Raised Garden Beds, Crescent Garden's covered raised planters and more...
8. Roses
Want to give Mom something elegant and fragrant that will bloom year after year? Your local SummerWinds has a wide variety of "scentsational" roses available, including bush/shrub roses, and climbing and tree roses!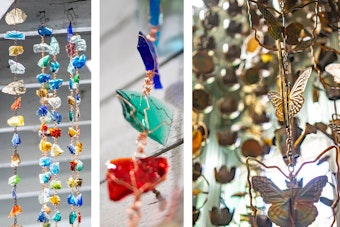 9. Decorative Rain Chains
Choose from a variety of rain chains, including metal butterflies, flowers, circles (and more), as well as rain chains made from recycled shattered glass by local artist, Debbie Kaczmarowski.

10. Talavera Pottery, Birdbaths & Animals
At SummerWinds Nursery, we have a beautiful selection of colorfulTalavera pottery, hangings sculptures and planters, animals and bird baths. Explore our selection today, to find that perfect piece for Mom!

11. Wind Chimes
Add melodic sounds to Mom's outdoor living space with wind chimes. Choose from an assortment of styles, sizes and sounds, including Woodstock Chimes® — world famous, musically-tuned chimes designed to be the world's best sounding wind chimes.
---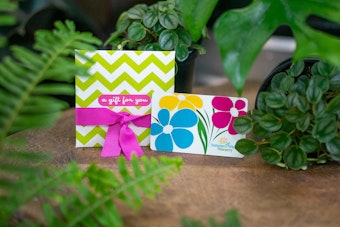 A SummerWinds Nursery Gift Card
Still not sure what to get Mom this Mother's Day? Why not give her the gift of green with a SummerWinds Nurwsery Gift Card.
Always the perfect gift!
Buy a Gift Card