Fall Flowers

Fabulous Fall Flowers at SummerWinds!
Stop by Your Local SummerWinds Nursery to Peruse These Beautiful Plants
In the Valley of the Sun, fall flowers can be a magnificent addition to your garden or home! Throughout the season—from September through November, we'll have a wide variety of fall flowers to choose from—as indicated below, available seasonally while supplies last. Selection varies by location:
Amaryllis & Paperwhite Bulbs - Available now
Bougainvillea - Available now
Bromeliads - Available now
Camellias - Available now
Christmas Cactus - Available now
Chrysanthemums / Mums - Available now
Cyclamen - Available now
Geraniums - Available now
Hanging Baskets - Available now
Hibiscus - Available now
Hydrangeas - Hydrangeas are also difficult to grow in the Metro Phoenix Area. However, we have some alternatives you're certain to enjoy!
Jasmine - Available now
Lantana - Available now
Lavender - Available now
Peonies - Weather in the Valley of the Sun makes it difficult to successfully grow peonies but we love them too! Looking for some alternatives to peonies? We have some great ideas to choose from...
Petunias - Available now
Poinsettias - Available now
Roses - Available now
Violas & Pansies - Available now
Other Fall Flowers - Available Now: Alyssum, Bacopa, Calibrachoa, Dracaena spike (limited availability),

Lobelia,

Osteospermum,

Snapdragons,

Stock (limited availability), and Tecoma
Keep reading for details about the fabulous fall flowers available at your local SummerWinds Nursery.
---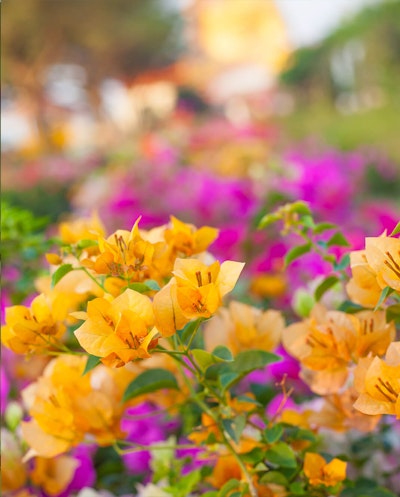 Bougainvillea
Available Now
Add pops of gorgeous vibrant color to any landscape by using Bougainvillea as a barrier or privacy screen, to control erosion, as an espalier, in containers and much more! Bougainvillea comes in a wide range of colors—hot pink, gold, yellow, magenta red, rose pink, dark purple-red, reddish-orange and more...
Some favorite Valley varieties, include:
Camarillo Fiesta™ Bougainvillea, Gold Rush™ Bougainvillea, Barbara Karst Bougainvillea, Texas Dawn™ Bougainvillea, Don Mario® Bougainvillea, James Walker Bougainvillea, Scarlett O'Hara Bougainvillea, Sharon Wesley Bougainvillea and more...
---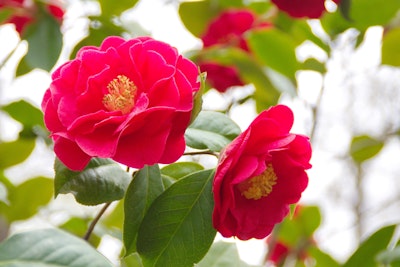 Camellias
Available Now
Camellia trees and shrubs provide year-round glossy-green foliage and cool-season flowers. Click the button below to learn more about popular varieties for the Valley of the Sun, as well as tips for care.
---

Christmas Cactus
Available Now
These festive, holiday-blooming cacti come in white, fuchsia and red and will be available soon! While the variety we carry are technically Thanksgiving Cactus (Schlumgera truncata), they are often called Christmas Cactus and will bloom throughout the holiday season!
---

Chrysanthemums / Mums
Available Now
When in-stock, these fall favorites are available in a wide variety of colors!
---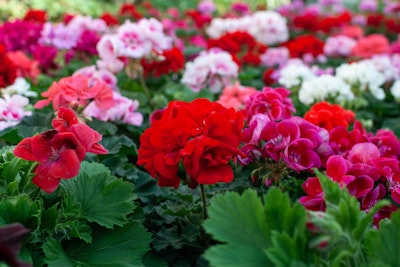 Geraniums
Available Now
Geraniums are as easy to care for as they are beautiful! Enjoy them in your container gardens, on your front porch, patio or balcony, or plant them in your landscape along borders or in garden beds.
Geranium Care
Geraniums prefer fertile, well-drained soil that contains plenty of organic matter. Let the soil dry slightly between waterings. Geraniums don't like to be over fertilized but they do enjoy morning sun with light afternoon shade. Cut away faded flowers regularly to keep the plants blooming and enjoy their gorgeous color from late summer through fall.
Outstanding colorful varieties include:
Bubble Gum, Cherry, Dynamo Dark Red, Dynamo Violet, Dynamo White, Flame, Patriot Lavender Blue, Pearl, Plum, Pumpkin, Raspberry, Salmon and Sunrise Orange.
---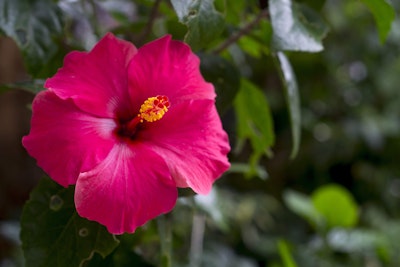 Hibiscus
Available Now
Hibiscus plants are an Arizona favorite and for good reason! They can add a splash of color to your garden year-round, are available as a tree or a shrub, and come in a wide range of colors, sizes and blooms.
Valley-loving hibiscus varieties:
Brilliant Hibiscus/San Diego Red Hot Hibiscus, 'C'est Bon' Hibiscus, Cherie Hibiscus, Crown of Bohemia Hibiscus, 'Erin Rachel' Hibiscus, Fiesta Hibiscus, Fullmoon® Hibiscus, Hula Girl Hibiscus, Red Darling® Hibiscus and Red Dragon® Hibiscus.
---
Hydrangeas
Wish you could grow hydrangeas in the Valley? We feel your pain! How about considering Cape Plumbago (shown above 'a') or Viburnum (shown above 'b') as an alternative? They have elegant blooms and can be successfully grown in the Valley of the Sun. Speak with one of our Trusted Garden Advisors, to learn more.
---
Jasmine
Available Now
We offer a number of beautiful, fragrant jasmine varieties that grow well in the Metro Phoenix Area.
---
Lantana
Available Now
Lantana (Shrub verbenas is a colorful, firewise, prolific spring and summer bloomer. Fall is the perfect time to plant lantana in containers, borders or as mass plantings. This drought-tolerant plant prefers full sun and well-drained soil. Available in red, oranges, pinks, purples, yellows and whites.
---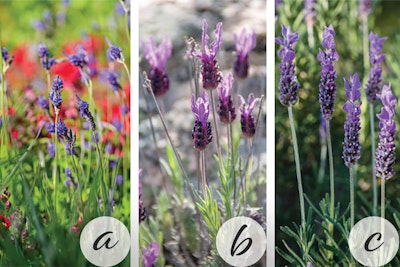 Lavender
Available Now
At SummerWinds Nursery, we have both ornamental and edible lavender varieties.
Lavender is colorful, fragrant and has a great texture. Lavender is beautiful in both containers and your garden landscape. It's drought, deer and rabbit resistant, making it an easy to care for, often perennial, garden option. There are numerous varieties of lavender to choose from and many are edible.
Some favorites include:
Spanish Lavender
- Lavandula stoechas
(b), French Lavender -
Lavandula dentata
(c), and Fernleaf Lavender -
Lavandula multifida
(a).
---
Peonies
Although it is difficult to grow peonies in the Valley, we have some beautiful alternatives that grow well in the Metro Phoenix Area, including those listed below.
Alternatives to Growing Peonies
Available in the summer - Lisianthus (shown above 'a')

Available in the fall - Dahlias (shown above 'b'), Flowering Tulip (shown above 'c'), Ranunculus (shown above 'd'); Roses (shown above 'e'); and Camellias (shown above 'f'). Read our blog, How to Grow Camellias, to learn more.
Stop by your local SummerWinds Nursery and speak with one of our Trusted Garden Advisors, to explore options perfect for your garden.
---
Petunias
Available Now
Easy to care for, petunias are a great way to add color and texture to your garden. These drought-tolerant blooms prefer light, well-drained soil and full sun. Available in grandiflora (large flowers great for hanging baskets) and multiflora (more numerous, smaller flowers—ideal for garden beds and borders). Petunias are generally available in pink, purple, red, white, yellow, and now in some unusual varieties, available while supplies last—including bugundy skies and night sky petunias.
Petunias also available seasonally in hanging baskets.
Source: https://www.almanac.com/plant/petunias
---
Roses
Available Now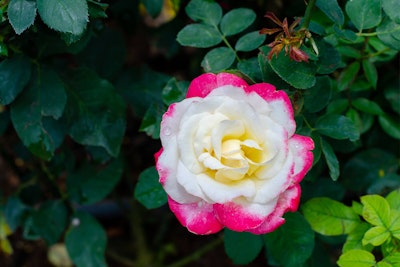 Did you know? Autumn is the best time to plant roses in The Valley of the Sun. We have a superb selection of colorful, fragrant roses!
Click the button below to:
Explore roses by landscape use
Explore roses by color
Learn about different types of roses
Plus, get some recommendations for growing spectacular rose blooms...
Roses
To learn about companion plants that grow well with roses, read out blog, How to Grow Roses and Companion Plants Together.
---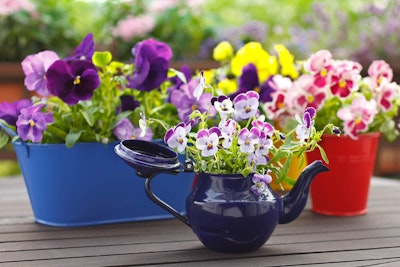 Violas & Pansies
Available Now
Stop by to explore a beautiful, currently limited assortment of violas and pansies...
There are so many beautiful fall flowers... To explore our selection of high-quality plants and learn more, speak with one of our Trusted Garden Advisors at your local SummerWinds Nursery.
Want Even More? Read out blog, Engaging the Senses - How to Create the Perfect Patio.