Growing Gorgeous Geraniums
Posted on: Thursday, October 1, 2020
Easily one of the most recognizable flowering plants, Geraniums are not only a classic gardener's choice, but they are also easy to plant and care for. Geraniums can be grown in home gardens, container gardens, flower beds, hanging baskets, and can even be used as indoor house plants.
Outlined below, are a few basic things to keep in mind when growing Geraniums to help you effortlessly grow and maintain lush, flowering geranium plants.
---
Geranium Care in 4 Easy Steps

1. Watering
Be sure to water your Geraniums thoroughly, but allow the soil time to dry (equivalent to a damp sponge) in between watering. Use a well-draining soil, like SummerWinds Potting Soil, to ensure proper moisture. Yellowing leaves indicates that you may be watering too frequently.
---
2. Deadheading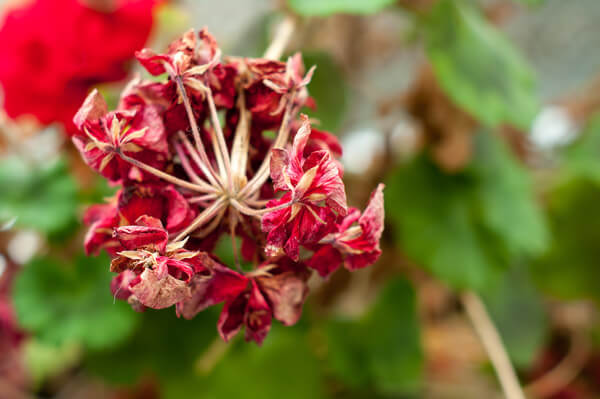 To keep your Geraniums flowering, be sure to pinch back (off) spent blooms. You'll want to deadhead all the way back to the stem of the plant. This will stimulate new growth and keep your plant looking healthy and colorful.
---
3. Fertilizing
Keep your Geraniums healthy and happy with good fertilizer. You can fertilize either with a water soluble fertilizer every couple of weeks or with a time release, every 3-4 months. Water soluble fertilizers can be alternated and organic fertilizers are also available and recommended.
---
4. Plant Replacement & Lighting Requirements
Be sure to plant or place your Geraniums in a sunny spot. They need 5-6 hours of sunlight to produce blooms, so plan out a good spot before you get them into the ground or arranged in your home.
---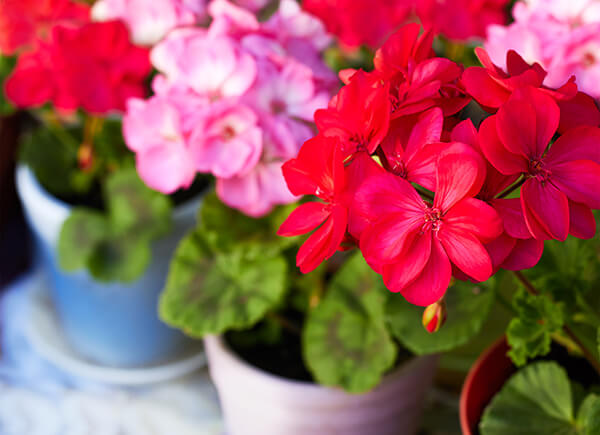 Cool-Season Care
Heading into the colder fall and winter months, it's important to keep in mind that Geraniums are frost sensitive! Make sure to protect your plants from frost and freeze with a frost blanket. Your local news station will generally inform you before a frost, giving you time to prepare. Or you can sign up for SummerWinds' newsletter and we'll alert you if a big frost is on the way! If there is one annual that can withstand the cold, it's the Geranium. Geraniums are hardy plants and will hold its own against any other annual for continual flowering.
Another great benefit to planting Geraniums is they are seldom susceptible to diseases, and they have very few insect issues. Keep your garden colorful and blooming by plating Geraniums this season!
---
Need a little extra help? Visit your local SummerWinds Nursery and speak with a knowledgeable garden expert. Also, check out our additional "Be Inspired Blogs" for a variety of information about additional species you may want to plant and how to best care for them. Want more recommendations on plants, trees, shrubs, and resources for what plants will thrive in the Metro Phoenix Area? We've got a list for that too! For the best selection in plants, supplies, and garden maintenance products, stop in and let SummerWinds' knowledgeable and friendly staff help to guarantee your success.

About SummerWinds Nursery: SummerWinds Garden Centers is a leading high-end retailer of garden and nursery products. Headquartered in Boise, Idaho, SummerWinds operates retail nurseries in the greater Phoenix, Arizona area, and in Silicon Valley, California, making it one of the largest independent retail nursery companies in the west. SummerWinds appeals to both the serious and casual gardeners, with a broad selection of premium gardening products and a friendly and knowledgeable staff. Visit SummerWindsNursery.com to learn more and to find a location nearest you.