Made in the Shade: How to Get More Shade in Your Landscape!
Posted on: Monday, May 31, 2021
It's already heating up in Arizona, and it's time to form your survival plan for the summer! The presence of shade in your landscape is crucial if you hope to continue spending time outdoors, whether it's to work in your garden or kick back and relax. Here are a few long and short-term ideas for adding shade to your backyard living space.
---
The Best Shade Trees for Arizona
As far as shade goes, not much beats the effects of planting trees! Tall trees help to regulate temperatures in your yard throughout the year while providing a habitat for wildlife, releasing oxygen into the air, and gobbling up CO2. And did we mention how beautiful they are?
Bonita Ash: Known for its lush, vibrant green canopy, the Bonita ash is also a very low-maintenance tree that needs little watering once established. Perfect for sunny Arizona yards! The tree produces no seed pods (that means virtually no cleanup!), and the foliage turns a lovely shade of gold in the fall.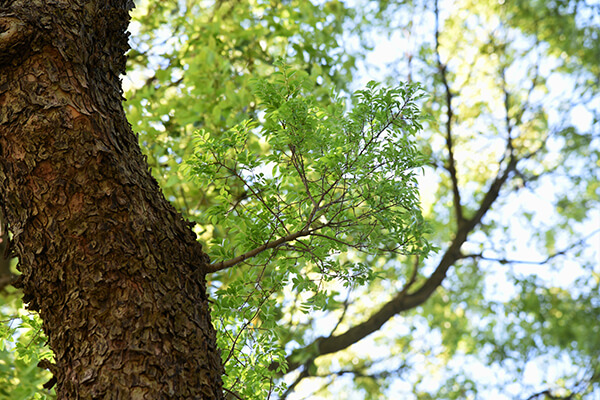 Chinese Elm: Chinese elms were introduced into the United States when Dutch elm disease began to ravage the vast canopies of American elms throughout the country. Chinese elm provides just as much shade as its American counterpart and looks great in the landscape, thanks to its impressive canopy and mottled bark. Best of all, it's resistant to Dutch elm and thrives in Arizona yards—even in our harshest desert regions.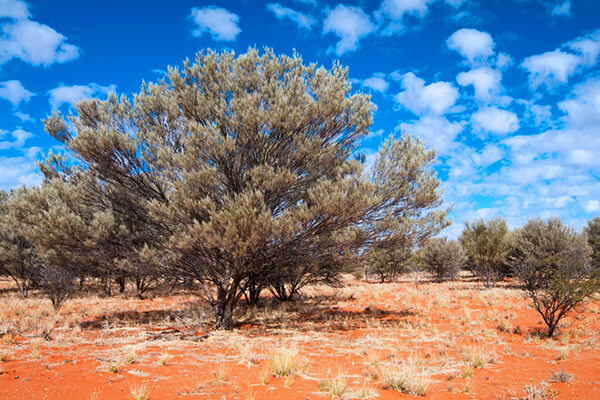 Mulga Tree: Needle-like, blue-green foliage, and yellow bottlebrush-shaped flowers are the hallmarks of this deciduous evergreen. Native to Australia, the Mulga is perfectly adapted to our harsh desert landscapes and even prefers sandy, rocky, and clay soils. This is a striking and low-maintenance tree that is perfect for adding shade to any Arizona yard.
---
Positioning Shade Structures
Installing a shade structure, like a pergola or shade sail, is great for adding shade to your yard. However, to maximize the amount of shade and hours of shade per day, plan your shade before you start setting up!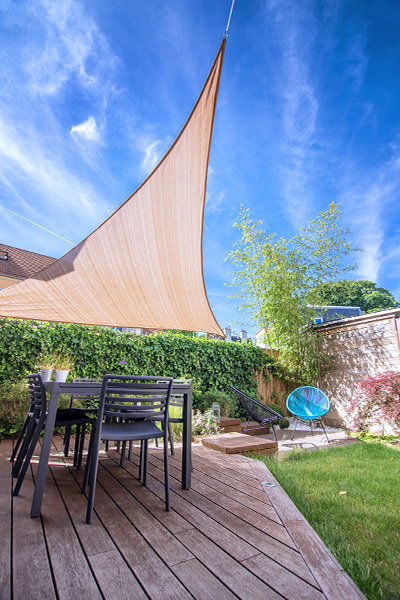 Step 1: Trace the direction of the sun. Remember, shade falls in the opposite direction of the sun's path, so consider where the sun will be from sunrise to sunset. Creating a sun map of your garden is not only helpful for choosing your planting locations, but also for plotting out your shade.
Step 2: Plan for maximum shade at the height of the afternoon. When the sun is directly overhead, it casts very little shadow. Testing out the location of your shade structure when the sun is at its peak will ensure the shade falls in the right place when the temperatures are highest.
Step 3: Remember that the sun's position changes each season. If you're planning on installing a permanent structure or planting a tree with the primary intent of adding shade in the summer, consider using temporary structures like umbrellas and shade sails the year before you break ground. This will allow you to easily move the structures to optimize shade through the hottest times of the year. Throughout the summer, you can use colored stakes to mark the best areas of your landscape to add shade cover. This way, you'll know exactly where to start planting or building in late fall and winter. If you do decide to plant a tree for summer shade, make sure it's one with a growth habit and size that's appropriate for your landscape, and that it will drop its leaves in winter so your home can enjoy some extra sun that time of year.
Other Creative Ways to Get More Shade
Still getting a little too much sun? These easy ideas can help you add even more shade to your landscape.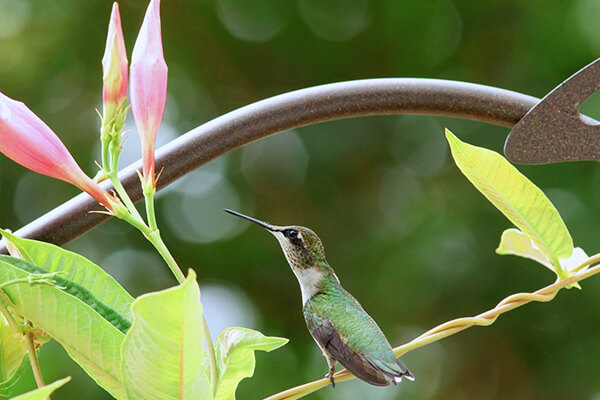 Grow Vines
If you have a pergola, you may find that the slats in the ceiling or the lattice around the sides still lets in a little too much sunlight for your comfort. Lush vines, such as wisteria, mandevilla (loved by hummingbirds!), or bougainvillea, are excellent for filling in those sunny spaces. Instead of letting sunlight in, you'll be surrounding yourself with vibrant colors.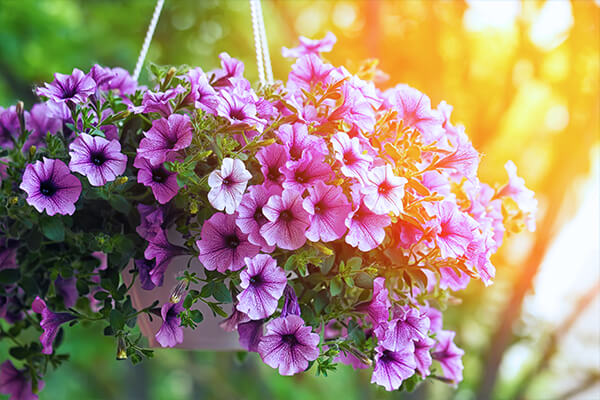 Hang More Baskets
Hanging baskets, especially larger ones, can be surprisingly effective at adding beauty and shade to your yard space. You can easily hang them from pergolas and deck overhangs to increase shade in the area, or you can install poles or pillars with hooks to your deck or patio for freestanding hanging baskets. Just remember to keep them well-hydrated; the sun is famously tough on baskets and plants grown in containers.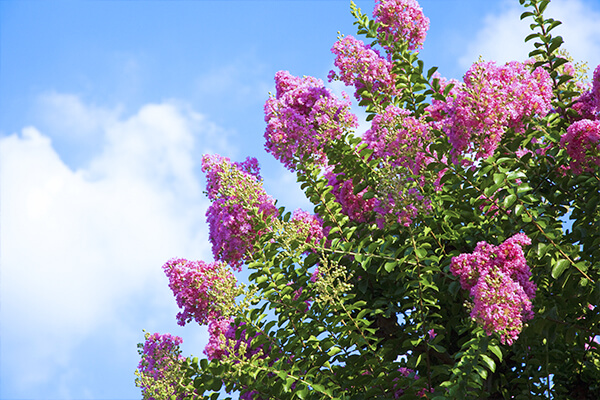 Plant Specimen Trees and Shrubs
You don't necessarily need to plant shade trees to add more shade to your yard! Ornamental trees, like crape myrtle and jacaranda, and large shrubs, like mock orange and oleander, add lots of gorgeous color and privacy to an area while still providing shade. While they may not tower overhead, the added shade can be highly beneficial for protecting garden beds and cooling down smaller seating areas.
Build a Shade Cover for Your Garden
As things heat up, it's important to control the amount of sun and shade on your garden beds, particularly for edible gardens. Temporary shade cloth is a great way to protect tender plants from the hot afternoon sun. Visit a SummerWinds Nursery location near you to purchase your shade cloth (available by the foot) and to discuss tips on color, density, and installation based on your gardening goals.
Protect a Variety of Young Tree Trunks
To help give a variety of your young tree trunks a break from the sun, you can create some unconventional "shade" with these great products:
Go Natural Paint™ - Tree Trunk White: This specially-designed white paint protects tree trunks against sunburn, winter sunscald, insects and diseases.


Go Natural Paint™ - Tree Trunk Brown: This natural-looking tree trunk colored coating both protects your trees from the sun's UV rays, as well as provides a cool natural look that does not distract from the beauty of your landscaping.
The above products are particularly effective for young fruit and citrus trees, but can also benefit other types of young trees. To find out if your young trees would benefit from having their trunks painted, speak with one of our Trusted Garden Advisors about the kinds of young trees you have.
In addition to adding a protective layer to your newly planted tree trunks, remember to add mulch to the base of your trees and precious plants, and water according to our watering guides, so that your trees and plants establish strong root systems.