Celebrate the Day of the Dead with Flowers and Recipes
Posted on: Friday, October 21, 2022
Halloween is around the corner, but that means that Día de los Muertos is too! This Latin American holiday is a sacred celebration of loved ones who are no longer with us and is filled with festivities featuring delicious food and gorgeous flowers.
Day of the Dead History
Día de los Muertos is a sacred Latin American holiday celebrated from November 1–2, where families can remember and celebrate the lives of loved ones who are no longer with them. Aztec communities began this celebration over 3,000 years ago as a way to honor their deceased family members; it is a time to reflect and remember, but not necessarily to mourn. Instead, it is a joyous holiday, coinciding with two Catholic observances: All Saints' Day (Nov. 1) and All Souls' Day (Nov. 2). While it aligns with these observances, it is a special holiday on its own, celebrated with delicious food, decorative sugar skulls, and colorful flowers. A significant part of the Day of the Dead proceedings involves leaving marigolds (also called cempazuchitl flowers) at the graves of loved ones who have passed on.
---
Plants & Flowers for Day of the Dead Celebrations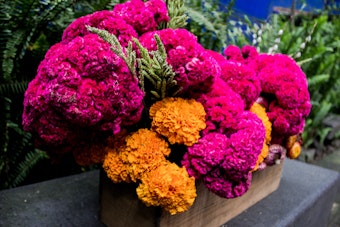 Marigolds are—by far—the most significant Día de los Muertos flower. These flowers represent how fragile life is and are used to honor deceased loved ones by leaving them on altars or as beacons to guide the spirits back to our world.
Cockscomb, or celosia, are also popular flowers for celebrating the Day of the Dead, with their vibrant pinkish red symbolizing the blood of Christ while also adding a cheerful color to the array of floral arrangements, perfectly capturing the duality of reflection and celebration for this holiday.
White flowers are also important for the Day of the Dead, symbolizing peace and sympathy for the deceased. Mums, hoary stock, and baby's breath are popular choices for white flowers.
If you're looking for an excellent tabletop floral arrangement, gladiolus' are fantastic options as they follow the tradition of the Day of the Dead; they are a symbol of remembrance but are a bit more versatile with fresh-cut arrangements.
---
Food & Drink
Food is a significant aspect of the Day of the Dead; it is for family and friends to enjoy together and as an offering to the dead, perhaps even enticing them to visit the living. Some believe that if you offer an ancestor's favorite food and the food goes bad the next day, the ancestors ate and took the essence of the food with them.
Here are some classic Day of the Dead recipes you can try at home!
Tortilla Soup
A simple and delicious soup that is spicy and comforting! You'll need the following:
4 Roma tomatoes
2-3 cloves of garlic
½ an onion
1 large chili
4 cups of chicken broth
Cilantro
salt and pepper to taste
Start by roasting your tomatoes, garlic, onion, and chili (deseeded), and then combine them in a blender. Add this to your chicken broth and simmer for 30 minutes. Now that you have a soup base, garnish it with shredded chicken, tortilla strips, avocado, cilantro, lime, and a light drizzle of oil!
Horchata
This classic drink is sweet and delicious! You'll need:
1 cup of uncooked long-grain white rice
½ cup of almonds (chopped or sliced)
1–2 cinnamon sticks
3 cups of cold water
2 cups of milk
½ cup of sugar
1 tsp vanilla extract (optional)
Start by blending your rice, cinnamon, and almonds in a blender. Add water, milk, sugar, and vanilla, and blend until smooth. Leave in a container in the fridge overnight, then strain the solids out in the morning. Serve chilled and garnish with ground cinnamon.
Marigold-Infused Tequila for Margaritas
Since marigolds are so significant to the Day of the Dead celebrations, making marigold-infused tequila is the perfect way to add the scent of marigolds to your beverages! Simply combine organic marigold petals with tequila in a 1:5 ratio, and add cinnamon sticks to your preference. Seal it and let it infuse for up to a week, then strain the solids and enjoy your margaritas!
If you'd like to pick up some flowers for the Day of the Dead celebrations, visit us at one of our SummerWinds Nursery locations in Arizona. Feliz Día de los Muertos!