EarthBox Garden Kits

EarthBOX: Better yields—with less water, less fertilizer and less work. Intelligently designed by agriculture engineers and tomato farmers, the EarthBox® Garden Kit is an all-inclusive, container gardening system that has what you need to successfully grow an abundance of vegetables, fruits and herbs. Award-winning and university-tested, this nearly maintenance-free system has been proven to increase yields—with minimal effort—all while conserving water and using less fertilizer.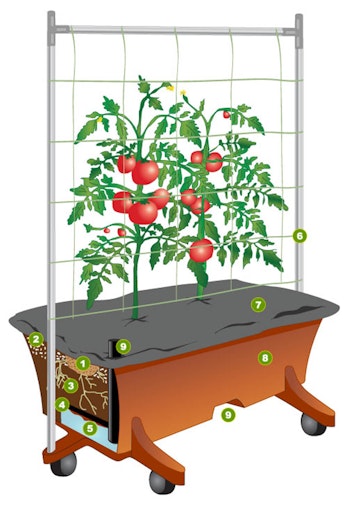 1. Plant Food/Fertilizer: Give your plants the nutrients they need via a fertilizer strip that distributes food as it's needed.
2. Dolomite: Provides essential trace elements to support overall plant health and maintain pH. This will help prevent Blossom End Rot on tomatoes.
3. Growing Media: Eliminate poor soil conditions and disease with their high-quality, peat-based growing medium.
4. Aeration Screen & Wicking Chambers: EarthBox's aeration screen, prevents root rot and mold.
5. Water Reservoir: Holds nearly 3 gallons, allowing thirsty plants to draw water naturally.
6. Optional Staking System (Sold Separately): Eliminates the need for awkward cages or trellises, and is designed to provide stability.
7. Mulch Cover: Conserves water and prevents weeds.
8. Sustainable & Built to Last: Simply add casters for mobility to this Food-safe, BPA-free, recyclable resin system that is UV-stabilized to last for years in direct sun.
9. Water Fill Tube & Overfill Drain: Makes this system incredibly easy to water yet impossible to overwater your garden.
Whether you want to grow veggies or herbs on your balcony, patio, deck or in your garden, EarthBox garden kits can save you time, space, and precious resources—all while providing great yields each season!