Trouble Growing Herbs Indoors? We'll Show You How!
Posted on: Tuesday, October 20, 2020
Whether for breakfast, lunch, or dinner, just about any recipe can be taken to the next level with a handful of fresh herbs! Herbs are packed with flavor, highly nutritious and easy to grow indoors. Even apartment dwellers can start their own kitchen herb garden, but indoor gardening does require a little know-how to produce a healthy, abundant crop. Here are the secrets to growing and enjoying fresh, fragrant herbs at home!
---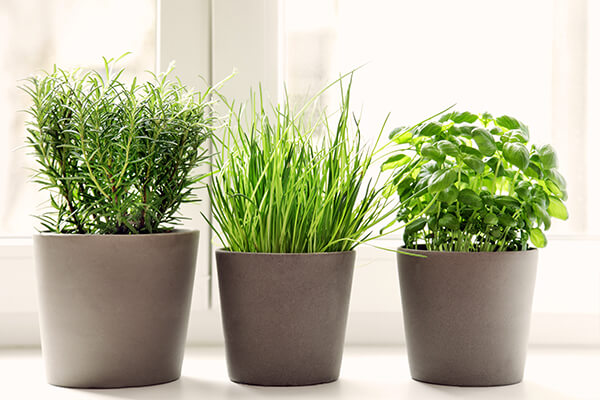 The Right Light
All herbs do best with lots of bright sunlight. A south or east-facing window will offer the best light payoff for your indoor garden. North-facing windows offer the least amount of light, but if that's all you've got, you can supplement with a grow light. Grow lights have come a long way in recent years. The ones you can find now are sleek, powerful, and many are very affordable—a great investment for indoor gardeners of any skill level! Look for a full-spectrum LED option for the best combination of value, light output and energy efficiency.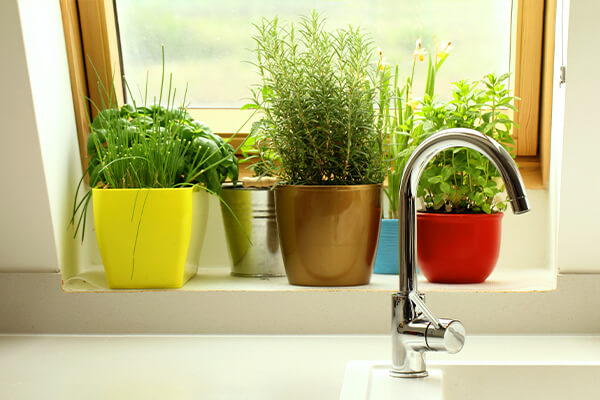 Location, Location, Location!
While placing your herb garden near a window is certainly important, it's also ideal to keep the garden where you'll use it most: near the kitchen! The perfect location is the windowsill above or near your kitchen sink, where it's easy to remember to water your herbs, and they're always handy for your recipes. If you don't have windows in your kitchen, or the light in your kitchen window isn't ideal, choose the nearest south or east-facing window to your kitchen sink. The shorter the journey to and from your water source, the easier it will be to stay consistent with watering!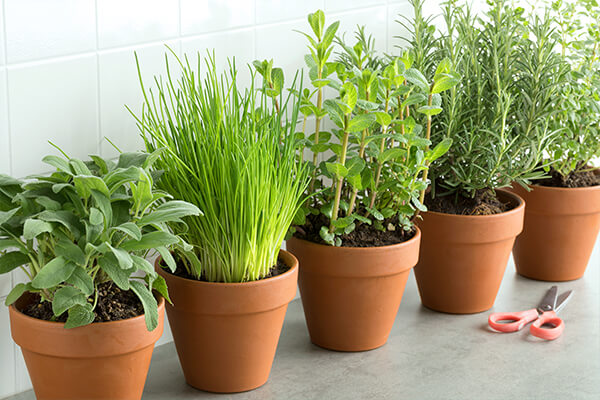 Correct Containers
The container you choose for your indoor herb garden is more than a pretty face—the right container can also improve your results! The most crucial aspect of your pot selection is drainage. Whether you choose a fancy hand-painted ceramic planter or a basic terracotta vessel, make sure your pot has drainage holes before you start planting! If you found a pot you love, but it doesn't contain drainage holes, you can add some yourself. Find some great tips for adding holes to containers of all kinds in our blog on keeping roots healthy.
Container size is also an important consideration when growing herbs indoors. A 4-inch pot is the bare minimum that most plants will need, but as the root systems develop, the pot will need more and more frequent watering, which can lead to uneven results. Instead, opt for a 6-inch or larger pot for single herbs, or consider a window box for multiple herbs. With more room for the root systems to mature, your herbs will have the ability to grow more shoots and produce more tasty edible leaves!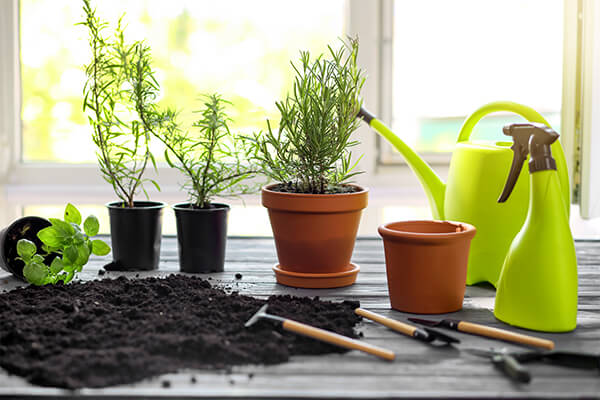 Fill 'Er Up!
High-quality potting soil is also an important component of growing healthy herbs indoors. Use a blend with plenty of organic matter and excellent drainage, like EB Stone Organics Seed Starter Mix or SummerWinds Organic Potting Soil. These soft, rich blends are easy for new roots to penetrate and allow water and oxygen to pass through easily, leading to healthy, robust root systems and nourished plants.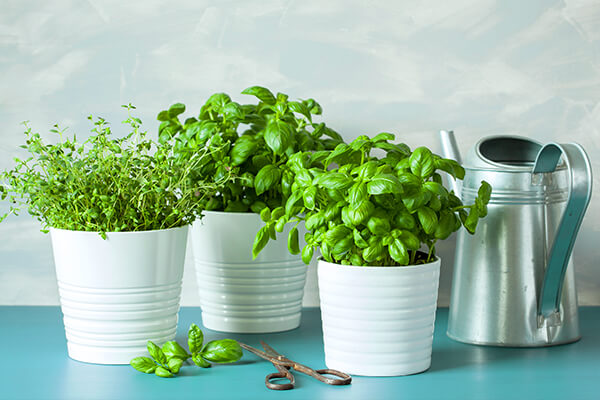 What About Water?
Your herbs' watering needs can vary according to the size of container you use, the amount of light your herbs receive, the size of the plants, and even the specific type of herbs you plant. Watering every day (unless truly necessary) is not ideal, as overwatering can often cause more problems than underwatering. Watering is so case-by-case, it's best to use more tactile and precise methods to determine when to water.
The rule of thumb for watering is to poke your finger into the soil; if the top two inches of soil is dry, it's normally safe to water. However, if you're not keen on sticking your finger in the soil every day or so, a moisture meter is an inexpensive solution that will help you stay as consistent as possible. Simply stick it in the soil, and the meter will indicate when your plants are ready for a drink!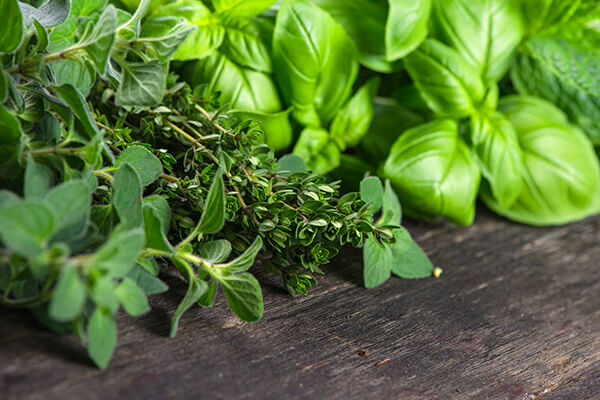 The Best Herbs to Grow Indoors
These herbs grow readily from seed and are perfect for beginners!
Basil (Note: Compact globe varieties are best for indoor growing)
Chives
Lemon Balm
Mint
Parsley
More Challenging Herbs for Indoor Growing
These herbs are difficult to grow from seed. If growing indoors, we advise using a starter plant from our nursery, or starting the plant outdoors, and moving them indoors at maturity.
Bay Leaves
Cilantro
Dill
Oregano
Sage
Thyme
Once your plants start producing edible leaves, they'll become a staple in all of your favorite dishes! Homegrown herbs add incredible flavor to just about any recipe, and they make great garnishes for all your upcoming holiday meals. Get started on your home herb garden today by visiting one of our Arizona SummerWinds Nursery locations!
---
About SummerWinds Nursery: SummerWinds Garden Centers is a leading high-end retailer of garden and nursery products. Headquartered in Boise, Idaho, SummerWinds operates retail nurseries in the greater Phoenix, Arizona area, and in Silicon Valley, California, making it one of the largest independent retail nursery companies in the west. SummerWinds appeals to both the serious and casual gardeners, with a broad selection of premium gardening products and a friendly and knowledgeable staff.