3 Refreshing Recipes for Hot Summer Days
Posted on: Monday, June 22, 2020
The days are getting hotter, and we're craving some refreshing treats to beat the heat! These simple recipes highlight the best produce your garden has to offer this month while helping you stay cool as a cucumber.
Speaking of cucumbers, here's recipe number one!
---
1. Watermelon, Cucumber, & Feta Salad
This sweet-and-salty salad is healthy, colorful, and totally delicious. Made with in-season watermelon and cucumber, the whole family will love the fresh flavors of this refreshing summer side. Plus, it comes together in no time at all!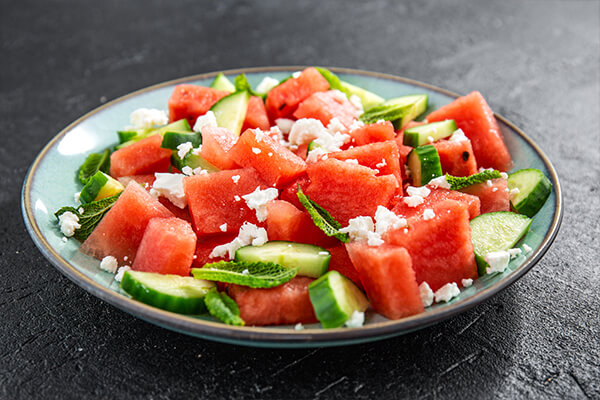 Ingredients:
1 watermelon, cut into 1" cubes
1.5 cucumbers, washed and sliced into .5" discs
1 cup feta cheese crumbles
Juice of 1 lemon
1 teaspoon liquid honey
½ cup extra virgin olive oil
1 bunch of your favorite fresh herb, finely chopped (We recommend mint, oregano, or basil)
Sea salt, to taste
Method:
1. Toss cubed watermelon and cucumber discs together in your favorite large salad bowl.
2. Whisk together lemon juice, honey, and extra virgin olive oil to form the dressing.
3. Pour dressing over melon and cucumber and toss well to coat.
4. Add the fresh herbs and feta crumbles to the bowl and toss again to combine. Taste salad and season with salt if desired.
5. Serve immediately!
---
2. Ginger Grape "Mule"
If you're growing grapes this year, this twist on the classic Moscow Mule cocktail is a fun and delightful way to use some of your harvest! This cocktail can also be made without alcohol while retaining its sweet and spicy flavor profile.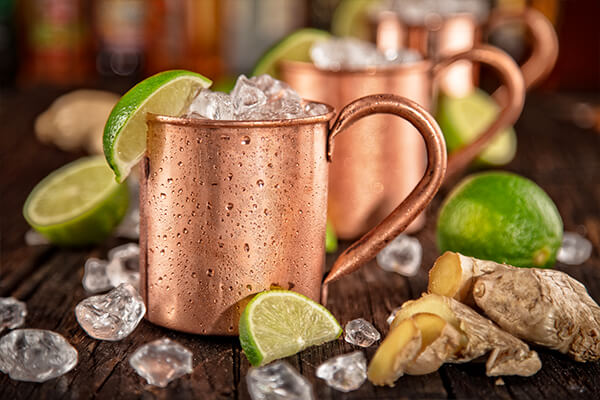 Ingredients:
3 bunches of grapes, frozen
3 bunches of grapes, fresh
1 cup water
1 cup sugar
Juice from 3 limes
1 quart ginger beer
Ice
Vodka (optional)
Method:
1. To make a fresh grape simple syrup, bring water, sugar, and fresh grapes to a boil. Cook until grapes have "popped" and released their liquid.
2. Using a strainer lined with cheesecloth, strain the liquid into a medium-sized mixing bowl.
3. Set syrup aside to cool. (You can store unused syrup in the fridge for up to one week.)
4. In a 1-gallon pitcher or drink server, combine lime juice, 1 cup of the fresh grape simple syrup, 2 cups vodka (if desired), and a quart of ginger beer. Sample mixture and add more syrup, lime juice, or vodka if desired.
5. Top up pitcher or server with ice and stir gently to chill.
6. To serve, add a handful of frozen grapes to copper cups (or your favorite cocktail glass) before pouring in the beverage.
---
3. Caprese Salad Bites
It's peak season for delicious tomatoes and basil, and no recipe shows them off better than this classic summer appetizer! The tang of the tomatoes and balsamic are perfectly balanced with the creamy mozzarella cheese, and complemented with fresh, fragrant basil.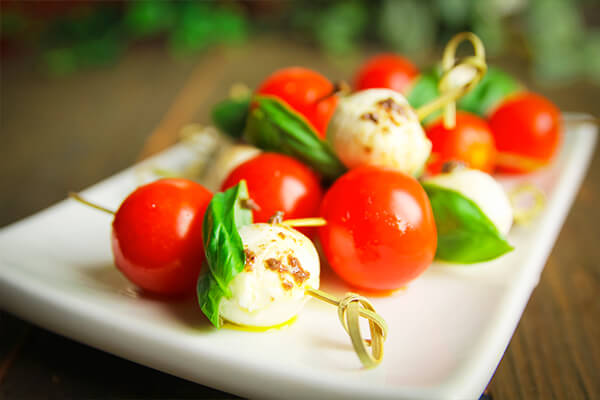 Ingredients:
20 cherry tomatoes
12 oz mini or cocktail bocconcini (fresh mozzarella balls)
3 tablespoons extra virgin olive oil
2 tablespoons balsamic reduction
1 bunch fresh basil leaves, washed and air-dried
Salt & pepper (to taste)
20 toothpicks or mini skewers
Method:
1. Wrap a mozzarella ball in a basil leaf and skewer in place.
2. Add a cherry tomato to the skewer.
3. Repeat process until all 20 skewers are assembled.
4. Whisk olive oil and balsamic reduction to form the dressing.
5. Drizzle dressing generously all over skewers.
6. Season to taste with salt and pepper.
7. Enjoy immediately!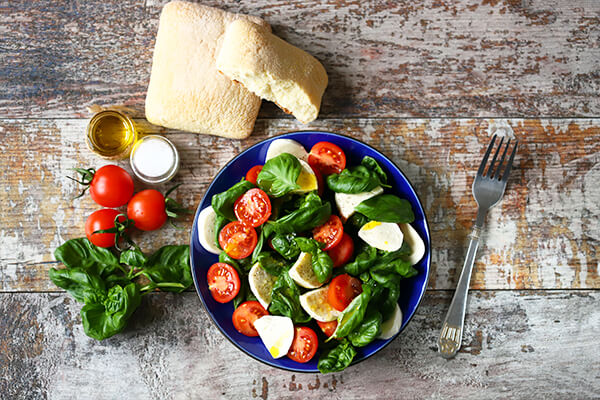 If preferred, this recipe can also be enjoyed without the skewers. To serve as one large salad, finely chop basil leaves first, then toss all ingredients together in your favorite salad bowl before serving.
Love cooking with fruits and veggies? Make sure to keep your garden stocked with lots of tasty treats from your local SummerWinds Nursery. Even in the heat of summer, you can elevate your favorite dishes with fresh herbs grown indoors! Find a garden center near you to see the exciting varieties in-store today.