What You Need to Know About Square Foot Gardening. It's Easy!
Posted on: Thursday, March 8, 2018
Have you heard of square foot gardening before? This technique involves dividing up a raised container bed into small square sections; the goal is to create a smaller, yet populated vegetable garden with a number of benefits. Are you ready to begin square foot gardening? We have wonderful herbs and vegetables ready to buy right now!
If you're unsure about this type of gardening, here are a few reasons Preparedness Mama offers as to why you should give it a try, as well as advice for what to consider before getting started.
---
9 Reasons to Try Square Foot Gardening
Growing your vegetables close together cuts down on weeding
It works well with raised bed gardening
Soil is enriched for super nutrition – a benefit for you and the plant
You can grow more in less space
It's easy to water and spot pests
It's easy to plan and stretch your harvest over several seasons
You control planting so there is no more over planting and thinning
Square foot gardening is a seed saver – you only grow what you need
Succession planting and crop rotation is easy.
---
Criteria for Square Foot Gardening
You build your garden in a series of 12 inch by 12-inch squares – an area of 1 foot each.
Each square is grouped together in blocks measuring 4×4 feet.
Each square foot grows one kind of plant. For example, you can plant 4 leaf lettuce plants, 9 spinach or 16 carrots per square foot.
Each plant has specific growing requirements and attributes. Plant taller crops toward the inside, or against a back screen/wall. Plant shorter crops toward the outside or toward the front.
Don't forget to incorporate companion plants like marigolds into your square foot garden. These helpful plants can help deter pests and more!
Soil health is the key to your success.
---
Additional Resources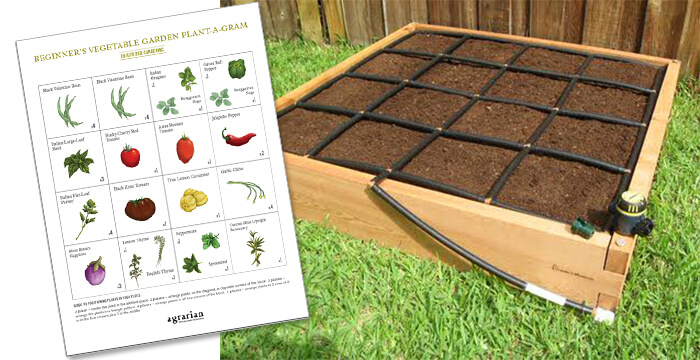 Stop by your local SummerWinds Nursery for all of your plants and soil needs.
For inspiration as to the many types of square foot gardens you can plant, check out William Sonoma's downloadable square foot garden guides. Sample square foot garden layouts include the following: Beginner's Vegetable Garden, Salad Garden, Culinary Herb Garden, Tomato Garden, Canning Garden, Salsa Garden, and more!
For ideas on raised square foot garden beds and watering systems, check out gardeninminutes.com raised garden kits and their Garden Grid™ watering systems (shown above).
---
Create Your Own Square Foot Garden
With the ease of growing many vegetables in one area and easy harvesting, this gardening technique is great for beginners and pros alike. If you have any questions about creating your own square foot garden, visit your local SummerWinds Nursery and speak to one of our
Trusted Garden Advisors
; we're happy to help.
About SummerWinds Nursery
A leading high-end retailer of garden and nursery products. Headquartered in Boise, Idaho, SummerWinds Garden Centers, Inc. operates retail nurseries in the greater Phoenix, Arizona area, and in Silicon Valley, California, making it one of the largest independent retail nursery companies in the nation. SummerWinds appeals to both the serious and casual gardeners, with a broad selection of premium gardening products and a friendly and knowledgeable staff.