Specialty Succulents & Cacti

Looking for some unique succulent or cactus plants to add to your desert garden landscape? We've got some great varieties to choose from!
Agave Varieties
These small. slow-growing and compact ornamental plants thrive in dry, hot climates and require little supplemental water once established.
Agave Ferdinand Regis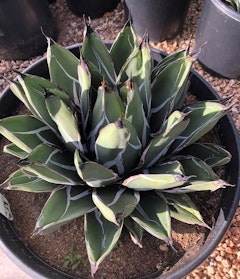 The Agave Ferdinand Regis (King) can grow to approximately 18-inches tall and 20-inches wide.
Agave Victoria Reginae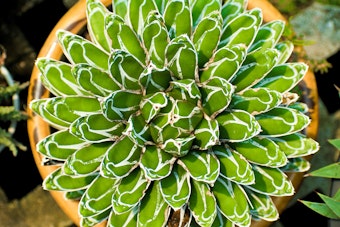 The Agave Victoria Reginae (Queen) can grow up to 18-inches tall and 18-inches wide.
---
Aloe Varieties
There are over 650 aloe species, many of which can be grown in either containers or gardens. The most popular is Aloe Vera. The ones we've included in this list are large aloe varieties that can be planted to make a big statement in your desert garden and landscape.
Aloe Bainesii
Also known as Aloe barberae x bainesii and as a variety of Tree Aloe, the Aloe bainesii variety is a slow-growing, easy-to-grow evergreen succulent that can make a striking accent plant. Originally from South Africa, it is drought tolerant, once-established and can reach a mature height of 20-30 ft. and a width of approximately 10-20 ft. Perfers full sun and is cold hardy to 25-30° F. Once mature, it can bloom tubular rose pink flowers with green tips during the fall/winter months.
Aloe Hercules
This large, fast-growing, evergreen aloe tree, originally from South Africa, can grow up to 25 ft. tall and 15 ft. wide and can make an impressive statement in your desert landscape. Grows well in full sun well-drained soils and requires infrequent supplemental summer irrigation, once established. Once mature, can produce salmon colored blooms in spring and fall. Cold hardy to 20-25° F.
Aloe Plicatilis
Also known as a Fan Aloe and as Kumara plicatilis, this ornamental succulent plant, originally from South Aftica, boasts striking leaves grown in a fan-like arrangement. It can slowly grow up to a height of 8 ft. tall and 6 ft. wide, and produces bright pink/red flowers at the end of winter/spring. Drought-tolerant, once established. Cold hardy to 20-25° F.
---
Mangave Varieties
These symmetrical, compact agaves boast colorful succulent leaves and typically grow up to 2 ft. tall and 1.5 ft. wide (altough some varieties can grow up to 4 ft. tall and 6 ft. wide). Mangaves are drought-resistant once established and can tolerate high temperatures and direct sunlight, though they prefer some shade.
Mangave Aztec King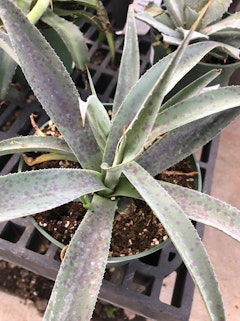 Mangave Macho Mocha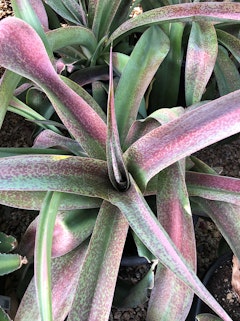 Mangave Mission to Mars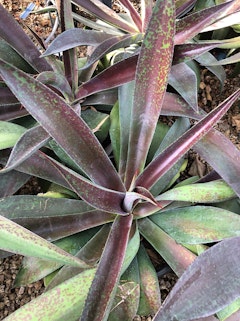 Mangave Pineapple Express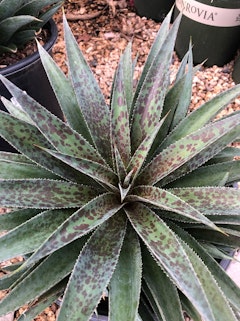 Mangave Racing Stripes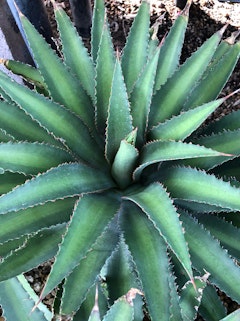 Mangave Red Wing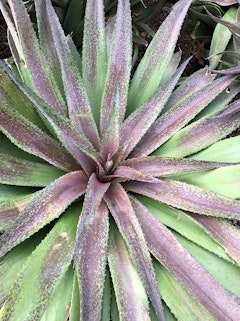 Mangave Tooth Fairy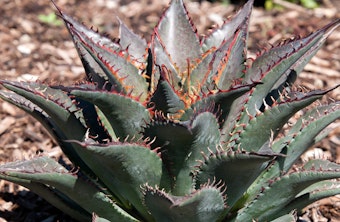 ---
Other Favorites
Boojum Tree
Originally from Baja California and also known as Fouguieria coumnaris, a Boojum tree trunk can very slowly grow up to 2 ft. thick and this upwardly tapering tree can grow up to almost 70 ft. tall and 5 ft. wide. Boojum trees boast bee-loving honey-scented cream-yellow flowers that bloom in August and September! The Boojum tree goes dormant in the summer. Disease and pest free, and drought tolerant, once established. Grows well in full or parital sun and well-draining soil. Larger plants are cold hardy to 20° F, while smaller ones are cold hardy to 25° F.
Dragon Tree
Originally from the Canary Islands and also known as Dracaena draco, this slow-growing evergreen tree (approx. 4 ft. in 10 years) can grow up to 15-25 ft. tall and wide, and matures to have an umbrella-like habit. After approximately 10-15 years, it can produce greenish white, lily-like perfumed flower spikes that bloom in summer are followed by coral or yellow berries that contain seeds. Named for the reddish resins that are secreted when the bark or leaves are cut. This ornamental tree is drought-tolerant, once established. Grows well in sun or shade and is cold hardy to 20-25° F.
Furcraea MacDougalii
Also known as MacDougal's Century Plant, this evergreen succulent, originally from Mexico, enjoys full sun and is drought-tolerant once established. It can grow 12-20 ft. tal and 6-8 ft. wide and infrequently blooms white to yellow-green spiking flowers late spring to early summer. Cold hardy to 20-25° F.