The Native Seed Company - Flower Seeds
Native Flowers
The Native Seed Company
At SummerWinds Nursery, we sell a variety of native flower seeds that contain species that were chosen for their ease of germination, and for their ability to flourish in our desert climate conditions, including:
Flowers
California Poppy (Eschscholtzia californica): Flowers range in color from yellow to brilliant shades of orange. They prefer full sun and sandy, well-drained, poor soil. Very drought-tolerant flowers readily re-seed and grow 1' to 2' tall—February through April in the lower desert, and later at higher elevations.
Desert Marigold (Baileya multiradiata): Silvery gray, fuzzy foliage with abundant bright yellow flowers. Blooms February through October.
Firewheels (Gaillardia pulchella): Also known as "Blanket flower" or "Indian Blanket". Popular annual that grows 1 to 2 feet tall with showy 1 to 2 inch flowers with bright heads often with red coloring at the base, blending into yellow tips, each with jagged edges at the ends of the petals. Blooms February through October.
Mexican Hat (Ratibida columnaris): This showy, daisy like, perennial is easy to grow and the 2 to 3 feet tall stems of bright red flowers with yellow tips, make a wonderful backdrop in your wildflower bed! Blooms April through October.
Penstemon (Penstemon eatonii): Also known as "Firecracker Penstemon". One of the showier penstemons, these magnificant bright red, tubular flowers sometimes exceed 2 inches in length. This perennial has sprawling erect grayish blue waxy stems boasting beautiful flower stalks. Blooms February through April.
---
Special Wildflower Seed Mixes!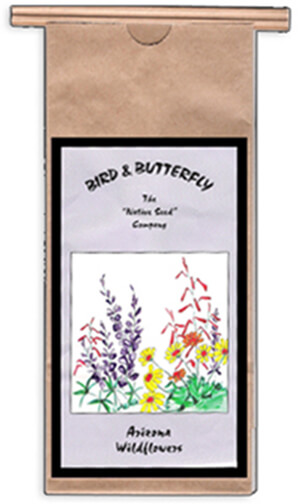 Bird & Butterfly
A specially selected mix of flowers that are known to be enticing attractants for both birds and butterflies!
Flowers: Lupine, California Poppy, Cosmos, Coreopsis, Purple Coneflower, Scarlet Sage, Desert Marigold, Sweet Alyssum, Four O'Clock and Penstemeon
These varieties were also chosen for their ease of germination and ability to reseed themselves for future years of garden and wildlife enjoyment.
Flowering Season:
Blooms from March through November, depending on elevation.
---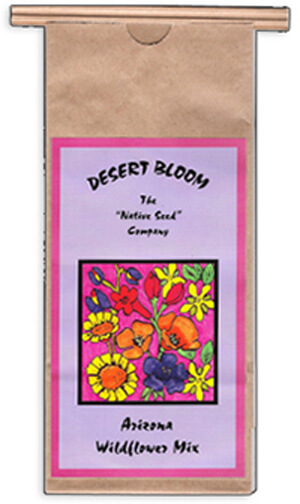 Desert Bloom
A classic mix of beautiful desert wildflowers, specially selected for their ability to thrive in arid, desert climates.
Flowers: Desert Marigold, Cassia Covesii, Desert Lupine, Blue Bells, California Poppy and Penstemon Eatonii.
After wet winters, many of these varieties (in the wild) will bloom in lush blankets over western desert landscapes.
Flowering Season:
Blooms February through April.
---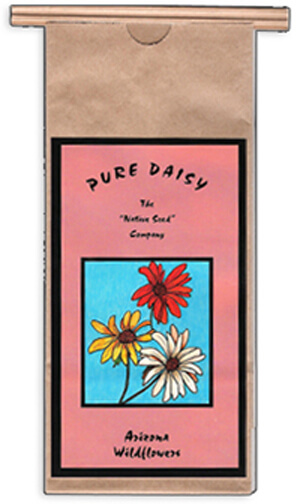 Pure Daisy
African Daisy seeds in a bag mix, created due to popular demand! Although not a native desert wildflower, this seed is highly popular with homeowners who want an easy, showy spring display in their home gardens.
An easy, showy, bold display of daisy-like flowers in many faceted shades of bright orange and bright yellow.
Flowering Season:
Blooms late January through March.
---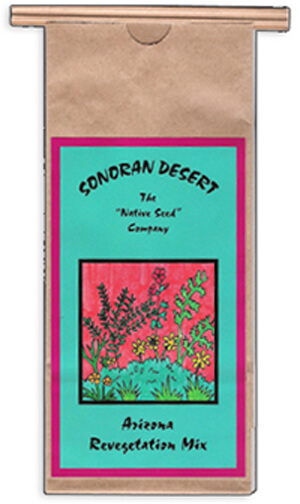 Sonoran Desert Re-Vegetation
A mix of native desert seeds designed to cover disturbed areas where re-growth and erosion control is sought.
Mix includes some wildflowers, grasses and bushes: Creosote, Triangle Bursage, Encella Farinosa, Desert Marigold, Cassia Covesii, Desert Globe Mallow and Needle Grama. Can be planted all year long, with spring bloom on many of the species.
Although there are flowering plants in this mix, its primary purpose is to re-vegetate and cover damaged areas needing a fresh start!
Flowering Season:
Can be planted year long, with many of the species blooming in spring.
---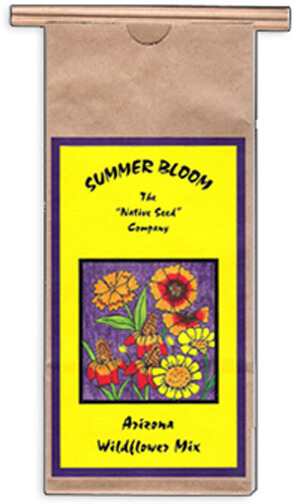 Summer Bloom
A delightful mix of both annuals and perennials that will begin to bloom at the end of spring, and stay strong until possibly the first frost!
This mix can grow tall and be enjoyed throughout the summer, allowing for light bouquet cutting to bring flowers into the house as well! Flowers: Firewheels, Desert Marigold, Mexican Hat, Dog Fir and Coreopsis.
Flowering Season:
Blooms April through November, depending on your elevation and precipitation or irrigation supplementation. Best planted in early spring.
At SummerWinds, We Guarantee Success!