Vegetable Planting & Care

Quality Ingredients Make All the Difference
Your local SummerWinds Nursery has the tools you need to grow the tastiest garden, including the following products recommended for use when growing veggies, herbs and more.
---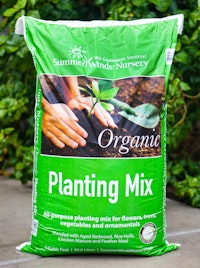 SummerWinds Nursery Organic Planting Mix
Developed with E.B. Stone Organics, this regionally-formulated, all-purpose organic transplanting mix is ideal for all types of flowers, vegetables and ornamentals, including annuals, perennials, ground covers, shrubs, fruit and shade trees. Blended with Aged Redwood, Rice Hulls, Aged Fir Bark, Chicken Manure, Dolomite Lime (pH adjuster), Bone Meal, Feather Meal, Gypsum, Alfalfa Meal, Bat Guano, and Kelp Meal. Registered cdfa.
E.B. Stone Organics Raised Bed & Potting Mix
Enriched with natural soil microbes, this 100% natural and organic potting or planting mix can be used in all raised beds and container gardens —as a stand-alone soil or mixed with garden soil. Use when planting vegetables or ornamental beds. Rich compost holds the nutrients plants need, Coir (Coconut fiber) holds moisture in the root zone, naturally-aged forest fiber feeds soil microbes and provides organic matter, Volcanic Pumice drains away excess water, and beneficial microbes enhance plant's root zone. Contains regionally sourced Bark, Coir, Compost, Pumice, Earthworm Castings, Aged Chicken Manure and Mycorrhizae.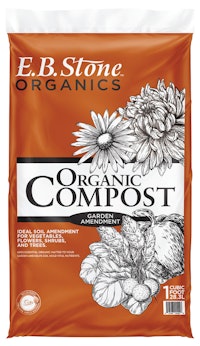 E.B. Stone Organics Organic Compost
Ideal for anything from vegetable gardens to flower beds, shrubs and trees, this compost helps loosen soil, adds organic matter and encourages strong root growth. Also a good seed cover for lawns. Registered cdfa.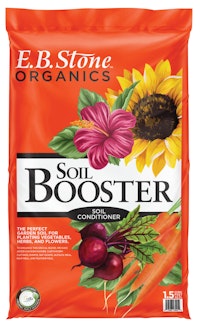 E.B. Stone Organics Soil Booster
A unique blend of 100% natural and organic ingredients designed to create the ideal soil conditions for your herbs, vegetables and flowers to reach their full potential. Can be used as a soil conditioner to break up hard clay soil, and to add organic material to help sandy soils hold onto water and retain nutrients. Registered cdfa.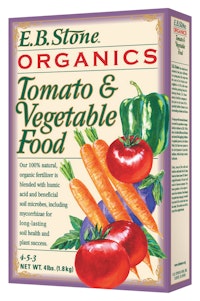 E.B. Stone Organics Tomato & Vegetable Food
This 100% natural and organic, non-burning 4-5-3 fertilizer is blended with humic acid and beneficial soil microbes for long-lasting plant success. Can be used with vegetables and soft fruits like strawberries. Contains calcium to aid in preventing disorders like blossom end rot. Contains Blood Meal, Feather Meal, Dried Chicken Manure, Bat Guano, Alfalfa Meal, Kelp Meal, and Potassium Sulfate. Feed every 6-8 weeks during the growing season for optimal results!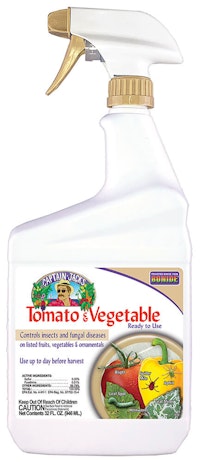 Bonide Tomato & Vegetable Ready to Use
This 3-in-1 ready to use spray kills aphids, mites, bugs, scale, caterpillars, whitefly, thrips, scab, rust, powdery mildew, leaf spots, blight, brown rot and other listed insects and diseases. May be used up to day before harvest.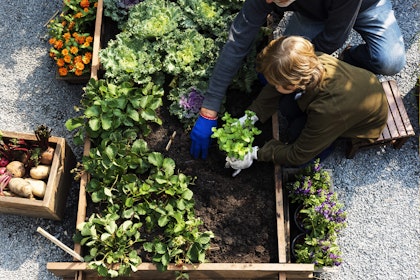 How-To Videos
Check out our How-To Videos on: Soil Prep, Planting Trees & Shrubs, Watering, Pruning, and Planting a Raised Bed Garden.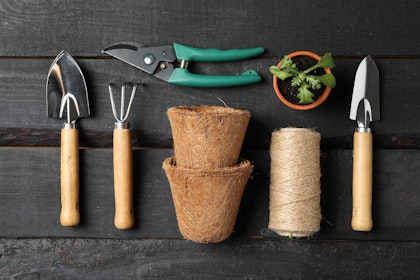 Garden Tools
We've got a variety of gardening tools, including: gloves, hand tools, netting, watering wands, trellises, grow lamps/lights and more...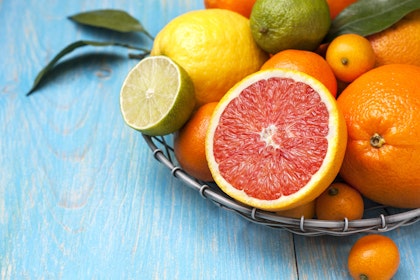 More Edible Plants
Grow your favorite edible plants, including: fruits, herbs, culinary sages and more...