You Can Water Your Plants While You Enjoy Your Vacation
Posted on: Friday, May 19, 2023
Going On Vacation? Don't Worry, We've Got You Covered!
It's summer in the Valley of the Sun and that often means a vacation is right around the corner. What better way to escape the summer heat than to have one less thing to worry about while you're out and about. Whether you're enjoying a weekend holiday or taking a longer trip, these watering aides can help care for your lovely plants while you're away.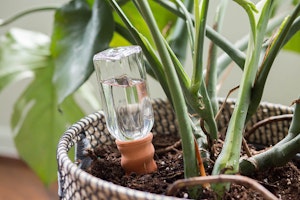 Watering Through Clay-Tiped Stakes
At SummerWinds, we offer two types of watering assitants that utilize clay-tipped stakes to slowly release water into dry soil.
Never Dry Plant Pal™ by Syndicate
The Never Dry Plant Pal™ by Syndicate controls soil hydration through the use of a recycled glass bottle that is filled with water. As the soil dries, the clay base releases water into the soil—without the fear of overwatering. Three options available: mini, mini with the bottle, and regular size.

Scheurich Bordy Water Reserves
Scheurich's bordy water reserves add a fun and stylish twist to indoor plant watering. Plus, it's easy to see when it's time to add water to the translucent reservoir. As the soil dries, the clay spike releases water into the surrounding soil drop by drop.
Buried Clay Reservoirs
At SummerWinds, we carry clay pots that are perfect indoor watering assistants! Great for use in outdoor gardens or indoor/outdoor containers.
Dripping Springs Ollas
This clay pot irrigation makes watering your garden or houseplant easy. Simply bury the clay pot (leaving the neck exposed) and fill it with water a couple times a week (depending on the soil and environment). The porous, unglazed clay reservoir will provide a consistent source of water to your plants. Comes with a lid to reduce water evaporation and is available in two favorable sizes: Ollita 1.5 quarts (available fall 2023) and Olla 2.9 gallons.
Stop by SummerWinds Nursery today, to view our selection of watering aids perfect for your garden or home. Let one of our Trusted Garden Advisors help you find the right watering vessels for your needs.
Escaping the heat all summer long? Check out our blog, Heading Out of Town for Summer? Here's How to Prep Your Garden & Landscape.