Travel to Some of the Best Gardens Around the World
Posted on: Thursday, August 9, 2018
As we all know, gardens can be a remarkable sight. They are also wonderful because each garden is its own unique experience. Each culture takes what they have, or gathers unique plants from a different area of the earth, to create something special. There are many wonderful gardens around the world, and even in our own neck of the woods, that are meant to be experienced. If you can't make it to all of them yourself in person, grab your mental passport and get on board as we explore some of the best gardens the world has to offer.
Magnificent Gardens from Around the World
Giardini Botanici Villa Taranto, Piedmont, Italy
If you love art and unique plants, you're in the right place. As noted in Villa Taranto, "The botanical patrimony of the gardens of Villa Taranto contains nearly 1,000 non autochthonous plants and almost 20,000 genera and varieties of particular botanical importance."

Captain Neil Mc Eacharn, who created the Giardini Botanici Villa Taranto once said: "A beautiful garden does not need to be big, but it should be the realization of one's dream, even though it is only a couple of square meters large and it is situated on a balcony." This man brought in thousands of plants from all different parts of the world. He also brought back to Italy, "rare collections, some of them unique in Europe and acclimatized after long laborious efforts, have been arranged with art in this beautiful setting, between the mountains and the lake."

This botanical garden is home to rare botanical species including:
Victoria Cruziana (pictured in banner image above - right) : Originating in South America, this lily can grow up to 2 meters in diameter during their growing season (June-July).
Metasequoia Glyptostroboides: According to Villa Taranto, "It was considered extinct and was previously known only from the fossil remains until 1941. The two specimens in the Botanical Gardens of Villa Taranto were given to Capt. Mc Eacharn by prince Borromeo in 1949 and in 1950."
Dicksonia Antarctica: This plant belongs to the fern family and originated in the damp Australian forests.
Emmenoptery's Henryi: This tree was planted in the European garden in 1947 but didn't bloom until 1971.
Davidia Involucrata: This plant was planted in 1938 by Prince don Jaime and originated from China.
Acer Palmatum Cap. MC Eacharn: This is "A bright red colored maple dedicated to the Captain."
---
Keukenhof Gardens, Lisse, Netherlands
If you love tulips, this is the place for you. The Keukenhof Gardens has over 7 million bulbs that will bloom in the spring and over 800 varieties of tulips; that is a lot!

The history of this sprawling garden dates back to the 15th century, where Countess Jacoba van Beieren would gather fruits and vegetables and in 1641, the Jeukenhof Castle was built. More recently, "In 1949 a group of 20 leading flower bulb growers and exporters came up with the plan to use the estate to exhibit spring-flowering bulbs, signaling the birth of Keukenhof as a spring park."

Are you interested in learning about tulips? Here are some interesting facts about the beautiful flower from Southern Living:
Tulips and the Economy: "In the 1600s tulips were the most expensive flower in the world—some were even valued higher than most homes. Speculators traded bulbs for far above their true value before the market suddenly crashed."
There are 150 known species of tulips and more than 3,000 varieties.
The Dutch government in the 1980s outlawed "Broken" tulips, striped tulips, because, though beautiful, they can weaken bulbs.
Depending on the climate, tulips can last up to two weeks in colder weather, or only a few days in warmer areas.
Tulips will wilt if next to daffodils: "Daffodils release a sap that clogs up the steps of other cut flowers—particularly delicate tulips."
---
Butchart Gardens, Canada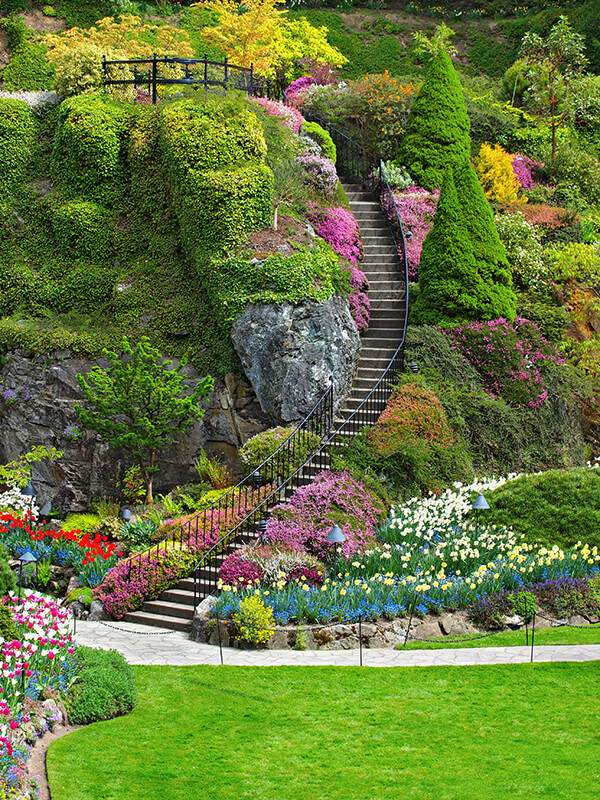 Butchart Gardens is a National Historic Site of Canada and receives over a million visitors annually. The gardens have over a million bedding plants in over 900 varieties that bloom from March to October.

Within the garden, there are many different types of gardens and impressive numbers to match. Here are their gardens by the numbers:
Sunken Garden: The Sunken Garden took 9 years to create, 5 acres of gardens, has 151 flowerbeds and 65,000 bulbs planted for spring.
Rose Garden: The Rose Garden has 7 types of roses, 280 varieties of roses, 2,500 rose plants and 30 rose arches.
Japanese Garden: The Japanese Garden has 1 acre of landscape, 500 rhododendrons and azaleas, 74 Japanese Maples and 200 meters of flowing streams.
Italian Garden:This Italian Garden has 21,780 square feet of gardens, 18 flowers beds, 85 plant varieties and 22,000 spring bulbs and biennials.
Mediterranean Garden: This garden covers 21,780 square feet of gardens, 9 garden beds, 110 plant varieties and 1 large agave plant.
Also pictured in banner image above - left.
---
Tucson Botanical Gardens
One of the most beautiful gardens is right in our very own state: the Tucson Botanical Gardens. Reader's Digest named Tucson Botanical Gardens as the BEST Secret Garden in America. Founded in 1964 by horticulturist and collector, Harrison G. Yocum, their missions is to connect people with plants and nature through art, science, history and culture. After we've traveled around the world, it's good to come home, right?
---
Enjoying Your Own Garden
There are so many beautiful gardens to experience around the world. Whether you're in Netherlands or right in your own backyard, either way, they are to be appreciated. If you would like help creating your own special and unique garden, stop by your local SummerWinds Nursery and bring your inspiration for our expert tips and opinions. While we may not be able to grow the same flowers they can in Italy, we can still recreate the beauty with native Arizona flowers.
About SummerWinds Nursery: SummerWinds Garden Centers is a leading high-end retailer of garden and nursery products. Headquartered in Boise, Idaho, SummerWinds operates retail nurseries in the greater Phoenix, Arizona area, and in Silicon Valley, California, making it one of the largest independent retail nursery companies in the west. SummerWinds appeals to both the serious and casual gardeners, with a broad selection of premium gardening products and a friendly and knowledgeable staff.