How to Repurpose Items Into Planters
Posted on: Monday, June 1, 2020
Maybe you have already done some spring cleaning and came across a pile of treasures in your house you just knew had the potential for a second "life." Or, maybe you'll be inspired to search for those treasures after reading this post. In any case, you can give new purpose to the unused items around your home by repurposing them into plant pots!
Upcycling, the concept of creatively reusing things you already have, is good for the environment and your bank account. There are plenty of ways to create repurposed planters that can be used for indoor and outdoor use in Arizona, but here are a few to get you started. Who knows, maybe you'll be inspired to think of some more creative ideas for plant containers!
---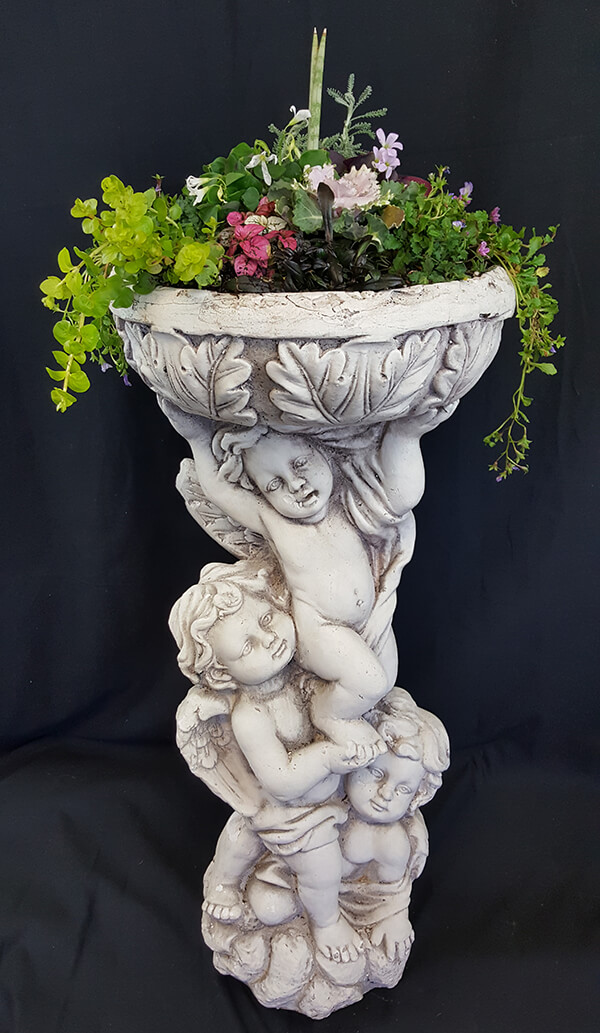 Repurposed Garden Container Ideas for Outdoors
You can grow various plants in containers, like fruits, veggies, succulents, and flowers. Just keep in mind the size of the plant—the bigger it grows, the bigger the container it will need to give its roots enough space to grow.
Bird Bath Planter: If you've been holding onto a cracked or otherwise damaged birdbath, now's the time to use it! Since birdbaths aren't very deep, succulents and cacti, with their shallow roots, will happily grow here. These plants require good drainage, so drill a few holes into the birdbath before you add soil, or add a layer of rocks. The material and finish of the birdbath will determine the correct drill bit to use to avoid damaging the material; use a diamond bit or glass bit for glazed ceramic birdbaths, a masonry bit for unglazed ceramic, and a normal drill bit if the birdbath is made from metal or plastic. This planter idea makes for a beautiful, decorative statement piece in any yard.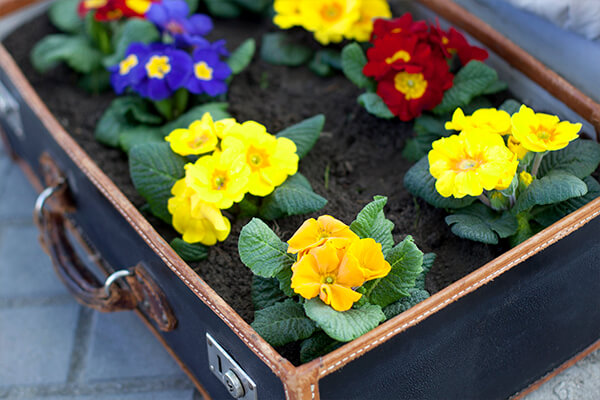 Vintage Suitcase Planter: Have you been holding onto a suitcase from yesteryear, thinking you might give it another go? Or have you bought one at a thrift store, unable to pass by its vintage, distinguished look? Vintage suitcases can be one of those items we think we'll incorporate into our home's design, but never quite find the place for it. Well, the garden is a perfect match! Simply drill in some drainage holes using a Forstner bit, add some soil, then tuck in some plants.
Shoe Holder Planter: Fabric shoe organizers make for great space savers in our closets — they do the same when used as planters! Shoe holder planters are a simple way to include vertical gardening in your yard. Secure the shoe holder to a fence or porch railing, poke drainage holes in each pocket, fill with soil, then add one plant per pouch. Making this planter into a vertical herb garden gives you a one-stop-shop for adding extra flavor to your meals! Make sure to hang up your shoe holder planter on a south-facing wall to give your herbs enough sunshine, and keep them well-watered.
Repurposed Plant Pots for Indoors
The following garden container ideas can also be used outdoors, but since they are smaller, we think they work best indoors, or on your porch, so they won't get lost in your landscape design.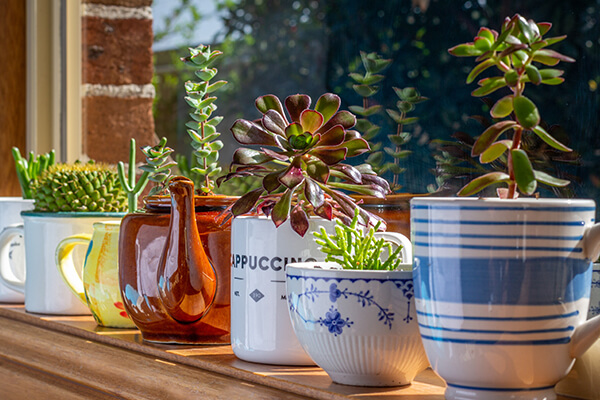 Tea Set Planter: Many of us have odds and ends of tea sets lying around—maybe a teacup doesn't have a matching saucer or a teapot has a chip in it. We can still use them as tiny containers for our indoor plants! Create arrangements of small cacti, succulents, and herbs for a tea party like no other. You can even grow your own adorable miniature tea garden by planting herbs like mint and lemon balm. Carefully drill small holes in the cup or pot to allow for water drainage. To avoid cracking or splitting, use a diamond drill bit and pour a small amount of water onto the concave space on the bottom of the cup before drilling through the middle. These teeny-tiny planters look adorable, but keep in mind the smaller space means less room for water! Particularly in brighter locations, your tea set planters will require more frequent watering than larger planters.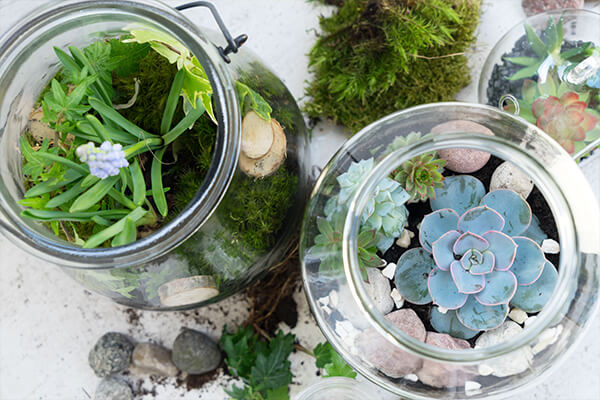 Mason Jar Planter: Finally, we have a use for those jars that somehow misplaced their lids. You can get creative by securing the jars to wooden boards or by painting and decorating them (a great project for kids!), or simply use as is. Place a layer of rocks at the bottom of the jars to allow for drainage, followed by a layer of charcoal. Charcoal prevents disease and odors by absorbing chemicals in the soil, water, and air that can build up in your terrarium. Next, add a layer of decorative moss, cover with soil, and add plants. Mason jars make for great DIY herb gardens!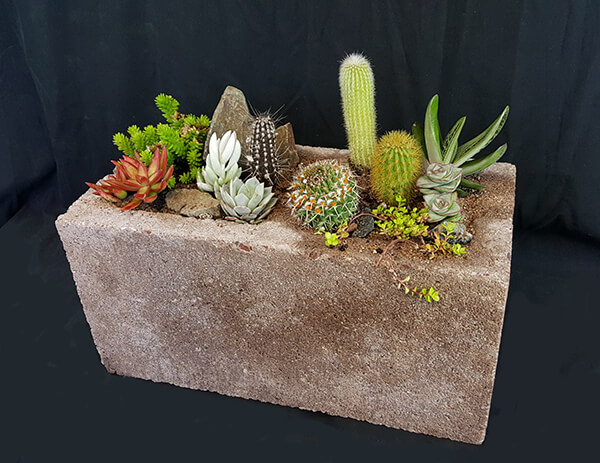 Lego Planter: Here's another that's fun for adults and children alike! If you have kids, you likely have at least some Lego stored in a closet. Instead of building a creation only to take it down a few hours later, give the blocks even more of a purpose by creating a custom container. The height, shape, color, and general design are all up to you. On the bottom baseplate, leave some spaces by skipping a few blocks to allow for drainage.
Once you get started on one repurposed planter project, you'll probably come up with your own design ideas! You might even start to see everyday home items in a new light--like this cinder block. If you need any help choosing what plants to put in your fun, upcycled garden containers, get in touch!
---
About SummerWinds Nursery: SummerWinds Garden Centers is a leading high-end retailer of garden and nursery products. Headquartered in Boise, Idaho, SummerWinds operates retail nurseries in the greater Phoenix, Arizona area, and in Silicon Valley, California, making it one of the largest independent retail nursery companies in the west. SummerWinds appeals to both the serious and casual gardeners, with a broad selection of premium gardening products and a friendly and knowledgeable staff.