Recipes for Chinese New Year
Posted on: Wednesday, February 10, 2021
Happy Chinese New Year and gong hei fat choy! There are plenty of ways to celebrate the Lunar New Year: read about your Chinese zodiac sign, honor your ancestors, enjoy fireworks, and of course, eat! While you could eat your weight in fortune cookies, we hope you immerse yourself in the tastes and smells of Chinese New Year with these delicious and easy recipes instead.
---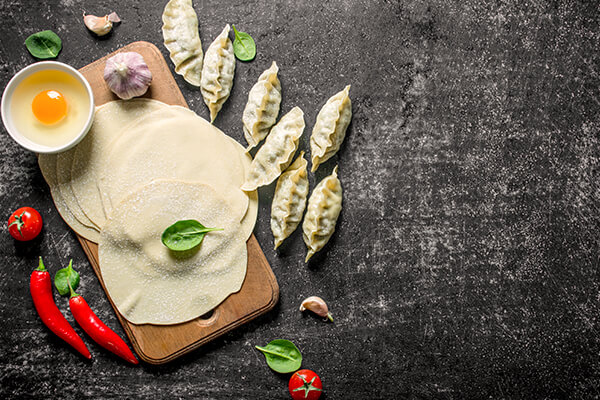 DIY Dumplings
Dumplings are tiny, totally-customizable pockets of flavor! Follow this all-purpose recipe and swap out ingredients once you master the art of dumplings! This recipe makes enough to serve a crowd, so feel free to pare it down to fit your family's needs, or freeze a bunch for future snacks!
Prep Time: 2 Hours
Cook Time: 15 Minutes
Yield: 7-8 Dozen
Ingredients:
3 packages dumpling wrappers
3 lbs green leafy vegetables (napa cabbage, baby bok choy, or Chinese chives)
1 ½ lbs ground pork (or ground chicken or beef, as long as it isn't too lean)
2/3 cup Chinese cooking wine
½ cup cooking oil
3 tablespoons sesame oil
3 tablespoons soy sauce
2/3 cup water (plus more for assembly)
1 tablespoon salt
¼ teaspoon white pepper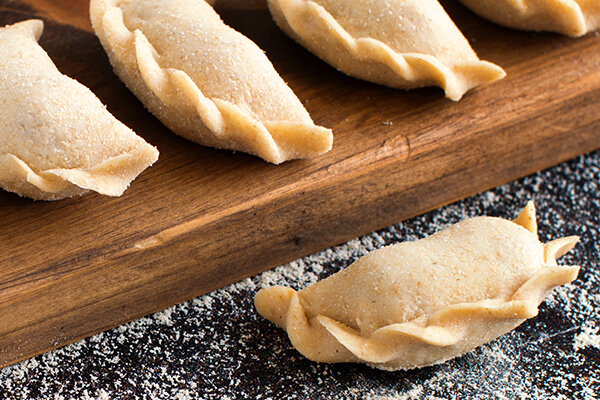 Instructions:
Step 1: Thoroughly wash your leafy greens and then blanch them briefly in boiling water. After a minute, transfer them to an ice bath. Dry the vegetables and chop finely.
Step 2: In a large bowl, stir together the veggies, meat, wine, oil, sesame oil, salt, soy sauce, white pepper, and 2/3 cup water. Mix for 6-8 minutes, until very well combined.
Step 3: Now, here's the tricky part! Wrap the dumplings. Dampen the edges of each dumpling circle with some water. Put a little less than a tablespoon of filling in the middle. Fold in half and pinch together at the top. Make two folds on each side until it looks like a fan. Make sure it's completely sealed, or else the dumpling will leak. Repeat until all the filling is used up. As you go, place the dumplings on a baking sheet lined with parchment paper. Make sure the dumplings aren't sticking together.
To Freeze: If you're planning to freeze your dumplings, wrap the baking sheets tightly with plastic wrap and put the pans in the freezer overnight. The next day, you can move the frozen dumplings to a sealed bag and put them back in the freezer.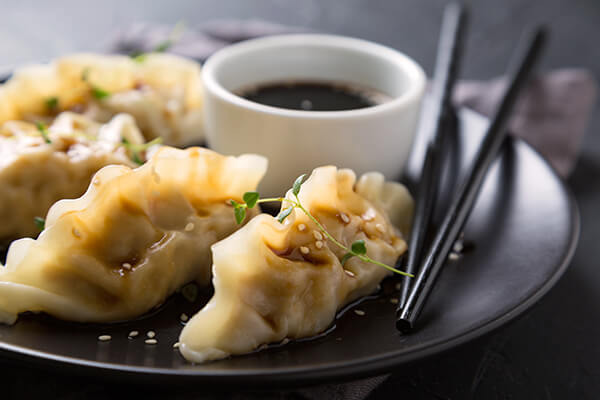 To Boil: Bring a large pot of water to a rolling boil, drop the dumplings in, and cook until they float to the top and the dumpling wrappers are cooked but still slightly chewy.
To Pan-fry: Heat 2 tablespoons of oil in a non-stick pan over medium-high heat. Place dumplings in the pan and fry for 2 minutes. Add a small amount of water into the pan, cover, and reduce heat to medium-low. Let the dumplings steam until the water has evaporated. Remove the cover, increase heat to medium-high and allow to fry for a few more minutes until the bottoms of the dumplings are golden brown and crisp.
Serve with soy sauce, chili sauce, or any other dipping sauce you love!

---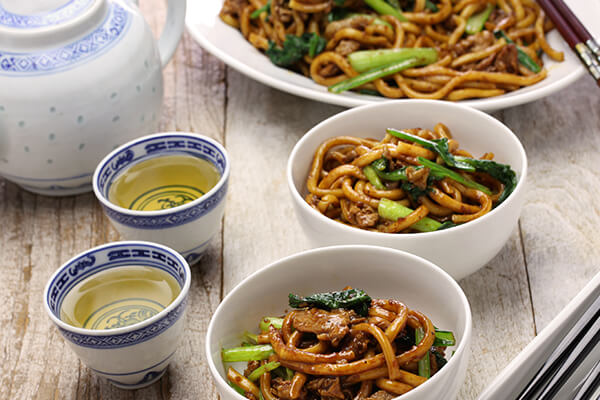 Vegetarian Shanghai Fried Noodles
This dish packs a tasty punch and a big serving of garden veggies without making things complicated. It's a great way to cozy up with some carbs without calling in delivery!
Prep Time: 10 Minutes
Cook Time: 10 Minutes
Yield: 4 Servings
Ingredients:
3 tablespoons oil (divided)
8 shiitake mushrooms (fresh or dry; you have to soak them first if they're dried, thinly sliced)
1 bunch baby bok choy (washed and trimmed)
1 pound Japanese-style udon noodles (450g)
2 1/2 teaspoons dark soy sauce
2 1/2 teaspoons regular soy sauce
¼ teaspoon sugar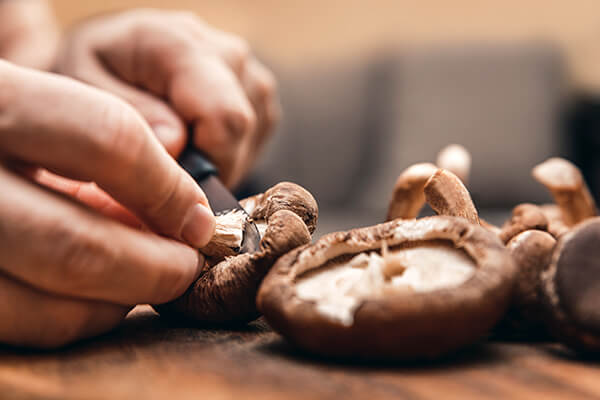 Instructions:
Step 1: Heat a wok and add a couple of tablespoons of oil. Sautee the mushrooms for about 2 minutes on medium-high heat.
Step 2: Break up the noodles gently with your hands and add them to the wok.
Step 3: Add the soy sauces and sugar. Turn the heat to high and rapidly stir-fry everything together until the noodles are a deep brown color. For deeper flavor and color, you can add more soy sauce.
Step 4: Lower heat to medium, add the bok choy, and mix in with the noodles until wilted. Serve hot and enjoy!
---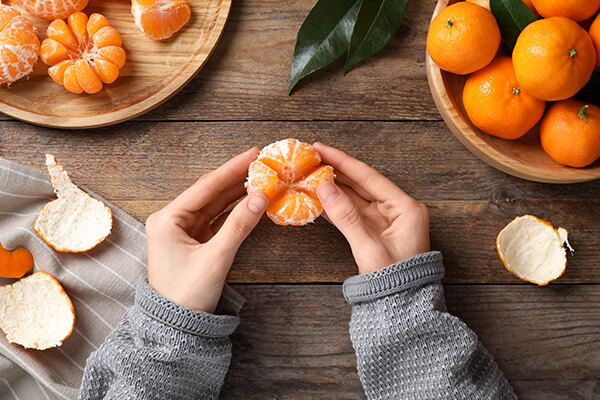 Fresh Mandarin Oranges
For dessert, keep it super simple by serving big bowls full of fresh Mandarin oranges! Not only are Mandarins currently in season here in Arizona, but they're traditional to eat and share during Lunar New Year celebrations. This is because the Chinese word for "orange" (ju) is very similar to the words for "wealth" and "luck." It's customary to give six Mandarin oranges as a gift to symbolize good wishes and prosperity for the recipient. A great way to stock up on all those oranges is to start growing Mandarin oranges at home!
We hope these recipes bring some tasty cheer to your Chinese New Year! If you ever want to talk shop about recipes, home, or gardens in Arizona, come visit us—we're happy to help!
---
About SummerWinds Nursery: SummerWinds Garden Centers is a leading high-end retailer of garden and nursery products. Headquartered in Boise, Idaho, SummerWinds operates retail nurseries in the greater Phoenix, Arizona area, and in Silicon Valley, California, making it one of the largest independent retail nursery companies in the west. SummerWinds appeals to both the serious and casual gardeners, with a broad selection of premium gardening products and a friendly and knowledgeable staff.