4 Cool Christmas Dinner Ideas for a Non-Traditional Feast
Posted on: Monday, December 14, 2020
Christmas turkey has had a pretty good run for the past few centuries, so this year, we're embracing non-traditional Christmas dinner ideas and trying things a little differently! The holidays are all about big feasts with plenty of different flavorful dishes to share with family. So, why not put all that preparation into something new and exciting instead of the same turkey, stuffing, and potatoes?
---
What can I serve for Christmas dinner besides turkey?
You can still make Christmas dinner a special occasion, even without the traditional dishes we've come to associate with the holiday. What's the secret to successful, unconventional Christmas dinner ideas that still feel festive and appropriate? Take little bits and pieces from classic holiday dishes, and find totally new ways to enjoy them.
To get the full holiday effect, you'll want to have a meal with a diverse assortment of flavorful, colorful dishes that complement each other and familiar herbs with delicious, nostalgic aromas. Try out one of these four dinner ideas to make this Christmas memorable for all the right reasons!
4 Cool Christmas Dinner Ideas for 2020
While they don't follow the standard model for holiday fare, there's no doubt these fabulous feasts will still have your family reaching for second helpings this Christmas!
Prime Rib Tacos with Horseradish Guacamole
A juicy, decadent rib roast is a classic main course meal to share with family on special occasions. While we certainly have no complaints about the traditional approach to prime rib, these tacos are definitely worthy of a celebration.
Even better, this recipe calls for cooked prime rib, so if you have two Christmas dinners in a row and want to keep things interesting, you can do a traditional roast on the first night and then cook up these tacos the night after!
Prime Rib Ingredients:
2 tbsp olive oil
1 small onion, sliced
3 cloves garlic, minced
3 cups cooked prime rib, sliced
12–16 small, soft shell tacos
⅓ cup cilantro
Oil for frying
Horseradish Guacamole Ingredients:
2 avocados, pitted and mashed
3 cloves garlic, minced
3 tbsp lemon juice
1–2 tsp prepared horseradish
½ tsp salt
Recommended Additional Taco Fillings:
Sour cream
Cheddar cheese
Fresh salsa
Rice
Beans (black or refried)
Lettuce or cabbage slaw
Pickled red onions
Directions:
Mix all guacamole ingredients in a serving dish. Stir until well integrated, chunky or smooth, depending on how you like it.
Heat oil in a skillet and fry up the onions until soft. Reduce the heat to medium-low, add in the garlic and prime rib, and cook until it's warm throughout. Remove from heat, place on a plate, and cover with tin foil until ready to serve. Or, place in the oven on low heat until you have everything else prepared. When ready to serve, sprinkle fresh cilantro on top.
---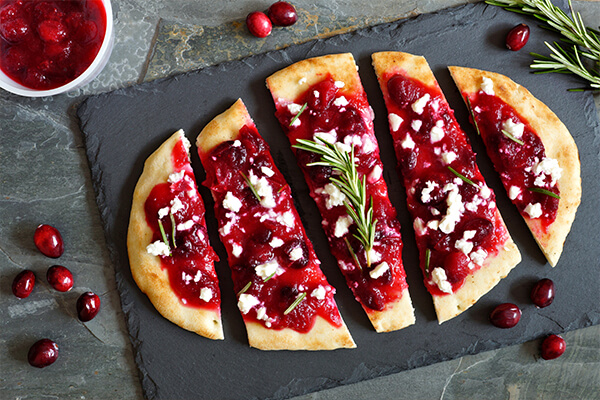 Fancy Christmas Pizza Party
Who doesn't love pizza? While you probably don't typically associate pizza with a fancy affair, it's just because you've gotten too used to the same old delivery pies! Making your own fancy pizza is actually super easy. Just buy a bunch of disposable pizza pans so you can have a bunch pre-prepared, ready to fire into the oven one after the other. See if there's a local baker or Italian grocer in town that makes fresh dough, and order several balls ahead of time so that they're ready to go.
Preparing the pizzas is easy—you know the drill! Roll the dough, add your sauce, cheese, and toppings, and bake until golden brown and bubbly. Have all of your toppings organized into little bowls and a list of all your pizzas in order so you don't get mixed up. Here are some holiday pizza recipe ideas to get you started!
The Holiday Lineup:
Cranberry sauce base
Minced red onion
Mozzarella
White cheddar
Shredded turkey (or black beans as a vegetarian alternative)
Minced rosemary
Pear and Pecan:
Mascarpone cheese base
Sliced pears
Chopped pecans
Brie cheese
Balsamic reduction drizzle
Minced thyme
Fig and Bacon:
Fig jam base (look for a more savory blend that doesn't contain vanilla)
Cooked bacon
Crumbled Danish blue cheese
Mozzarella
Caramelized onions
Prosciutto and Brussels Sprouts:
Alfredo sauce base
Prosciutto
Brussels sprouts quartered and roasted with oil and garlic salt
Balsamic reduction drizzle
Gruyere or gouda cheese
---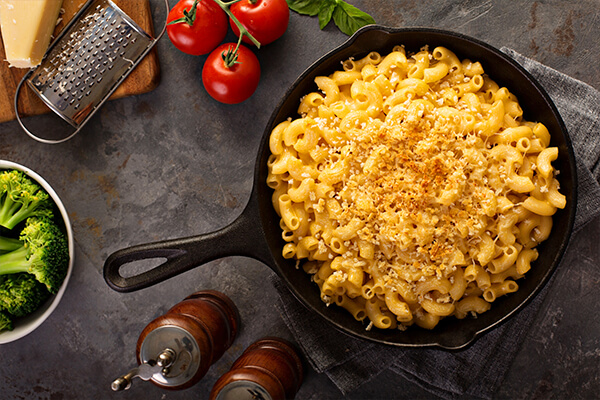 Baked Rosemary Truffle Macaroni
There's no comfort food quite as satisfying as baked macaroni and cheese, and when it's made the fancy way, it's in a completely different league than the boxed stuff we've come to know and love. It also makes a great vegetarian dish if you've got some herbivores in the family.
Since it's quite heavy, baked mac does best when paired with lighter, crisp sides. We suggest some healthy, veggie-centric sides such as fresh cucumber salad with lemon and dill, a garden salad with nuts and dried cranberries, steamed green beans, and buttery broccoli.
Ingredients:
1 pkg cut macaroni noodles
3 cups aged white cheddar, grated
3 cups gruyere, grated
1 cup cottage cheese
2 tbsp flour
2–3 cups milk
1–1½ cups coarse breadcrumbs
1 cup butter, divided in half
1 tsp dry mustard powder
2 tbsp minced rosemary, plus 1 separate tsp
Salt and pepper
1–2 tbsp truffle oil
Directions:
Boil macaroni in salted water. Drain and pour into a large casserole dish.
In a large pot on the stove, melt ½ cup of butter and whisk in the flour. Pour in a splash of milk and continue to whisk—it will thicken quickly. Add a little more milk to thin it out a bit, then add the dry mustard powder. Sprinkle in a handful of the grated cheese, and stir until smooth. Add in a splash of milk, and stir until smooth. Repeat this process of alternating milk and cheese, mixing constantly to ensure the sauce is creamy and doesn't separate.
Once all the gruyere and cheddar is melted in, add 2 tbsp of rosemary, truffle oil, and salt and pepper to taste. Pour the sauce into the casserole dish with the noodles, and then mix in the cottage cheese (this helps keep the macaroni from getting too dry, especially if you reheat it the next day).
Melt ½ cup of butter in the microwave, stir in the breadcrumbs until you have a crumbly mixture, add 1 tsp of rosemary plus salt and pepper to taste. Crumble this topping onto the macaroni and press it down slightly, so it will have a nice crunchy coating. Garnish with a rosemary sprig.
Bake at 400° for about 20 minutes, or until bubbly and golden brown on the edges.
---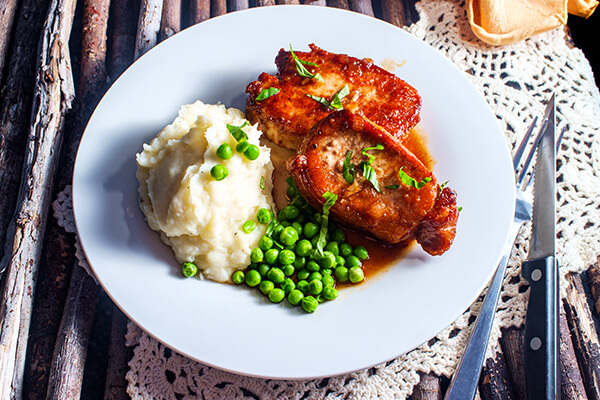 Honey Garlic Pork Tenderloin with Sesame Mashed Potatoes
For an Asian-inspired twist to holiday eats, make this sweet and sticky roasted honey garlic pork tenderloin to serve with all your favorite winter vegetables along with a creamy bowl of sesame mashed potatoes on the side. The potatoes are easy: just make them how you usually would, but add a little drizzle of sesame oil, plus a sprinkle of sesame seeds on top. The flavor is super potent, so you don't need much!
Pork Tenderloin Ingredients:
2 1lb pork tenderloins
1½ tbsp salted butter
1 garlic cloves, minced
½ tsp paprika
½ tsp garlic powder
½ tsp salt
½ tsp black pepper
Honey Garlic Sauce Ingredients:
3 tbsp apple cider vinegar
1½ tbsp soy sauce
½ cup honey
Instructions:

Preheat oven to 350°F.
Mix your sauce ingredients together in a small bowl.
In a separate small bowl, mix paprika, salt, pepper, and garlic powder. Rub all over the tenderloin.
Heat butter in an oven-safe skillet, then sear the pork until it's golden and crispy on the outside. When it's almost fully cooked, shove it to the side of the pan and then pour in the minced garlic. Once that's fried up, pour in the honey garlic sauce. Turn the tenderloins over once, and then transfer the skillet to the oven.
Roast for 15 minutes, then transfer the pork to a plate and let it sit for 5 minutes covered in foil.
While the pork is resting, put the skillet back on the stove and simmer the sauce rapidly to thicken. Once it's syrupy, toss the pork back in just to coat it, slice it up into thick slices, and it's ready to serve!
All of us at SummerWinds Nursery hope everyone here in Arizona has a safe and happy holiday! There's so much to be grateful for, and a fun feast with the whole fam is the best way to celebrate. If you have any last-minute decorating you need to do, don't forget to swing by SummerWinds for some fresh winter greenery to brighten up your home, indoors and out!
---
About SummerWinds Nursery: SummerWinds Garden Centers is a leading high-end retailer of garden and nursery products. Headquartered in Boise, Idaho, SummerWinds operates retail nurseries in the greater Phoenix, Arizona area, and in Silicon Valley, California, making it one of the largest independent retail nursery companies in the west. SummerWinds appeals to both the serious and casual gardeners, with a broad selection of premium gardening products and a friendly and knowledgeable staff.