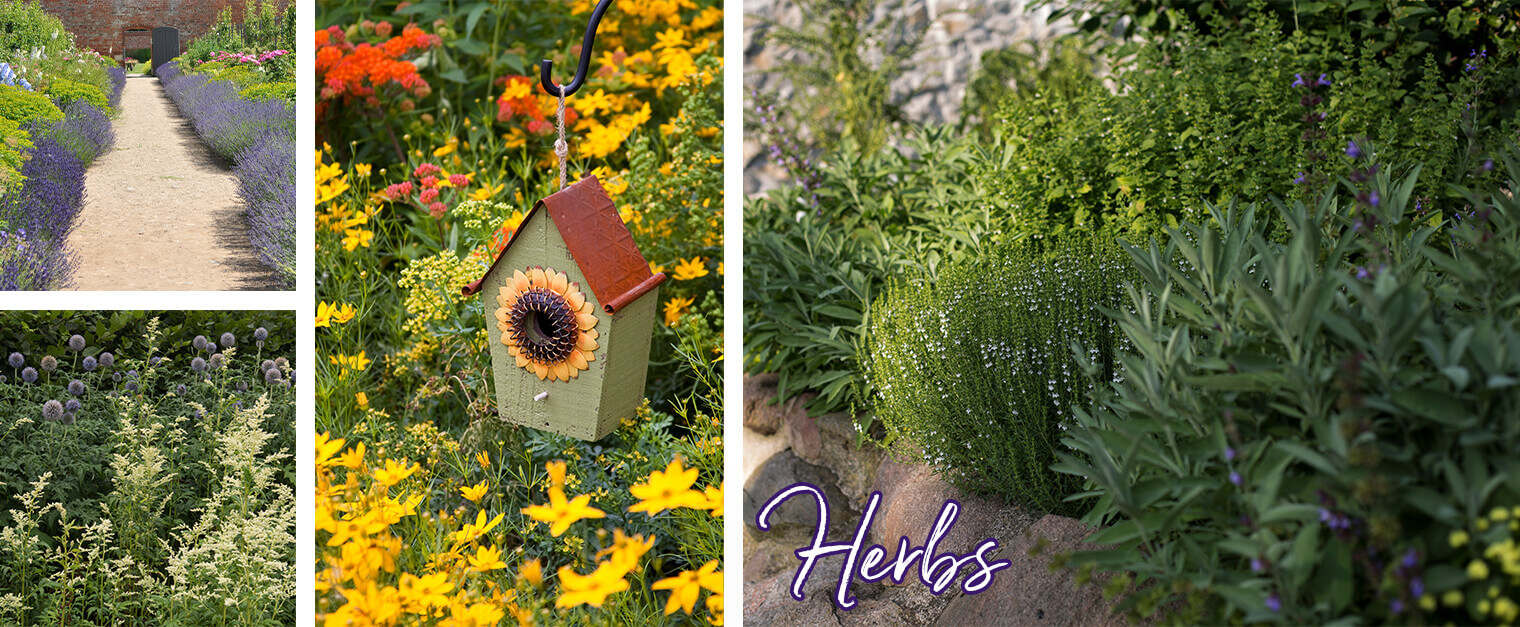 How Landscaping with Herbs Adds Stunning Variety When Gardening
Posted on: Monday, May 13, 2019
Landscaping with herbs in your garden can be for more than just adding them to recipes; they're a terrific way to add stunning color, intricate texture and stimulating scents, while also attracting butterflies and a wide variety of beneficial bee species to your yard.
Landscaping with Herbs: Ideas for Your Garden
HGTV has some wonderful ideas on landscaping with herbs and incorporating them into many areas of your garden – from borders to hardscapes and groundcovers to green walls – we're sharing 10 of their ideas below.
Groundcovers – Most herbs are grown for their foliage, but many have beautiful blooms as well. When planted in drifts, either alone or in combination with other plants, they make a powerful seasonal statement.
Border Plantings – Gardening with low, mounding herbs like oregano, thyme and some mints works well as pathway borders. These plantings are convenient for harvesting, and when in bloom, they are in position to be seen up-close.
Perennial Partners – When landscaping with herbs, try those with bold color patterns or prolific blooms, like purple sage, lavenders or golden oregano, that mix well with traditional perennials. In this setting, Russian sage offers color, texture and aroma that spices up the conventional perennial mix.
Green Walls - Green walls are becoming increasingly popular ways to utilize vertical gardening space. Herbs require some degree of southern exposure to perform well in this setting.
Soften Hardscapes -The billowing nature of many herbs make them perfect candidates for softening the hard edges of stone and concrete.
Mixed Edibles - If you're planning landscaping with herbs, consider combining them with vegetables and small fruit plantings. For gardening in small spaces, this strategy will boost production in terms of variety and volume.
Courtyard Garden - Herbs fit well into a small courtyard gardening plan. Whether planned as a cutting garden or a habitat garden for pollinators, herbs add texture and dimension to your garden plan.
Rock Garden -With a compact size and rugged nature, rock gardens (or rocky gardens) are perfectly suited to landscaping with herbs. Those from the conventional Mediterranean cooking tradition are well adapted to well-drained, gravelly soils.
Low Hedge -Taller herbs, like rosemary or garden sage, make effective low hedges that can help to define the perimeters of outdoor rooms.
Naturalized Settings - Herbs work extremely well in a wide range of natural garden settings. There are herb species adapted to all types of gardening environments from woodland and meadow to prairie and desert settings.
7 Garden Additions When Landscaping with Herbs
Here are seven plant varieties that work beautifully in landscaping with herbs. Many of the descriptions are courtesy of Wikipedia.
African Blue Basil – This is one of the few types of basil that is perennial and also sterile. It has a strong camphor scent, and all parts of the flower, leaves and stems are edible. It blooms profusely like an annual, but being sterile can never go to seed. It is also taller than many basil cultivars. Its blooms are very good at attracting bees and other pollinators.
Lemon Verbena – This perennial shrub, commonly used in tea, grows up to 3 meters high. Its glossy, pointed leaves are slightly rough to the touch and produce a powerful scent reminiscent of lemon when bruised. Large sprays of tiny purple or white flowers appear in late spring or early summer.
Thyme - Thyme is a versatile landscaping herb that comes in multiple varieties, tastes delicious and has countless health benefits including aiding with digestive and respiratory issues. Learn more about gardening with this delicious herb in our informative article.
Lemongrass - Lemongrass is widely used as a culinary herb in Asian cuisines and also as a medicinal herb in India. It has a subtle citrus flavor and can be dried and powdered, or used fresh. It is commonly used in teas, soups, and curries, and lemongrass oil is often used as a pesticide and a preservative.
Rosemary - Rosemary is a woody, aromatic and distinctive evergreen herb that is a member of the mint family. It's a low-maintenance, fairly pest-free herb to use when gardening and is highly drought tolerant. Learn more about this versatile herb in our blog post.
Catmint – According to The Spruce, catmint is an extremely easy growing plant with few pests or problems. The billowing foliage is topped with spikes of flowers in early summer with repeat blooms throughout the season. Most catmint varieties have a sprawling growth habit, making them nice plants for edging and along paths. They're also deer resistant, a real advantage when landscaping with herbs.
If you're looking for an especially unique way to incorporate herbs into your landscape, consider a spiral herb garden as described in this article.
Begin Landscaping with Herbs: Get Help from SummerWinds
Wherever you garden, whatever your style, consider landscaping with herbs. They add a colorful, flavorful, aromatic dimension that you'll love.SummerWinds carries a wide range of herbs perfect for landscaping. Our helpful staff will gladly offer advice and recommendations of plant varieties that will look not only look beautiful, but make delicious additions to your favorite recipes. Come visit us today!
About SummerWinds Nursery: SummerWinds Garden Centers is a leading high-end retailer of garden and nursery products. Headquartered in Boise, Idaho, SummerWinds operates retail nurseries in the greater Phoenix, Arizona area, and in Silicon Valley, California, making it one of the largest independent retail nursery companies in the west. SummerWinds appeals to both the serious and casual gardeners, with a broad selection of premium gardening products and a friendly and knowledgeable staff.