Try Your Luck With These Green Food Ideas for St. Patrick's Day!
Posted on: Tuesday, March 9, 2021
Finding healthy St. Patrick's Day recipes that aren't loaded with green dye seems trickier than finding a pot of gold at the end of a rainbow. Luckily, we've got a pretty reliable source of tasty greens for cooking: our own gardens! If you want to put on an all-green spread for your family's St. Patrick's Day festivities, check out this green food menu that's perfect for our favorite green-hued holiday.
---
Everyone Will Love These Green St. Patrick's Day Treats!
These naturally green St. Paddy's Day recipes are full of fresh, delicious garden greens. Yet, they still have all the yummy flavor and festive flair you'd want out of a holiday feast. Serve these three dishes as St. Patrick's Day appetizers, or plate them up for a full three-course meal:
Garlic Parmesan Green Beans
Creamy Pistachio Pesto Flatbread
If all this talk of growing your own garden greens is giving you a case of FOMO, visit SummerWinds Nursery to see our selection of edible plants to grow in Arizona! It's easier than ever to start a food garden full of juicy fruits, crisp veggies, and fragrant herbs right at home.
---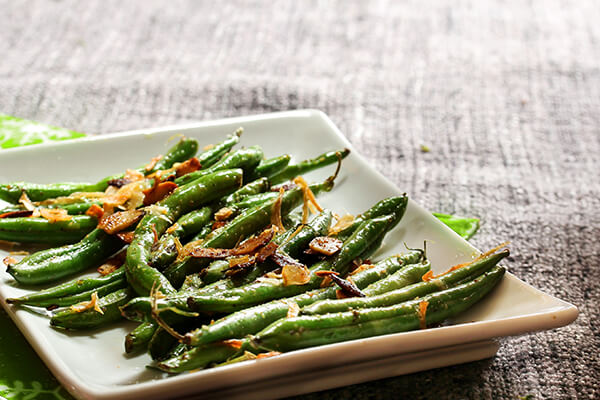 Garlic Parmesan Green Beans
If you're looking for a healthier alternative to french fries, these crispy green beans will hit the spot! Savory garlic and parmesan bring fantastic flavor and crunch to these super-dippable appetizers. You won't believe they're low-carb and oven-baked! Serve them alongside your favorite dipping sauces—we recommend ranch dressing or garlic aioli mixed with your favorite garden herbs for a pop of green!
Ingredients:
12 oz. green beans
2 tbsp olive oil
⅓ cup freshly grated parmesan or asiago
½ tsp garlic salt
2 tsp minced garlic
1 egg
Directions:
Preheat your oven to 425°F. In a mixing bowl, whisk together the oil, garlic, egg and garlic salt.
Toss in the green beans until evenly coated in the egg mixture.
Sprinkle in the parmesan and gently toss the green beans to coat, without overmixing.
Lay a sheet of parchment paper on a cookie sheet, spread out the beans, and bake for 12–15 minutes or until golden brown. If you want to crisp them up a bit more, crank up the broiler for one minute before serving.
---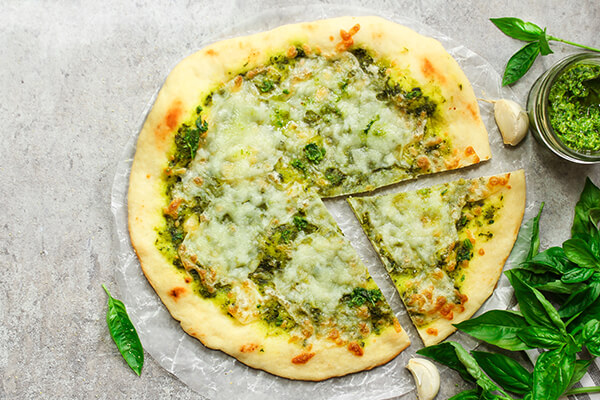 Creamy Pistachio Pesto Flatbread
A flatbread pizza with exciting, artisanal ingredients and flavors is always an excellent party snack that feels effortlessly fancy! Plus, you can customize the toppings to your heart's content. (Edible flowers, anyone?) This pistachio pesto flatbread has the brightest green sauce you'll ever see, and its creamy texture makes it great if you want to go cheese-free and keep it vegan. However, a little sprinkle of fresh pizza mozzarella will also top it off quite nicely!
Ingredients:
1 regular pizza crust, or 2 large pieces of naan bread
½ cup raw pistachios
1 garlic clove
½ cup fresh basil
¼ cup chopped cilantro, stems removed (If you don't like cilantro, just add extra basil!)
1 lemon
½ tsp pepper
½ tsp salt
¼ cup olive oil
Suggested toppings:
Rainbow cherry tomatoes
Diced avocado
Minced sweet onion
Arugula
Thinly sliced zucchini
Toasted pepitas
Edible flowers like nasturtiums or pansies
Shaved parmesan
Mini mozzarella balls
Directions:
In a food processor, blend pistachios, garlic, basil, cilantro, olive oil, salt, pepper, and the juice of one lemon. When it's reached a smooth, creamy consistency, check the flavor to see if it's to your liking. Add more salt, pepper, or lemon juice if needed.
Spread your pesto across your pizza crust, and sprinkle on some mozzarella balls if you'd like. If you're using raw pizza dough, bake according to its instructions. If you're using naan bread, bake at 350° for 5–10 minutes or until crisp and golden brown.
Let the crust cool, and then add your toppings! Arrange your rainbow assortment of tasty veggies and edible flowers to create the most beautiful pizza imaginable. If you've got kids at home, let them join in on the fun and help decorate! We like cutting up our avocado pieces into hearts and stars for some extra pizza pizzazz. Slice it up and serve on a platter!
---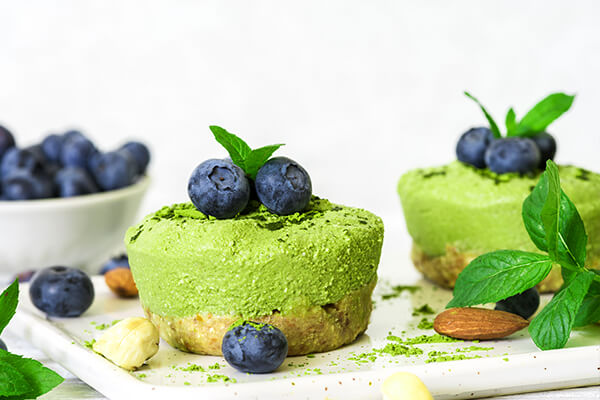 Shamrock Cream Tarts
The shamrock shake is a classic St. Patrick's Day dessert that we look forward to every March! But this year, we're giving this minty treat a fresh update by turning it into a single-serving tart. Use fresh garden mint to give it that cool green kick we know and love, without the use of artificial flavors or colors.
Ingredients:
2 pints of french vanilla ice cream
30–40 mint leaves (plus extra for garnish)
18 mini tart shells
Whipped cream topping
Directions:
Bake your mini tart shells according to the directions on the package. Remove and let cool.
Combine ice cream and mint leaves together in a blender, and blend until smooth.
Spoon a dollop of your minty ice cream into each tart shell, and then freeze for one hour. Remove from the freezer when they're ready to serve, and garnish each tart with a swirl of whipped cream and a single mint leaf.
We hope you enjoy all these naturally green St. Patrick's Day foods as much as we do! And if these garden green recipes have inspired you to start your spring planting, visit SummerWinds to see our selection of seeds and starters ready to plant now!
---
About SummerWinds Nursery: SummerWinds Garden Centers is a leading high-end retailer of garden and nursery products. Headquartered in Boise, Idaho, SummerWinds operates retail nurseries in the greater Phoenix, Arizona area, and in Silicon Valley, California, making it one of the largest independent retail nursery companies in the west. SummerWinds appeals to both the serious and casual gardeners, with a broad selection of premium gardening products and a friendly and knowledgeable staff.