Our Garden Trends Forecast for Arizona in 2021
Posted on: Thursday, December 31, 2020
With all the extra time so many of us spent in the garden in 2020, some really innovative and exciting garden trends emerged, and we can't wait to see what's in store for this year. We did a little trend forecasting for the year ahead to see what's on the horizon, and we found some pretty awesome ideas. Take a look at what we discovered to spark a little inspiration for your own garden!
---
Garden Trends: This Year's Colors


Illuminating Yellow
For a splash of sunny optimism and cheerful vibes to kick off 2021, Pantone has named "Illuminating", a sunny shade of yellow, as one of their picks for color of the year! Many garden trends have been leaning towards themes of exotic, tropical locations, and this exciting yellow shade pairs with Aegean teal (another trendy shade) like sand and sea. Brighten up your garden with luscious lemon-tinted blooms like canna lilies, echinacea, plumeria, yellow bells, and hibiscus 'Crown of Bohemia.'

Ultimate Grey
In addition to Illuminated Yellow, Pantone picked out a supremely satisfying neutral grey to balance out that electric lemonade shade: Ultimate Grey! The easiest way to integrate this color into your garden? Grey-colored pots or concrete and metal planters! Grey pots, upcycled metal and concrete containers give that chic, modern, studio loft aesthetic that is super fashionable without looking fussy over overdone.'
Aegean Teal
In addition to Pantone's colors of the year, design agencies and décor blogs have been buzzing about Aegean Teal—a soft, ocean-inspired shade that's a little bit blue, a little bit green, and just a touch grey. Its complex undertones make it super versatile, straddling the line between warm and cool tones.
Fill your garden with this on-trend color using aqua-colored plants like echeveria 'Blue Fairy,' senecio mandraliscae 'Blue Chalksticks,' or pachyveria 'Jeweled Crown.' It also makes a beautiful paint color for decorating raised garden beds, wooden trellises, and other ornamental accents to bring more color to the landscape.
What's New in Gardening for 2021?
New year, new garden! We're always so amazed by the creative ideas and innovations we uncover on the hunt for emerging garden trends. If you want to step up your gardening game, this is the perfect opportunity.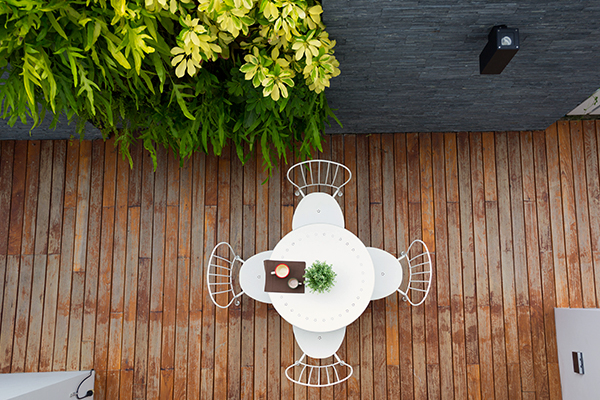 Vertical Patio Gardens
Living green walls have been trending for quite some time, functioning as indoor decor pieces for homes and offices. But what about outdoors? Outdoor green walls are the perfect garden fix for those who don't have much yard space or live in an apartment or condo with only a patio balcony to play with.
A vertical patio garden is an excellent way to bring in loads of plants while taking up minimal surface area, and the green glow of a towering wall brings infinite energy and vibrancy into your space! Plus, elevated balconies and patios often have microclimates that are a bit cooler than our typical climate, so it will be easier to keep your plants thriving through the intense Arizona heat!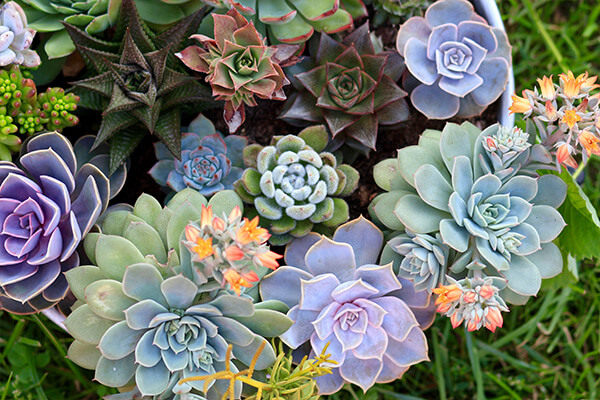 Artfully Succulent

Echeverias have such a perfectly spiraled, compact shape that allows for some pretty detailed design work when mass planting. But since they come in practically every color of the rainbow, you may as well use this to your advantage! Draw up a colorful design with stripes, spirals, or even flower shapes, and then bring your design to life by tracing the design onto the ground and filling the spaces with your colored echeveria succulents. Let your creativity shine, and customize your design to fit your personal style.
"Gucci" Garden
If you're looking for garden trends that crossover into fashion trends, you'll be all over the "Gucci" garden. Their signature colors of cranberry red and forest green used to be considered Christmas colors, but now they're pretty much the ultimate high fashion color combo. And with Gucci's signature symbol of the bee, you can bring on extra Gucci vibes by making your garden pollinator-friendly!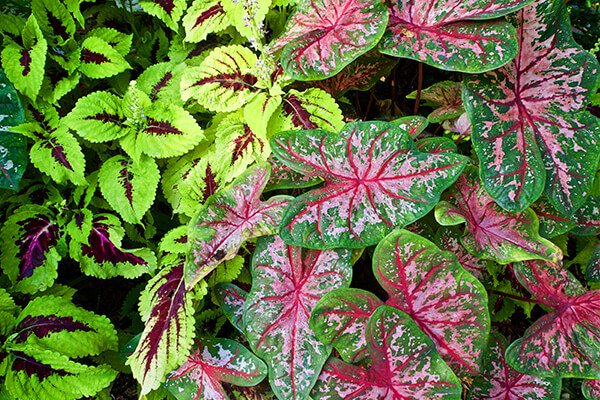 Plant some bright red flowers with darker foliage, like red salvia, gaillardia, geraniums, and bottlebrush shrubs—this will draw in the bees like magnets. Caladiums, red fountain grass, echeveria Rudolph, and coleus make amazing foliage plants for this color scheme. Remember to make your garden eco-conscious and avoid overusing chemical pesticides so that you don't end up hurting wild bees!
Ditch the plain lattice trellis and use this as an opportunity to create something really eye-catching. There are so many cool geometric patterns and shapes you can integrate into a trellis, and you can paint them whatever colors you want, so why settle on something unspectacular? We absolutely love the look of honeycomb trellises, with interlocking hexagons that can be assembled in an asymmetrical pattern.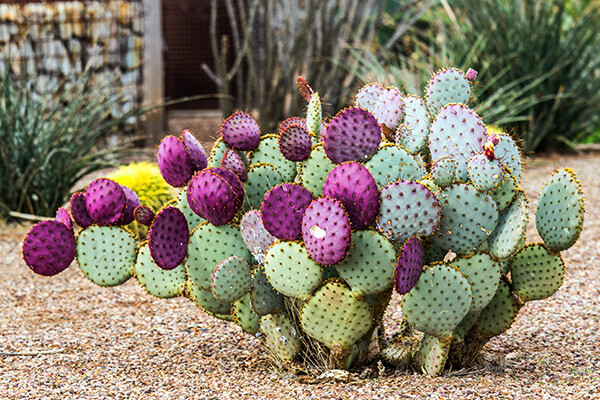 Rainbow Garden
Minimalism has had its time to shine, and this year we're embracing all the garden trends that celebrate color and creativity. We love a good rainbow garden with multi-colored plants galore!
We are so in love with the Santa Rita prickly pear cactus, a common subject of beautiful watercolor paintings, with its swirls of purple, green, blue, and pretty much every other color of the spectrum. Firesticks succulent cactus make another excellent addition, with their red, yellow, and green succulent stalks, as well as the warm-toned, pink/yellow ombré snapdragons and hibiscus 'Erin Rachael.'
If all this talk of garden trends has you craving some creative time out in the yard, visit your nearest Arizona SummerWinds Nursery location to stock up on all the supplies you need to give your landscape a New Year's makeover. We hope you join us in making this year as colorful and exciting as can be—beautiful things can happen when you experiment!
---
About SummerWinds Nursery: SummerWinds Garden Centers is a leading high-end retailer of garden and nursery products. Headquartered in Boise, Idaho, SummerWinds operates retail nurseries in the greater Phoenix, Arizona area, and in Silicon Valley, California, making it one of the largest independent retail nursery companies in the west. SummerWinds appeals to both the serious and casual gardeners, with a broad selection of premium gardening products and a friendly and knowledgeable staff.