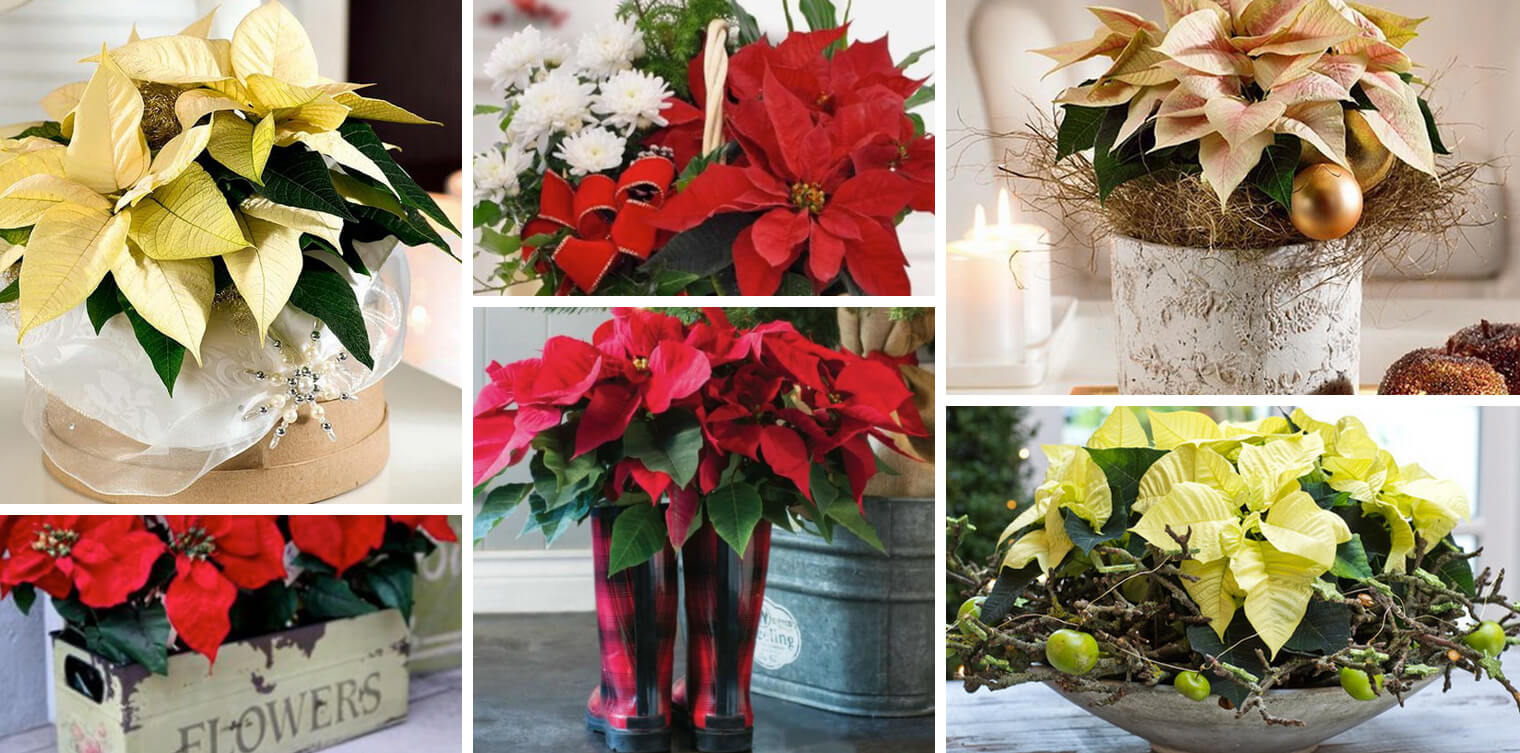 Decorating with and Caring for Poinsettias
Posted on: Friday, November 20, 2020
Expand your decorating skills this holiday season with a beautiful assortment of poinsettias from SummerWinds...
---
Keep It Simple
Decorating with poinsettias is easy! You can create an elegant display just by keeping it simple and finding the right pot for your poinsettia. If you don't have the right pot, decorate or disguise one you have with wrapping/craft paper or bows. Just be certain the pot you use has adequate drainage.
---
Adding The Right Touches - Apple Topping

Slip your poinsettia—pot and all—into a decorative container, and dress up the soil with a layer of small apples.
---
Cranberry Bouquet

Cut a bouquet of ivory poinsettias for a table centerpiece. Cranberries in the clear glass vase will hold the stems in place.
---
Place Setter or Ornament
A cut poinsettia tucked into an espresso-size cup or colorful miniature pot can make a charming embellishment for a place setting. A poinsettia cutting placed in a moss ball, will make a lovely gift or ornament for your tree.
---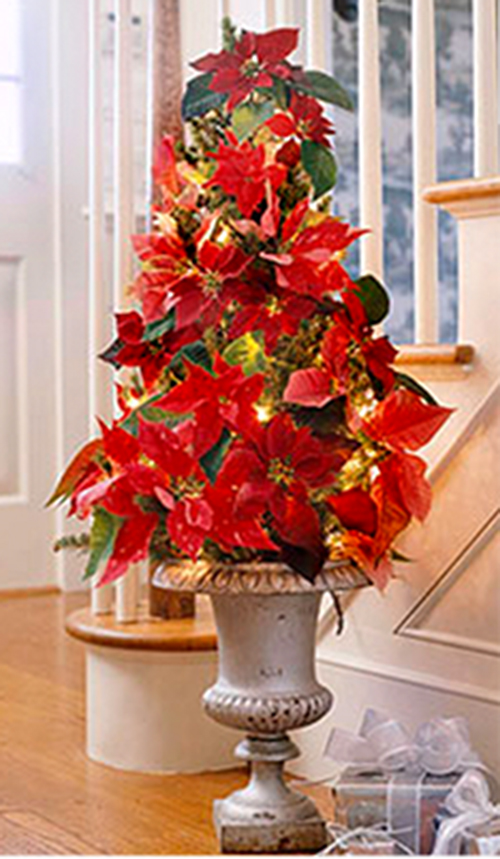 Poinsettia Tree

Poinsettias are a naturally showy way to enliven a Christmas tree—especially ones with dense, tight foliage (such as a spruce or balsam). Insert the poinsettia stems into small floral vials filled with water and simply tuck the vials into the tree's foliage.
---
How to Keep Your Poinsettias Fresh
1. Look for healthy plants: Choose a poinsettia with colorful bracts (a modified leaf with a flower or flower cluster in its axil) and rich green leaves.
2. Check plant's maturity: See how mature the poinsettia is by looking at the tiny yellow flowers at the center of the bracts. Look for a plant with tight yellow buds.
3.Protect it during the trip home: Protect your plant while you bring it home by wrapping it in a shopping bag if it's below 50 degrees F outside.
4. Find the perfect spot:

Keep them looking great, with a sunny, south-facing windowsill or bright filtered light. Don't put them too close to windowpanes or in direct light. Like us, they thrive at 68º.
Keep your poinsettia away from heat. Warm temperatures can damage the plant just as much as cold temperatures. Avoid placing your poinsettia near heat registers or fireplaces. Tip: If your leaves are falling off, it is likely due to conditions that are too warm or dry.
If necessary, you can increase humidity levels: Place other houseplants nearby or use a humidifier.

5. Let the roots breathe: Poinsettias are often sold in plastic or foil pot covers and these decorative covers trap excess water. Cut off the very bottom of the pot cover or make several holes in it and set the plant on a saucer.
6. Avoid overwatering: Water poinsettias regularly and keep them evenly moist. Never allow the plants to sit in water and be sure to empty their saucers or planters shortly after watering.
7. Fertilizing: After the poinsettia bracts (blooms) have faded, you can fertilizer it with a general-purpose houseplant food (every 2 weeks to once a month), if you would like it to regrow after the holidays. With the right conditions, it should begin to regrow within weeks.
8. Spring Repotting: In the spring, cut back all the branches (canes) to about 6 inches from the pot's rim. To encourage branching, pinch out the cane tips. If needed, repot the poinsettia in the same type of soil. The poinsettia can grow either indoors or outside in the right conditions.

---
Questions?
Have more questions about holiday greenery or plants in general? Stop by
your local SummerWinds Nursery
and speak with one of our
Trusted Garden Advisors
.
---
About SummerWinds Nursery—a leading high-end retailer of garden and nursery products. Headquartered in Boise, Idaho, SummerWinds Garden Centers, Inc. operates retail nurseries in the greater Phoenix, Arizona area, and in Silicon Valley, California, making it one of the largest independent retail nursery companies in the nation. SummerWinds appeals to both the serious and casual gardeners, with a broad selection of premium gardening products and a friendly and knowledgeable staff.