Great Gift Ideas For Mom

We know Mom loves all things garden - and you!
She gracefully re-potted the plants you pulled out of her containers... She stood in awe when you mowed over her freshly planted flowers... And she simply shook her head when you backed the car over her beautiful rose bushes.
This Mother's Day make a new memory for Mom with any of these great gift ideas:
---

Endless Summer Hydrangeas
Beautiful, hardy, and available in an assortment of colors, hydrangeas are a favorite for Mother's Day. Perfect for areas that receive dappled shade. Eye catching in containers or as a focal point. Plant in acidic soil to maintain the deep blue blooms or alkaline soil for pink blooms. Choose from these 5 varieties:
Please note, selection may vary by location.
The Original Bigleaf Hydrangea

It was the first hydrangea discovered that blooms on the previous year's woody stems and the new season's growth. By adjusting your soil's pH level, the Original has the ability to bloom as an eye-catching blue hydrangea OR pink.

BloomStruck® Bigleaf Hydrangea

Like The Original, BloomStruck has the ability to change colors based on your soil's pH and because of BloomStruck's extremely strong stems, above average heat tolerance and great disease resistance – especially to powdery mildew – it is a perfect combination of beauty and hardiness for your garden!

Summer Crush® Bigleaf Hydrangea

With a profusion of big raspberry red or neon purple blooms, Summer Crush® brings floral quality blooms to your garden or patio container. Not only is it drop-dead gorgeous, but it is compact so you get a neat, tidy look throughout the summer.

Blushing Bride Bigleaf Hydrangea

Blushing Bride has pure white semi-double florets, which mature to blush pink or Carolina blue, depending on soil pH. Starting in late spring, Blushing Bride graces the garden with big round balls of soft blooms, providing an elegant touch of color in the garden all the way into fall.

Twist-n-Shout® Bigleaf Hydrangea

Twist-n-Shout®, the first re-blooming lacecap hydrangea, boasts picturesque deep pink or periwinkle blue hydrangea flowers (depending on soil pH) from late spring through fall. Not only are Twist-n-Shout's blooms remarkable, the stems on these shrubs are also vivid red, adding even more interest to your landscape. The stems are incredibly sturdy to support the large blooms and keep your garden looking full all summer long.

Hanging Baskets
Hanging Baskets are an easy and lovely way to give Mom that color she needs for her porch, patio and garden. We have an incredible assortment. Choose from a single or a mixture of flowers, in an array of sizes for shade or sun.
Phalaenopsis or Moth Orchid
Orchids are available in a stunning range of colors. Flower colors are often associated with different emotions and make them a great choice to give not just to a significant other but even a friend or even a special family member. For example, purple conveys respect and admiration, making it an excellent plant choice to give to your mom or grandmother. We have an assortment of beautiful orchids and colors to choose from for Mom.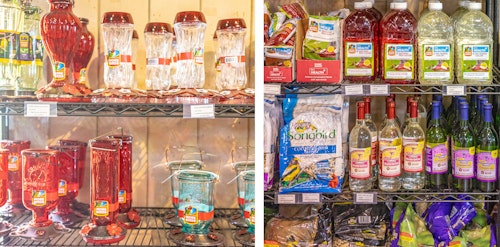 Hummingbird Feeders and Food
Hummingbirds are a sure sign that flowers are blooming and the weather is warming. Hummingbirds are a delight to attract, listen to and watch. We have a nice selection from simple to fancy feeders, as well as an assortment of food. Selection may vary by location.
---

Roses
Roses have always been an expression of love and symbolism in their color so why not give Mom Mom roses this Mother's Day. We have just received our shipment of roses in from rose bushes, to standard tree roses to patio tree roses, you are sure to find the right one for Mom, check out our selection.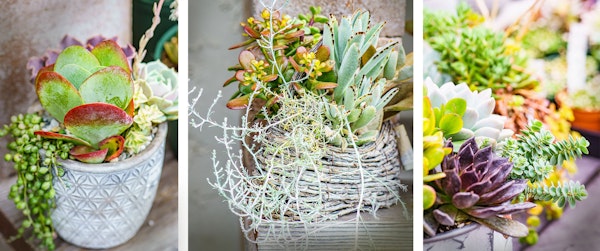 Succulents and Cactus
We have an interesting and colorful selection of cactus and succulents. Easy to transplant and care for, you can create an arrangement for Mom. Perfect for indoors or out, in large planters or small. Add rock, twigs, etc. for interest. You can also choose from our pre-made succulent containers found in-store. Selection may vary by location.

Houseplants
Houseplants are many things... They help to purify the air, and they add life and texture to a room. SummerWinds has a large selection of houseplants, large and small, for areas with bright light to little light. Talk with our resident experts and find out which houseplant is the right fit for your Mom. And don't forget the pot, we have a nice assortment of colorful pottery to complete the gift. Selection varies by location.

Don't forget your houseplant accessories for Mom.
Perhaps a nice new pot, plant mister, water meter or fertilizer.

Lots of color!
We have loads of color in the nursery of which we are sure you will finds something perfect for Mom. In every direction you look, there is color in the nursery right now. Choose from:
Lavender
- Pretty, purple and fragrant, lavender offers many soothing and relaxing qualities. This drought tolerant plant, once established, loves full sun and is a beautiful accent plant or planted in groups of three. Lavender plants are talented at attracting bees.
Anigozanthos
,
otherwise known as Kangaroo Paw is available in an assortment of colors. Lupine, Foxglove, Osteos, Dahlias, Verbena, Salvia, Rhododendrons, Peonies are still available and the list goes on and on.
---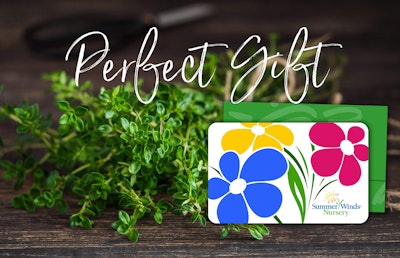 SummerWinds Gift Card and a little thyme from you!
In the event you still aren't sure what to get Mom this Mother's Day, give her the gift of green with a SummerWinds Gift Card and let her decide.
Always the perfect gift!
Buy a Gift Card
---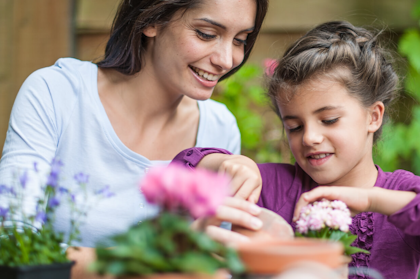 Mother's Day Planters and Other Garden Projects To Do With Mom
Mother's Day planters and bouquets of flowers are always a great option for brightening Mom's day, but why not go the extra mile this year and spend some quality time with her in the garden? Check out these other Mom-approved activities.