Seeds - Flowers & Edibles

---
Botanical Interests® Seed Collection
The new 2023 selection of Botanical Interests® Seeds have hit our racks and we've brought in some exciting new varieties we think you might like to grow in your tasty garden...
---
Vegetable Seeds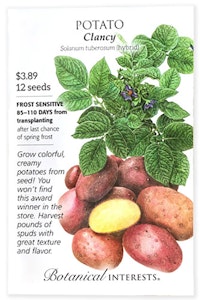 Clancy Potato
A potato grown from seed! 'Clancy' grows in a diversity of colors and has great quality; it even won the 2019 All-America Selections award! Small, ¾"-1½" potatoes are both round and fingerling shaped with smooth skin in a mix of shades between rose gold and red. This "creamer" potato has a pale yellow to white interior and creamy texture when cooked.
---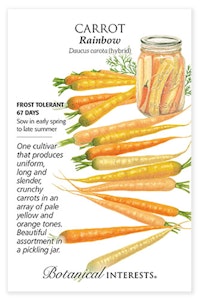 Rainbow Carrots
'Rainbow' is a pleasing mix of colors from coral to yellow to white--a quite unusual variation from just one seed cultivar! Unlike colored carrot blends which produce varied sizes of roots, 'Rainbow' carrots are uniform and mature all at once, making them a great choice for pickling and canning. The colors may be mellow, but the flavor is big and sweet with all the crunchiness you expect in a homegrown carrot.
---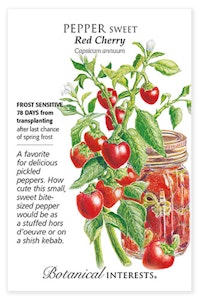 Red Cherry Sweet Peppers
Peter Piper would love to pick a peck of these sweet, small peppers for his pickled peppers! Delicious fresh in salads, stuffed for an appetizer, and ideal for canning and pickling. The cherry-tomato-sized peppers can be eaten green or ripened to a brilliant red for full flavor. Grows well in containers.
---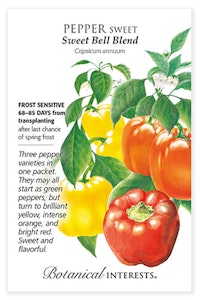 Sweet Bell Blend Sweet Peppers
All three of these delectable sweet peppers start out green and then sweeten as they transform into their ripe color, although delicious at any stage. Heirloom 'Yolo Wonder' (red color seeds) turns bright red and is resistant to tobacco mosaic virus. 'Coral Belle' (natural color seeds) turns intense orange, and 'Canary Belle' (yellow color seeds) turns a brilliant yellow. These 3½"–4" hefty peppers grow well in containers too.
---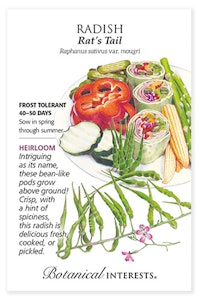 Rat's Tail Radishes (Heirloom)
Instead of edible roots, this interesting radish of prehistoric origin is grown for the abundant, slender seed pods that grow above ground on the leafy, 2'–5' plants. The botanical name translates as, "radish with a tail", and it is also called aerial radish or spicy bean. The pods are crisp and tender with a more subtle spiciness than a typical root radish. Makes an interesting addition to vegetable trays, and is delicious pickled and in curries and stir-fry dishes. Plants continue to produce even in hot weather, making them a good summer replacement for cool-weather root radishes.
---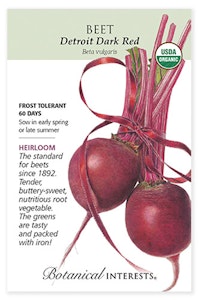 Detroit Dark Red Beets (Organic/Heirloom)
Home-grown beets are simply the best. Tender and delicious, these 2½"–3" beautiful, deep crimson beets do not get woody as do smaller varieties if allowed to grow large. Perfect for pickling, roasting, and even raw in salads! The greens rival chard and spinach for tenderness and flavor, and are very nutritious. Beet seed is actually a dried fruit with 1 to 5 seeds in each fruit, so make sure to thin!
---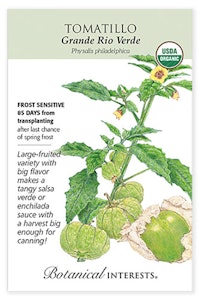 Grande Rio Verde Tomatillos (Organic)
Tomatillos are essential to a wide variety of Mexican foods. 'Grande Rio Verde' yields ripe fruit nearly all at once on compact plants (about 24" tall), thus lending themselves to smaller spaces or containers. A shorter harvest window is ideal for canning or freezing your favorite tomatillo-based sauces, or you can simply freeze tomatillos for use later. Tomatillos thrive in growing conditions similar to tomatoes (because they are related) but will handle a lot more heat. Grow two or more plants to ensure good pollination.
---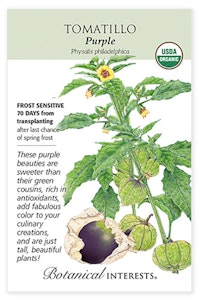 Purple Tomatillos (Organic)
Wow! A purple tomatillo! Not only delicious but attractive, too. The purple fruits are much sweeter than the green types and rich in beneficial antioxidants. Let the fruit remain on the plant as long as possible until the husk splits for the best flavor and color. Tomatillos grow best in conditions similar to tomatoes (because they are related) but will handle a lot more heat. Grow two or more plants to ensure good pollination.
---
Anna Spinach
Honey and Cream Sweet Corn
Sugar Daddy Snap Pea Seeds
Cabbage Copenhagen Market
Carrot Tonda di Parigi
Collards Georgia Southern
Corn Popcorn Strawberry
Okra Clemson Spineless 80
Carrot Shin Kuroda
Mustard Red Giant
Eggplant Long Purple
Sorrel Common
Pepper Chile Thai Hot
Parsnip All American
Brussels Sprouts Long Island Imp
Broccoli Waltham 29
Rutabaga American Purple Top
Okra Red Burgundy
Mustard Florida Broadleaf
Mustard Spinach Tendergreen
Carrot Red Cored Chantenay
Pepper Sweet Banana (Organic)
Pumpkin Sugar Pie (Organic)
Beet Gourmet Blend (Organic)
Cucumber Homemade Pickles (Organic)
Kale Dwarf Blue Curled (Organic)
Corn Swt (multicolor) Painted Hill (Organic)
Squash Winter Veg Spaghetti (Organic)
Large Packet Sizes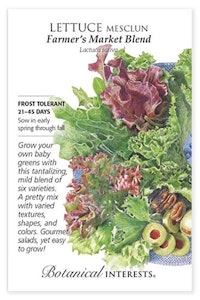 Farmer's Market Blend Mesclun Lettuce
Why go to the grocery store for pricey mesclun when it's so easy to grow your own? This perfect blend of six leaf lettuce varieties has a beautiful range of leaf shapes, textures, and colors with mild flavor. Begin harvesting leaves in just 3 weeks! Cut back plants and they will re-grow. Easy to grow in containers.
---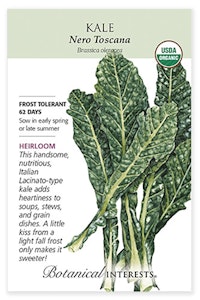 Nero Toscana Kale (Organic/Heirloom)
Also known as dinosaur kale, black Tuscan kale, black cabbage, and black palm. Vigorous dark green to black leaves of this 18th century heirloom are traditionally used in soups and stews. This type is commonly considered to be the best tasting kale. You can harvest the first shoots as tender young salad greens or achieve full-sized plants in 2 months.
Buttergold Sweet Corn
Gourmet Blend Beets
---
Herbs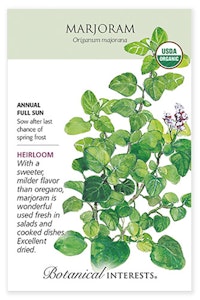 Marjoram (Organic/Heirloom)
Also called sweet marjoram, its flavor is considered milder but more complex than its relative, oregano. Some describe the flavor as having a hint of balsam. A very popular ingredient in German sausage and herb breads. Fun folklore: Legend has it that if you touch marjoram before bedtime, you will dream of your future spouse. Drought tolerant and deer resistant.
Cat Grass
Chervil
Savory Summer
Parsley Moss Curled (Organic)
Sage Broadleaf (Organic)
---
Flowers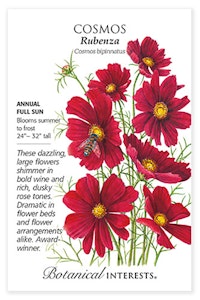 Rubenza Cosmos
Deeply colored 3" blooms are beauteous in contrast when paired with white flowers and silver-foliage plants. A Fleuroselect Novelty award winner, this cosmos is a real standout in the garden or a vase, and butterflies love them, too. Blooms start out red-wine colored and turn to dusky rose as they age. Growing cosmos is an easy way to add color to your garden, as they require little attention and are drought tolerant.
---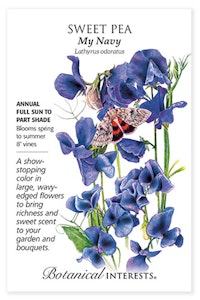 My Navy Sweet Pea
Add a sea of wavy petaled, violet-blue blossoms to your garden (h)arbor! The intense color of 'My Navy' makes it a stand-out among sweet peas. Large, lightly fragrant blooms on long, sturdy stems make them fantastic for full bouquets of all dark blooms, or pairings with contrasting, lighter flowers. Pollinators love them too! Deer resistant.
---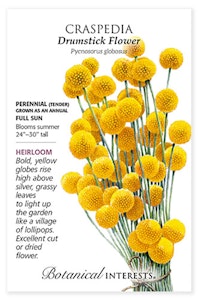 Drumstick Flower Craspedia (Heirloom)
'A florist favorite, craspedia adds intrigue to the garden with clusters of sunny orbs and is dazzling in cut or dried arrangements. The blooms may look delicate, but the plants are tough, tolerating drought, heat, and heavy, poor soil. This pollinator-attracting flower is commonly known in its native countries of New Zealand and Australia as Billy buttons.
---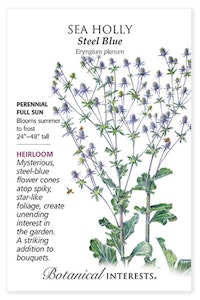 Steel Blue Sea Holly (Heirloom)
Sea holly brings extraordinary architectural beauty to the garden by day, and wonderment at night as it reflects the silvery moonlight. It blooms profusely through the summer, attracting pollinators and providing garden interest in winter with long-standing blooms. Cut flowers are captivating in fresh or dry arrangements. This tough plant thrives in poor soil, heat, and drought. Deer and rabbit resistant.
---
Marigold African Phyllis Yellow
Cosmos Xanthos
Poppy Corn Amazing Grey
Aster China Tower Chamois
Milkweed Narrowleaf
Morning Glory Pinwheel Blend (Organic)
Zinnia Benary's Giant Blend (Organic)
Bachelor Button Tall Blend (Organic)
Bachelor Button Tall Blend (Organic)
Statice Russian
Bachelor Button Blue Boy
Black-Eyed Susan
Canterbury Bells Blend
Columbine McKana Giants Blend
Cosmos Sensation Blend
African Daisy Cape Marigold
Shasta Daisy Alaska
Flax Blue and Breezy
Foxglove Gloxiniiflora Blend
Morning Glory Heavenly Blue
Snapdragon Tall Maximum Blend
Sunflower Dwf Teddy Bear
Viola Johnny-Jump-Up
Cosmos Bright Lights Blend
Mina Lobata Spanish Flag
Love-in-a-Mist Jekyll Blend
Snapdragon Magic Carpet Blend
Cosmos Sea Shells Blend
Bluebells California
Viola King Henry
Cosmos Candystripe
Poppy Corn Shirley Single Blend
Bachelor Button Tall Blend
Marigold Signet Gem Lemon/Tangerine
Love-Lies-Bleeding
Zinnia Persian Carpet
Marigold African Crackerjack
Poppy Bread Peony Double Blend
Cup Saucer Vine Blue Cathedral Bells
Linaria Fairy Bouquet
Marigold French Naughty Marietta
Iceplant/Livingstone Daisy Sparkle
Scabiosa Black Knight
Celosia Pampas Plume Blend
Grass Frosted Explosion
Coreopsis Plains Coreopsis
Strawflower Swiss Giant Blend
Ammi Green Mist
Poppy California Orange (Organic)
Large Packet Sizes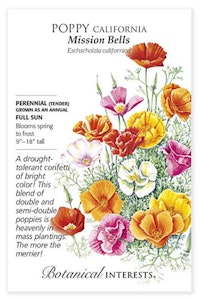 Mission Bells California Poppy
'Mission Bells' with its stunning, saucer-shaped, bright rose, red, orange, white, and yellow double and semi-double, ruffled flowers is the epitome of summer in a carpet of color. A heat- and drought-tolerant plant requiring little care, it will self-sow, providing years of beauty.
---

Renee's Garden - Scatter Garden Seeds
New at SummerWinds, Renee's Garden Scatter Garden Seeds, a non-GMO collection of certified organic seeds.
7 Varieties of Scatter Garden Seeds: Selection may vary by location - new coming soon!
Selection may vary by location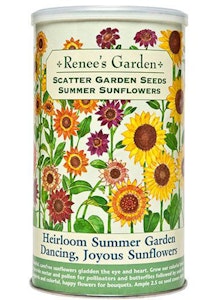 Heirloom Summer Garden Dancing, Joyous Sunflowers
(Helianthus annuus) - Cheerful, carefree heirloom sunflowers gladden both the eye and heart! Grow their blend of multicolored, branching Autumn Beauty and giant Mammoth sunflowers to offer nectar and pollen to foraging bees, butterflies and native pollinators, armfuls of blossoms for bouquets and oil-rich seed heads to sustain songbirds through winter. Covers 400 sq.ft.
---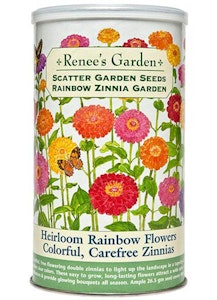 Heirloom Flowering Rainbow Zinnias
(Zinnia elegans) - Their special blend of beautiful, free-flowering California Giant double zinnias with dense overlapping petals in a full range of vivid, clear colors. These easy to grow heirlooms provide a rich pollen and nectar source for foraging bees, butterflies and many native pollinators, with plenty for long-lasting bouquets that practically arrange themselves. Covers 400 sq.ft.
---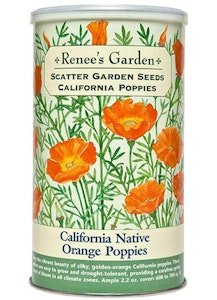 California Native Orange Poppies
(Eschscholtzia californica) - Cheerful California poppies are a perfect choice for hot, dry areas and grow almost anywhere without a fuss. Sow poppies to cover a neglected or hard-to-cultivate area or for a memorable display in a large garden space. The bright, fluted blossoms dancing above feathery gray-green foliage will cloak the ground for weeks. Covers 600 to 700 sq.ft.
---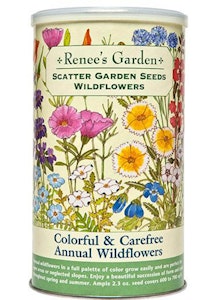 Colorful & Carefree Annual Wildflowers
Annual wildflowers in a full palette of color grow easily and are perfect for open areas or neglected slopes. Enjoy a beautiful succession of form and color throughout spring and summer. Covers 600 to 700 sq.ft.
---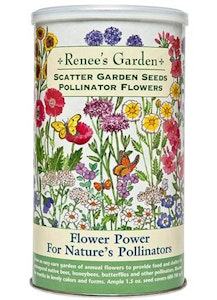 Flower Power For Nature's Pollinators
Grow an easy-care garden of annual flowers to provide food and shelter for endangered native bees, honeybees, butterflies and other pollinators. Blooms for months in lovely colors and forms. Covers 600 to 700 sq.ft.
---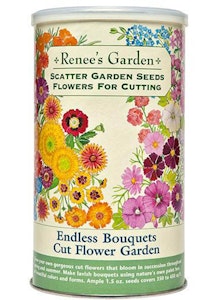 Endless Bouquets Cut Flower Garden
Grow your own gorgeous cut flowers that bloom in succession throughout spring and summer. Make lavish bouquets using nature's own paint box of beautiful colors and forms. Covers 350 to 450 sq.ft.
---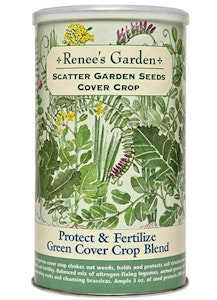 Protect & Fertilize Green Cover Crop Blend
This vigorous cover crop chokes out weeds, holds and protects soil structure and builds soil fertility. Balanced mix of nitrogen-fixing legumes, annual grasses, soil penetrating roots and cleansing brassicas. Covers 500 sq.ft.
Not sure how to sow your seeds?
Check out this helpful Guide on Sowing Renee's Scatter Gardens
Source: Renee's Garden - The Garden To Table Seed Company | reneesgarden.com
---
Gardening Seed Essentials
We have everything you need to grow from seed. Please Note - selection may vary by location.
---
Soil
---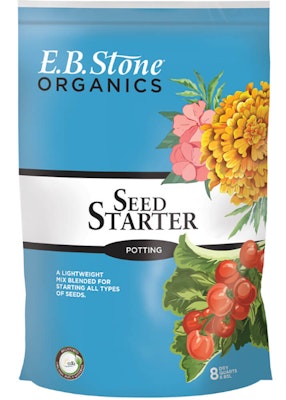 Seed Starter Mix - E.B. Stone Organics is a lightweight potting mix blended for starting all types of seeds and for rooting cuttings. Contains: Canadian Sphagnum Peat Moss, Perlite, Dolomite Lime (ph Adjustor) and Gypsum.

Mykos Mycorrhizal Inoculant - Xtreme Gardening - Organic root enhancer that balances nutrient supply.
---
Seed Trays and Pots
---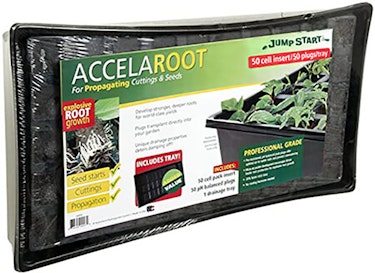 Accelaroot - Jump Start - Professional grade AccelaRoot for propagating Cuttings and Seeds. 50 cell inserts, 50 plugs for the tray for explosive root growth. Develop stronger, deeper roots for world-class yields. Plugs transplant directly into your garden.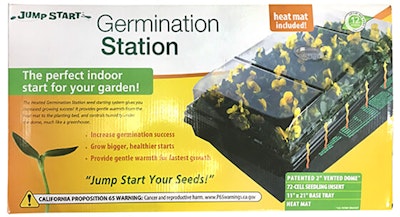 Germination Station - Jump Start - The heated germination station seed starting system gives you increased growing success. It provides gentle warmth from the heat mat to the planting bed, and controls humidity under the dome, much like a greenhouse. Vented dome - 72 cell seedling insert.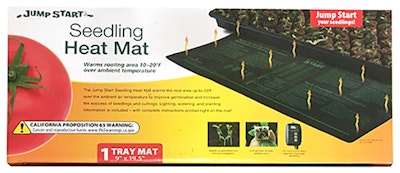 Seedling Heat Mat - Jump Start - This heat mat warms the root area up to 20ºF over the ambient air temperature to improve germination and increase the success of seedlings and cuttings. Lighting, watering, and planting information is included - with complete instructions printed right on the mat.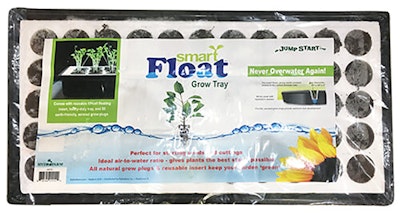 Float Grow Tray - Jump Start - Perfect for starting seeds and cuttings. Ideal air-to-water ratio gives plants the best start possible. All natural plugs and reusable insert keep your garden 'green'. Comes with reusable 55-cell floating insert, heavy-duty tray and 55 earth-friendly, aerated grow plugs.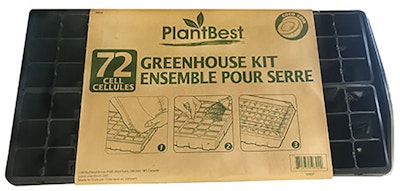 Greenhouse Kit - PlantBest 72 cell kit allows you to start your garden with a great number of cells and a clear plastic lid to allow and keep the sunshine and humidity in.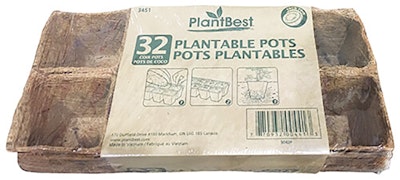 Plantable Pots - With PlantBest Coir Pots, you no longer have to disturb your happy transplant in order to take it out of one container and plant it into another or directly into the ground. These plantable coir pots can simply be planted into the next container or directly into the ground.
---
Plant Markers
---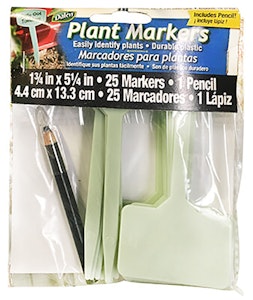 Plant Markers - Dalen - Easily identify plants with these markers
Reusable T-Markers - Large writing surface for high visibility. Perfect size to fit seed package.
---
Tools
---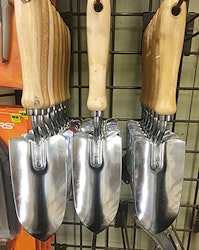 Hand Shovel - Durable and great for transplanting plants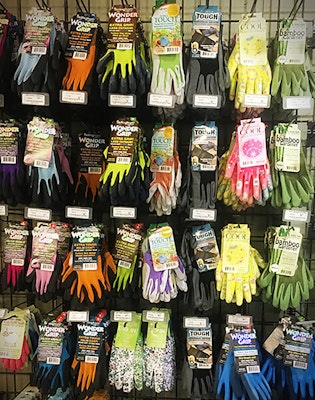 Garden Gloves - We have a nice selection of garden gloves perfect for any project big or small and definitely right for planting seeds
Watering Cans - Sometimes giving your little pods or plants just the right amount of water can be tricky so having a handy watering can makes the task that much easier. We have an assortment to choose from.
---
Sources: