Fresh Cut Christmas Trees & Holiday Decor

---
Fresh Cut Christmas Trees - on Sale: $39 ea.
---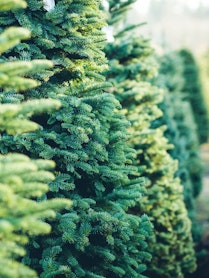 Noble Fir Tree on Sale: $39 ea.
Available at all 5 Bay Area Locations - The Noble fir is one of the most popular trees. It is well known for its strong branches and sparse look, giving it an advantage for hanging large and heavy decorations. It is also a very durable tree. It stays green longer and hangs on to its needles.
5 to 6 foot
6 to 7 foot
7 to 8 foot
Nordmann Fir Tree on Sale: $39 ea.
Available at our Campbell, Cupertino and Palo Alto Locations Only - The Nordmann Fir's durability results in an exquisite, long-lasting Christmas Tree. Popular for their ability to retain their needles and the ideal tree for those with allergies. This tree's shiny appearance offers a lovely shape with dense, strong branches that make decorating with heavy or large ornaments easy.
We Pamper Our Christmas Trees... Once they arrive at SummerWinds, our Christmas trees receive the royal treatment (for trees). We pamper, trim and prepare our trees so you can enjoy them in your home for the holidays.
Plus!
Trees are ALWAYS standing in water
Trunks trimmed when purchased - our trees are stand ready
FREE netting for your tree to attach to your vehicle
Tree Delivery available - with fee (stores for details)
Sale on Trees - While Supplies Last | Cannot be combined with any other discount | Not valid on prior purchase.
---
Love That Fresh Holiday Greenery!
We have a beautiful selection of fresh Fernhill Holly Farms greenery to decorate your doors, tables, mantels, banisters and more! The fresh scent will add to the experience.
---

New This Year!
Specialty Christmas Plants
These cute new specialty Christmas plants from Langley, British Colombia are fun for the holidays. Choose from a Charlie Brown or Grinch tabletop tree, Cypress and Rosemary shaped tree. We've also brought in lovely dusty miller planters and holiday cyclamen planters. They make a great host/hostess gift as well as holiday decor for your home.
---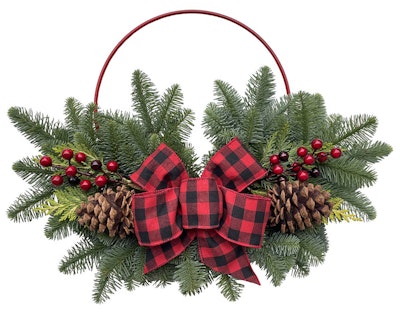 Golden Forest Wreath
Simple but elegant, this wreath includes a powder coated ring (1/4" steel) which is beautifully decorated with Noble Fir, Western Red Cedar, faux berries all capped with a large festive bow. About 24" overall.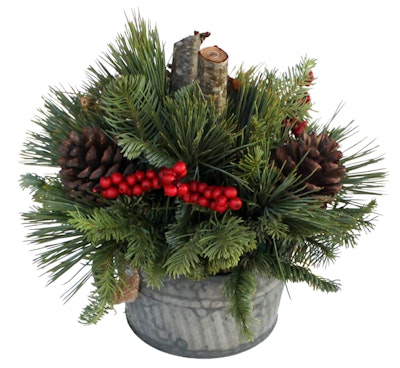 Winter Forest Centerpiece
This stunning arrangement is sure to bring the smells of the forest into your home. Included is a formidable metal container that fits the clean look of the forest. The design provides a hefty portion of the delightful Noble Fir, Western Red Cedar and Princess Pine. Anchored in the middle are three large sticks and flanked by Ponderosa Pinecones and Canella Berries (from India). The Winter Forest Arrangement is large and aromatic.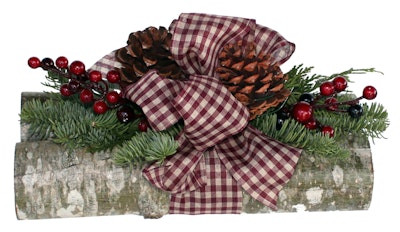 Holiday Log Decor
Designed with two 12-14" branches (2-3 inches in diameter, each) that provide the forest log look, adorned with Noble Fir and Western Red Cedar decorated with Ponderosa Cones, faux berries and topped with a large bow. Beautifully done and ever so versatile. Can be placed on dining tables, end tables, mantles and more!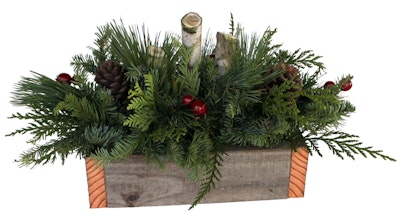 Magic Forest Centerpiece
This beauty is like walking into a gorgeous forest meadow. Their Forest collection extends to a rustic wooden container with a large assortment of Noble Fir, Western Red Cedar and Princess Pine, accented with pieces of wooden branches and Ponderosa Pinecones. The Magic Forest Arrangement becomes a statement piece for any holiday home decorating.
---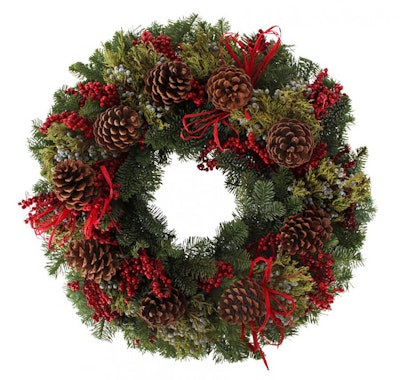 Enchanted Forest Wreath
A collection of rich Noble Fir, fragrant Berried Juniper, festive Ponderosa Pine Cones and elegant Canella Berries. A striking combination in a 24" Christmas wreath. Unique by nature, this festive wreath includes all the traditional ingredients of the holidays.
Mixed Noble Wreath
Hand made wreath -generous portions of Incense Cedar and Berried Juniper, accented with Ponderosa Pine Cones. Available in 20", 28" and 36".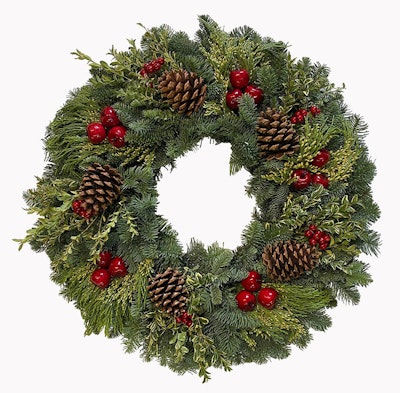 Regal Fruit Wreath
Hand made wreath - A bountiful assortment of faux apples, cones, boxwood, cedar and canella berries are beautifully arranged on a Noble base.
Mixed Candle Ring
Hand made - Noble Fir branches decorated with a mix of cedar, berried juniper, and Ponderosa Pine Cones. They have a 6 inch base and measure approximately 14 inches each.
---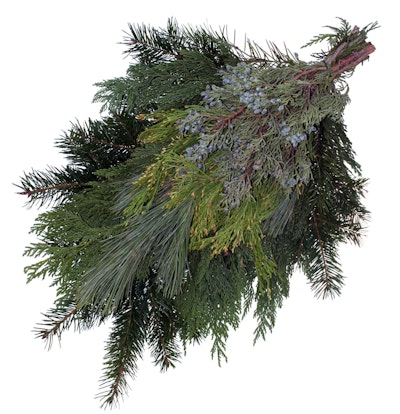 Bunch Holiday Evergreens
The mixed evergreen bouquet includes a variety of holiday firs uniquely selected for a festive color and texture combination.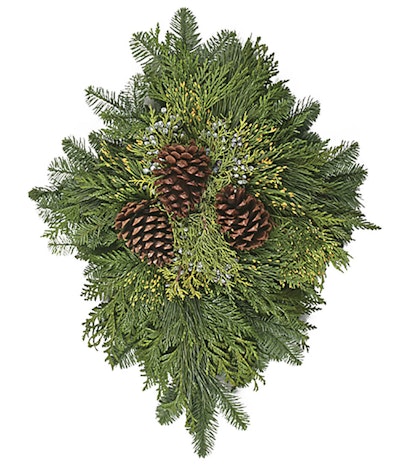 Evergreen Door Charm
This lovely charm is a combination of Noble Fir, Western Red Cedar, Berried Juniper, Incense Cedar, Princess Pine, and Pine Cones.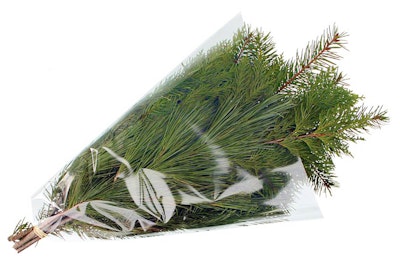 Evergreen Bouquets
Bouquet contains an assortment of Douglas Fir, Princess Pine and Port Orford Cedar.
Cedar Garland
Cedar Garland is especially unique because of its holiday fragrance and rich, green color. Long and draping branches make cedar the ideal way to decorate a mantel, banister, front door or table setting.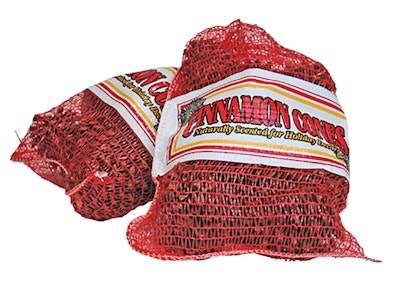 Cinnamon Scented Cones
A powerful assortment of Cinnamon Scented Ponderosa Pine Cones.
---
Sprinkle in Color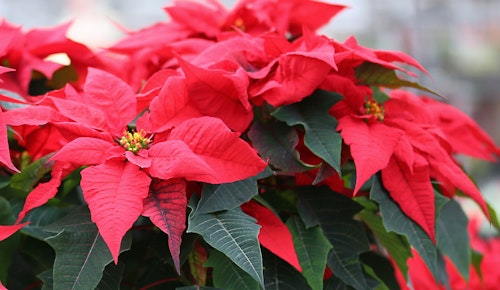 Poinsettias
We love this time of year because our tables are filled with this gorgeous plant. To learn how to pick the best poinsettia... Learn More
---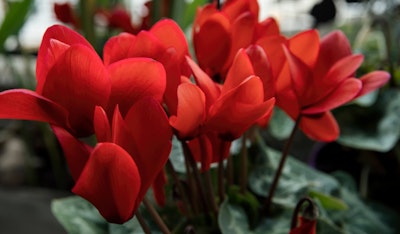 Cyclamen
Don't forget to sprinkle the color outside. We have tables full of red and white cyclamen as well that will offer long lasting color in your beds and containers. Hardy cyclamen lights up the garden with showy mounds of foliage and heart-shaped leaves that appear in autumn and last until the plant goes dormant in late spring. For additional information and how to care for your cyclamen..Learn More
---
Incredible Host/Hostess Gift Ideas... Plus Something For Your Home
Please Note - Selection May Vary By Location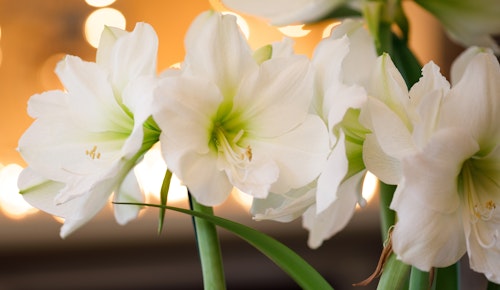 Amaryllis - We have 4 varieties of the prettiest amaryllis in kits. Choose from Minerva, Red Lion, White Christmas or Apple Blossom. Simply add a bow or plant in your own arrangement.
Check out this great DIY video from Garden Answer Planting Amaryllis
---
Houseplants - You won't find a bigger or better selection of houseplants than at SummerWinds. If you are looking for a cute 4inch plant, we have Kalanchoes, African Violets, and many more cool and colorful plants. We also have large variety of 6" and larger houseplants sure to impress.
Check Out Our Blog - We've Selected "The Best" In Houseplants
We have a huge selection of many more decorative plants to choose from. Hydrangeas in blue and white, ornamental oregano plants, mini holiday pines with lights, and don't forget the precious orchid. This lovely specimen can say it all. In an assortment of varieties and colors, we are sure to have the plant perfect for their home and yours
---
At SummerWinds, We Guarantee Success!