Poinsettias - Traditional Beauties

Florist Quality
Expert Tips for Gorgeous Poinsettias:
1. Look for healthy plants. Choose a poinsettia with colorful bracts and rich green leaves.
2. See how mature the poinsettia is by looking at the tiny yellow flowers at the center of the bracts. Look for a plant with tight yellow buds.
3. Protect your plant when bringing it home by wrapping it in a shopping bag if it's below 50 outside.
4. Keep your poinsettia away from heat. Warm temperatures can damage the plant just as much as cold temperatures. Avoid placing your poinsettia near heat registers or fireplaces.
5. Display your poinsettia in a spot with bright but not direct light.
6. Water your poinsettia when the soil feels dry to the touch. It should happen before the plant starts to wilt. Avoid overwatering and don't let your plant sit in water for more than 30 minutes.
7. Let the poinsettia's roots breathe. They are often sold in plastic or foil pot covers and these decorative covers trap excess water. Cut off the very bottom of the pot cover or make several holes in it and set the plant on a saucer.
8. Feed your poinsettia with a general-purpose houseplant food after the bracts fade if you want to keep the plant for the following year.
---
Check out our blog on 3 Ways To Decorate For The Holidays With The Poinsettia
---
Expand your decorating skills this holiday with a beautiful assortment of poinsettias from SummerWinds.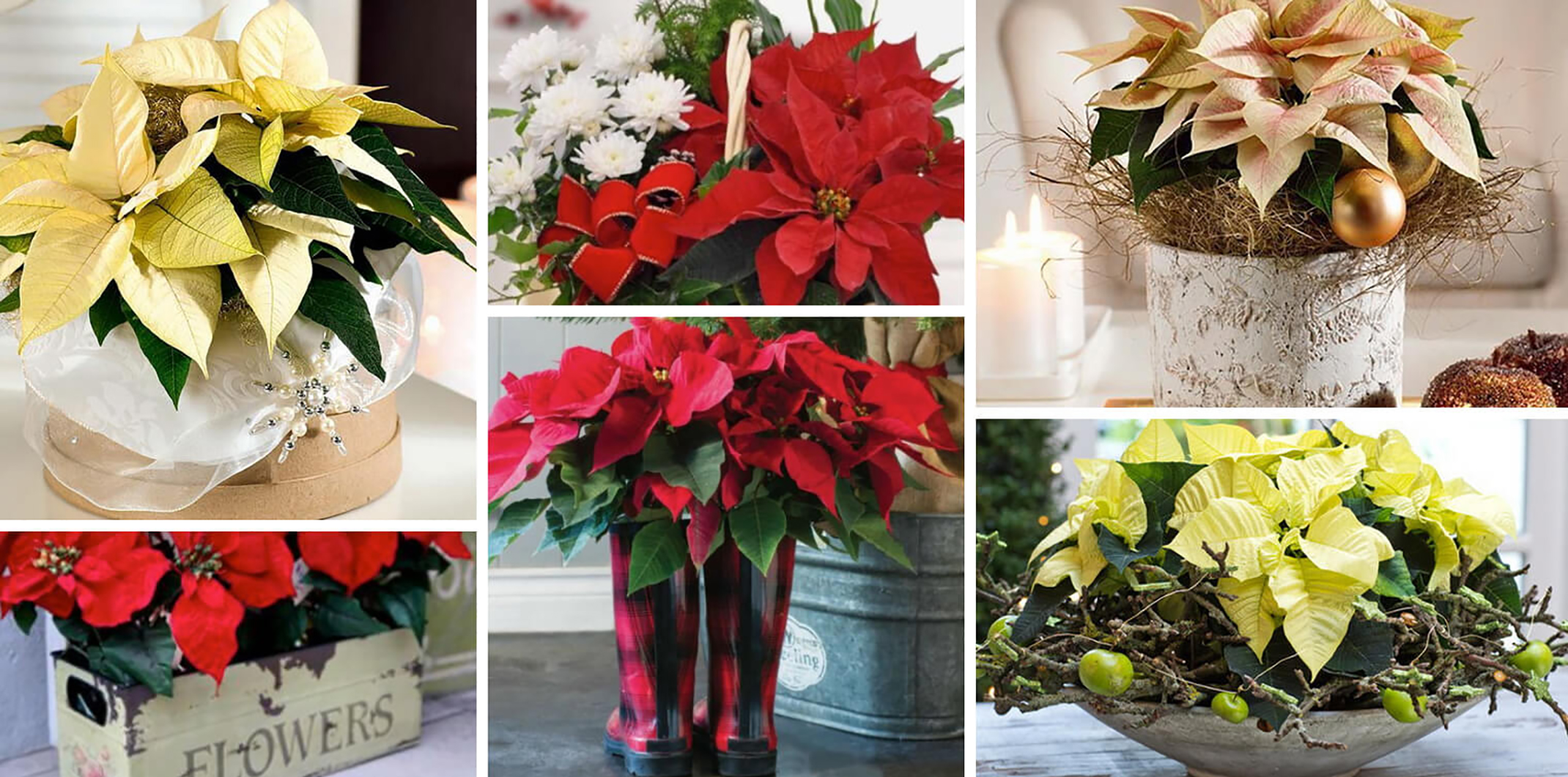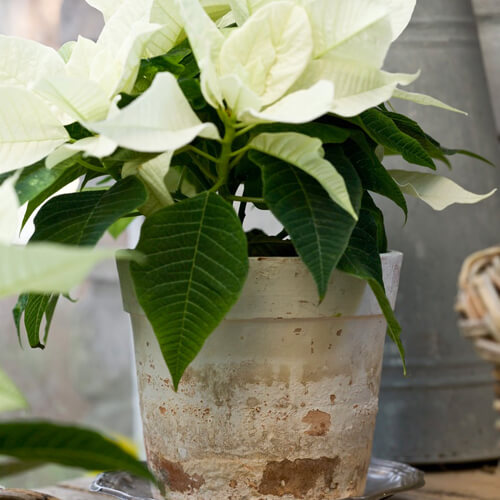 Keep It Simple
Sometimes just keeping it simple and finding the right pot can exude elegance. If you don't have the right pot, decorate or disquise one you have with wrapping paper or bows. Just be sure to make the pot you place the poinsettia in has adequate drainage.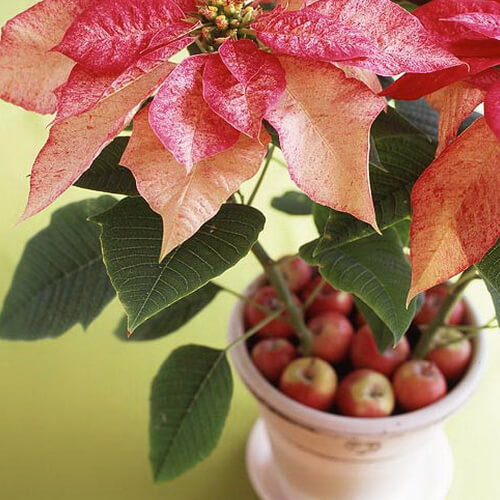 Adding The Right Touches - Apple Topping
Slip your poinsettia, pot and all into a decorative container, and dress up the soil with a layer of small apples.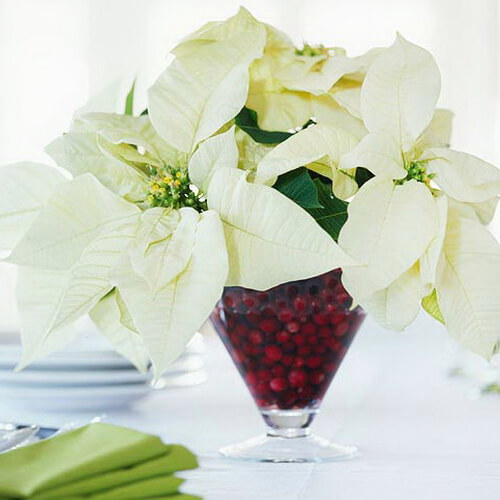 Cranberry Bouquet
Cut a bouquet of ivory poinsettias for a table centerpiece. Cranberries in the clear glass vase will hold the stems in place.
Place Setter or Ornament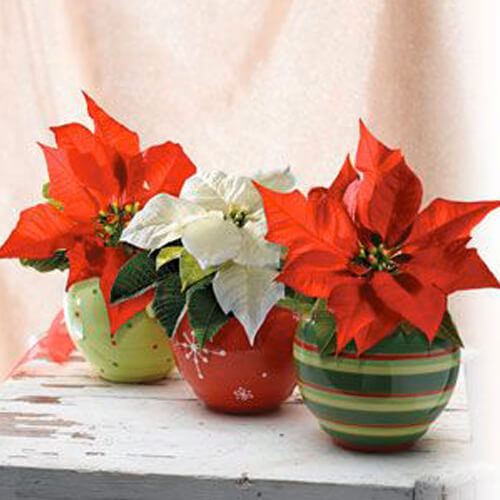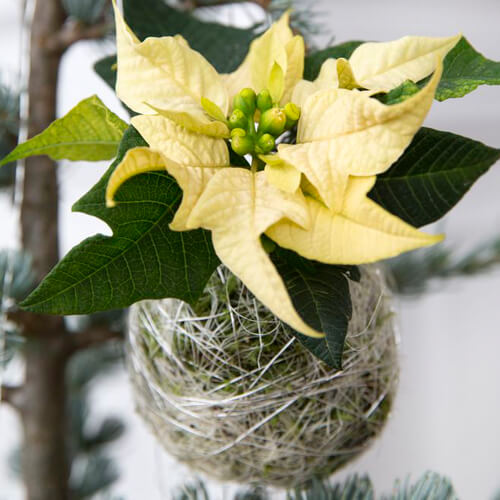 A cut poinsettia tucked into an esspresso-size cup or colorful miniature pot to make a charming embellishment for a place setting. A poinsettia cutting placed in a moss ball, will make a lovely ornament for your tree or as a gift.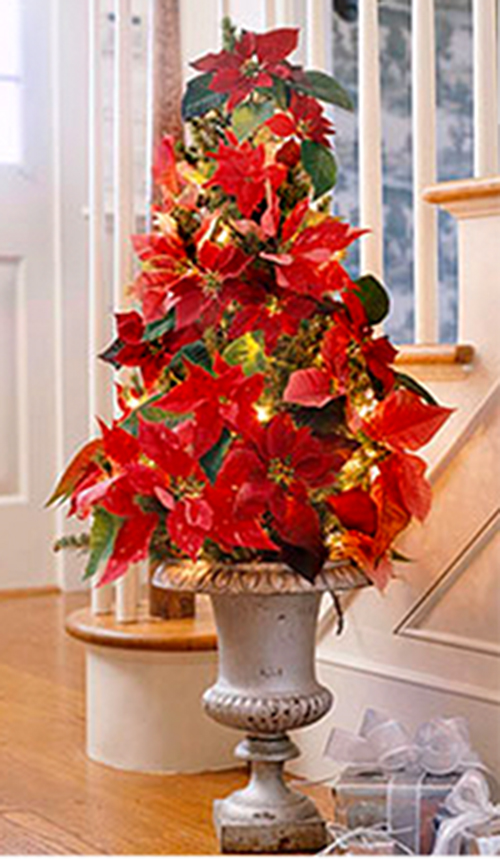 Poinsettia Tree
Poinsettias are a naturally showy way to enliven a Christmas tree. Insert them into small floral vials filled with water. With trees that have dense, tight foliage, such as spruce and balsam, you can get away with simply tucking the vials into the foliage.
---