Cyclamen

The Cyclamen plants you find mixed in with houseplants or at grocery stores are often beautiful but are mostlikely not the hardy cyclamen you can plant outdoors. You'll find those hardy cyclamen at a nursery/garden center, showy mounds of silvery-white foliage and heart-shaped leaves that accent the prettiest pinks, reds, whites and purple flowers, the beginning of fall and last until the plant goes dormant in late spring.
Although this woodland plant looks delicate, hardy cyclamen is vigorous and easy to grow. Classified as a tuber, cyclamen will return year after year.
Care:
Care of hardy cyclamen is simple and the plants require minimal maintenance to look their best.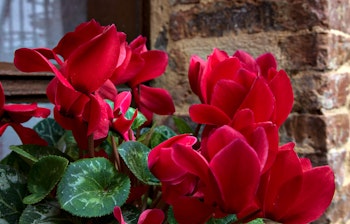 Hardy cyclamen grows in nearly any type of loose, well-drained soil.
Dig a few inches of mulch, compost, or other organic matter into the soil before planting.
Plant cyclamen 6 to 10 inches apart in shade to part shade.
Water carefully to keep water from splashing on flowers to prevent spotting.
Remove spent flowers to keep plants looking fresh.