How to Make a Holiday Wreath
Posted on: Thursday, November 30, 2017
One of the most beautiful and festive ways to celebrate the holidays is with a wreath. This gorgeous decoration welcomes guests into your home when placed on the front door.
If you are interested in making your own wreath, here are five steps to make your own from no other than Martha Stewart; is there anyone better to take craft lessons from?
How to Make Your Own Wreath
Gather Supplies
Have a container filled with essential wreath-making supplies, including floral wire, craft glue, and work gloves to avoid sticky sap and prickly needles from the evergreen.
Start with a Wire Wreath
Wire frames are versatile supports for wreaths. They come in variety of shapes and are sturdy enough for heavy materials like evergreen boughs, citrus fruits and decorative plants. A single-wire frame is best for a thin, delicate wreath; for a lush-looking wreath, start with a double-wire frame. Attach floral wire on a paddle to the crossbar of a double-wire wreath form of any shape.
Wiring the Greens
Lay a small bundle of greenery on the form and wrap the wire tightly around the stems three times; do not cut the wire. Add another bundle, overlapping the previous one by half; wrap the wire around the stems. Continue adding bundles until you reach the starting point. Tuck the wire under the form, secure it with a knot and cut. When the entire form is covered, tie off the wire, leaving a few extra inches before cutting the end. To make a hanger, form the end of the wire into a loop and twist it around itself.
Add Embellishments
Add in clusters of holly, jingle bells, pinecones, fruits or other embellishments with the greenery bundles. This is a fantastic way to add your favorite seasonal plants, such as poinsettias.
Add Shimmer
For a nice shine, spray-paint a portion of the greenery gold or silver before making the bundles; this will also extend the wreath's life.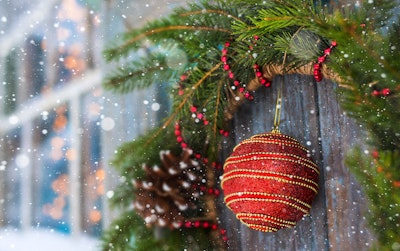 Inspiration: Making Your Wreath Unique
If you're feeling less traditional, here are 50 Unexpected Wreaths You Can Make Out of Anything from Buzzfeed that will make for surprising and customized holiday flair.
The beauty of holiday decorating is that you can make it your own and express yourself fully. Visit your local SummerWinds Nursery for fun and festive plant life to add to your home's décor, and check out this blog post to learn how winter vegetables can help you look and feel better during the cold months.