Osteospermums

Osteospermum - Beauty in an Array of Colors!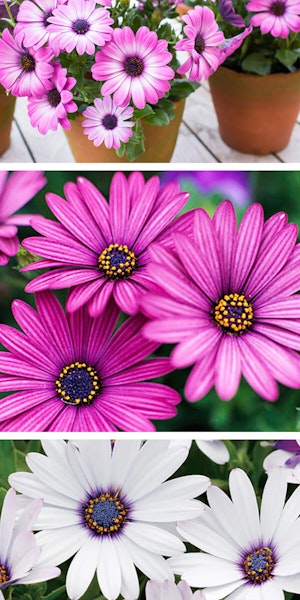 Osteospermums, similar to snapdragons and pansies, are most often grown as cool-season annuals that pack a fragrant punch. In many instances, the plants will take a break from blooming during the hot summer until cool nights resume in fall.
Ideally, osteospermum prefers full sun—the more sun you can give them, the better they will bloom. Osteospermum prefers evenly moist, well-drained soils. Be cautious, though—too-wet soil is a sure way to stress out, and even kill, osteospermums. Once they are established, they are fairly tolerant of drought. Remove any spent blooms and fertilize regularly to keep them blooming and looking their best.
One common pest you may see on osteospermums is thrips. These are long, green bugs that like to feed on flower pollen and use their sharp mouthparts to scrape the petals for water. This damages buds and contorts new growth. Luckily, there are many other beneficial insects out during the growing season that will keep these pests in check.
Light:

part sun to full sun
Size:1 to 3 feet tall and 1 to 2 feet wide
Colors:

orange, pink, purple, white and yellow
Blooms:

spring and fall
Special Features:

attracts birds, great as cut flowers, perfect for containers and are low maintenance