Heirloom Tomato Varieties

What Are Heirloom Tomatoes?
You may find other sources with slightly different definitions of heirloom tomatoes but what we know is that they are at least 50 years old and started from seed that was handed down for many generations and by region. There are also those heirlooms that were developed by universities, again 50 years ago or so. All heirloom tomatoes are open pollinated, which means they were created naturally through pollination of insects and wind – no human intervention.
At SummerWinds Nursery, we have a great selection of heirloom tomatoes of all shapes, colors, textures and taste.
Heirloom Tomato Varieties
To better understand the difference between Determinate and Indeterminate
Learn More
Arkansas Traveler
A 100 year old Heirloom variety. It is deep pink when ripe and hosts a nice balance of sweetness and tartness. It is one of the very best heirloom varieties. Disease-resistant. Indeterminate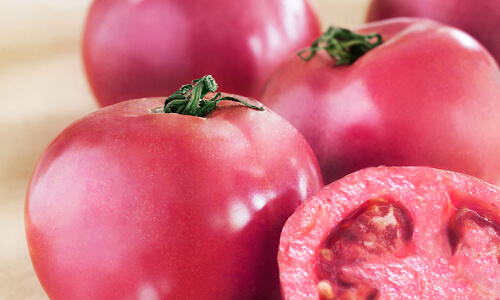 Aunt Ginny's Purple
An Heirloom favorite, this tomato is deep-pink in color and is perfect for salads and sandwiches. Very little cracking. Indeterminate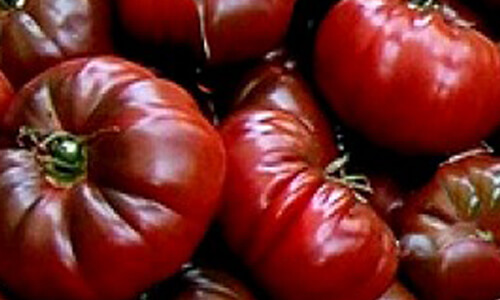 Aunt Ruby's German Green
A large beefsteak variety that has sweet yellow-green juicy flesh and a hint of spiciness. Indeterminate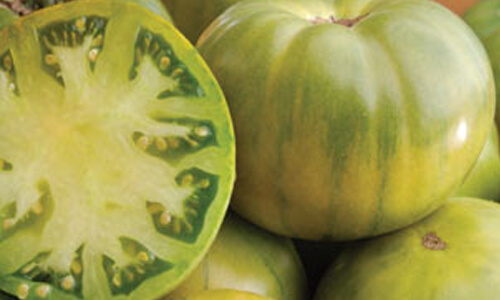 Aussie
This vibrant red tomato is loaded with bold and rich tomato flavors. A beefsteak variety that is disease resistant and simply tasty. Beefsteak tomatoes need a longer growing season and more heat than smaller varieties, so they may not be suitable for short-summer or cool-summer gardens. Indeterminate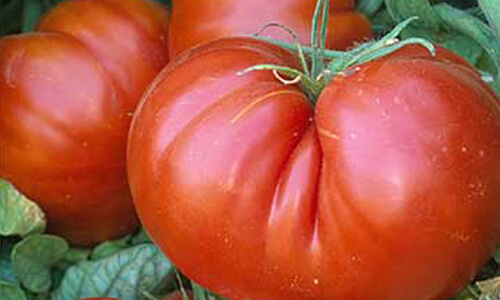 Big Brandy
Another great beefsteak variety that has a sneaky appearance of a hybrid. Big Brandy gets its unusual pink color from both parents and exudes a rich tomato fragrance. They are richly flavored with a tomato tang. Indeterminate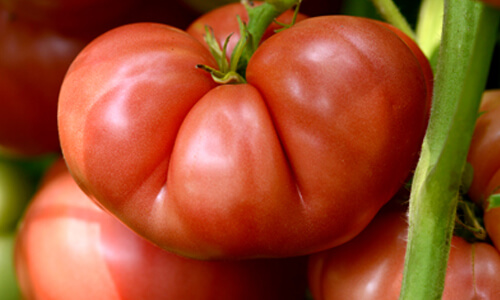 Big Zac
An excellent tomato in every way. They are meaty, tasty, and are very vigorous growers. This tomato comes from a good stock. Indeterminate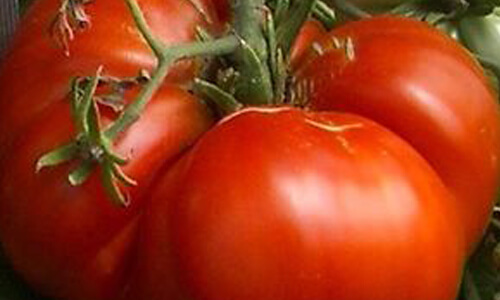 Black Krim
Black Krim is one of the most flavorful heirloom beefsteak tomatoes. Large, sweet, reddish-purple fruits that are beautiful when sliced or cut in wedges. Indeterminate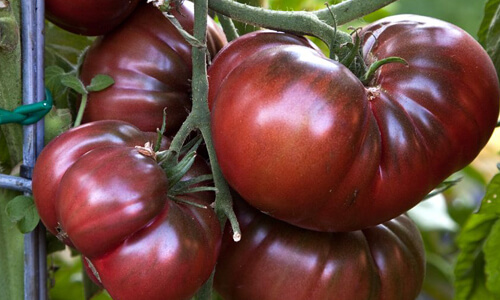 Boxcar Willie
Boxcar Willie is a vibrant orange and red tomato with a nice balance of sweet and rich flavors. It is an excellent tomato for canning, tomato sauce or tomato juice. Resistant to diseases and cracking. Indeterminate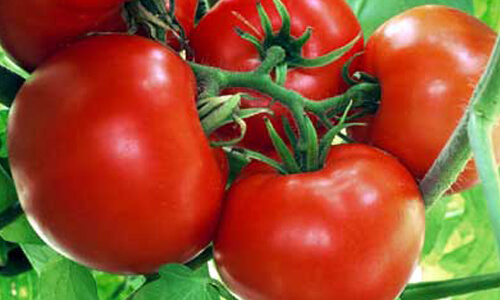 Brandywine Pink
Brandywine Pink is a classic beefsteak tomato with incredible flavor. They aren't a robust producer but are loved non-the-less. Indeterminate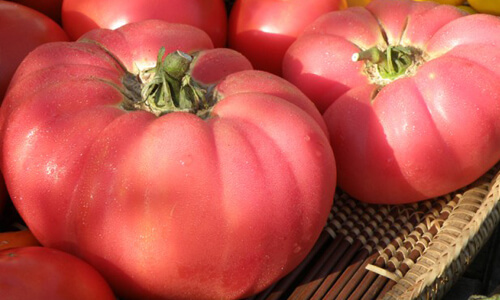 Chefs Choice Orange
Chefs Choice Orange is given such a prestigious name because even when cooked, it retains its intense bright orange color. Great for soups and sauces. It has superior taste and texture. Indeterminate
Cherokee Green
This tomato is not only tasty, it enhances other brightly colored tomatoes surrounding it because of its green color. Best served uncooked. Indeterminate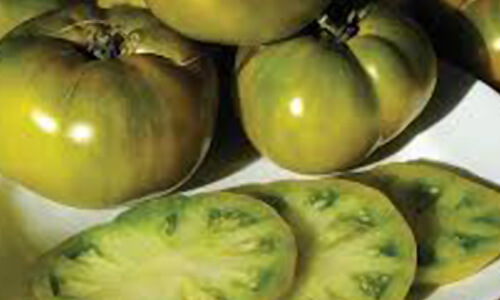 Cherokee Purple
Cherokee Purple has a smoky sweetness that offers a great twist to salads and sauces. Indeterminate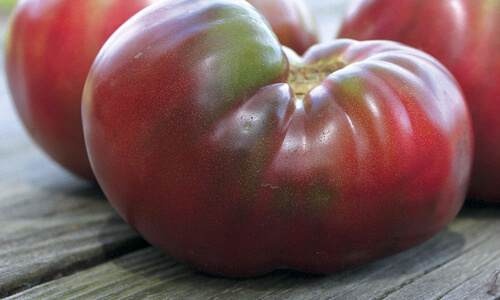 Cosmonaut Volkov
An out of this world tomato from the Ukraine. This tomato offers and incredible balance of rich, deep and sweet and tangy flavors in a deep orange/red fruit with green shoulders. Determinate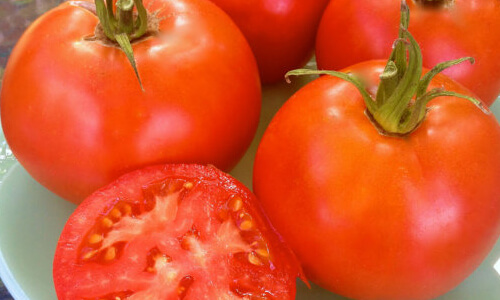 Crnkovic Yugoslavian
Direct from Yugoslavia, this vigorous producer of slightly flattened, pink beefsteak tomatoes are full of flavor and juicy. Crack-resistant. Indeterminate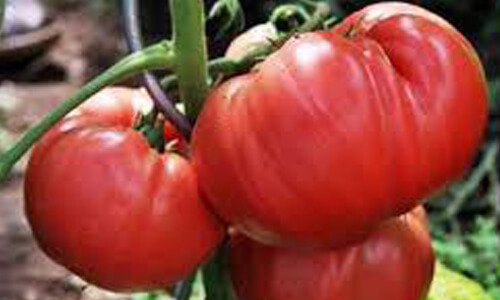 Giant Belgium Pink
A beautiful, large pink Heirloom tomato with a sweet and mild flavor. The sneaky pink color occurs because it is actually clear skin covering red flesh.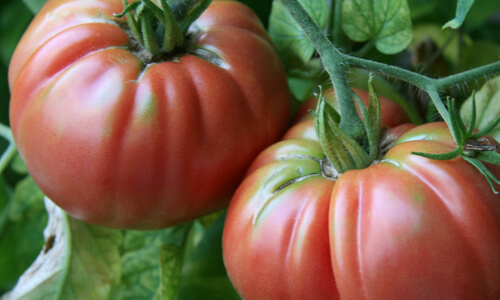 Giant Syrian
They are meaty and very flavorful. Perfect for salads, sandwiches, slicing, sauce, paste, and canning. Indeterminate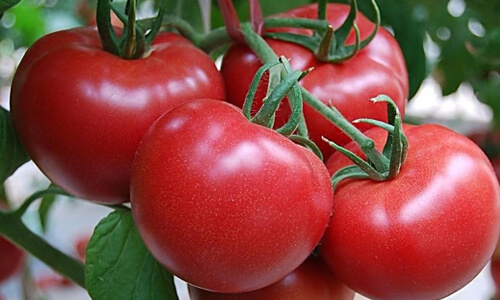 Gold Medal
Yellow fruits are blushing with rosy red that radiates from the blossom end. They are sweet and mild, have very little acid, which makes them perfect for eating fresh. Indeterminate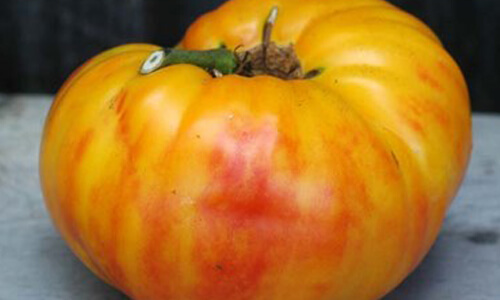 Green Zebra
This pale green tomato has striking stripes with a tart flavor. They are ripe when the shoulders have a yellowish cast. Indeterminate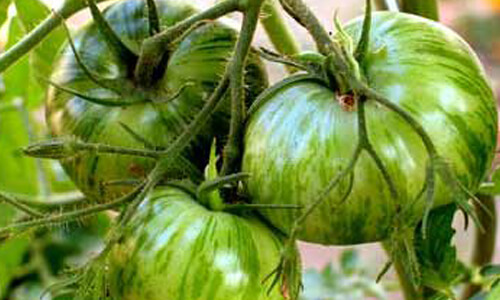 Hawaiian Pineapple
Named for its shape, not flavor, the Pineapple tomato is a large bi-color beefsteak tomato. Known for its excellent flavor it is mildly sweet with low acidity, somewhat fruity, and includes a hint of citrus. Its flavor improves towards end of season. Indeterminate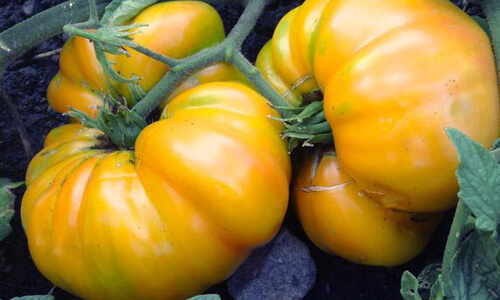 Hillbilly
Hillbilly is an orange heirloom beefsteak tomato with red streaks through its flesh, almost like a peach. Beautiful when sliced or cut in large wedges. Indeterminate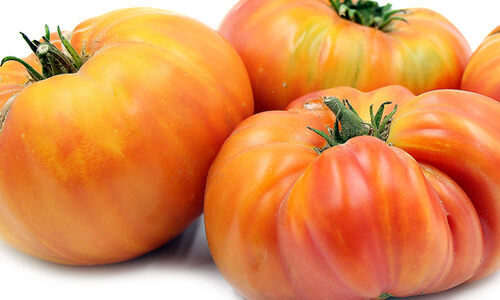 Kellogg Breakfast
Large orange beefsteak tomatoes with delicious rich flavor with a good acid/sugar balance. Very productive. Indeterminate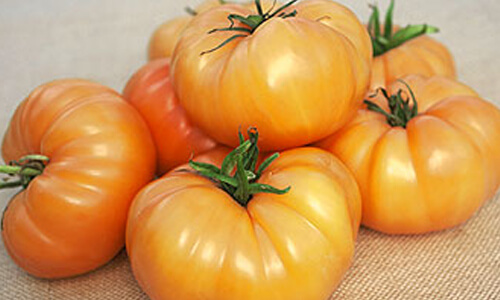 Kentucky Beefsteak
An attractive beefsteak tomato with an almost oval shape and deep orange color. It has a lovely flavor backed by a meaty flesh and little seeds. Indeterminate
Marglobe
These are tasty, smooth, firm tomatoes. Stake or cage for best results. Determinate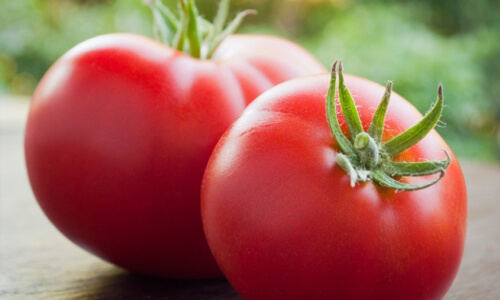 Marvel Stripe
Named "marvelous" for a reason, this orange tomato has stunning blood red stripes that run down its skin. The juicy flesh of this tomato is colored with the same orange and red of its skin, and is also marbled in white. It is one of the largest of bi-colored heirloom tomatoes. Indeterminate
Mortgage Lifter
Mortgage Lifter is a huge red heirloom beefsteak tomato that produces heavy yields on strong. Indeterminate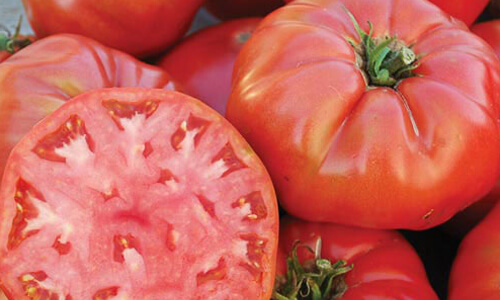 Moskvich Heirloom
Fruits are early, deep red, and cold tolerant. Rich flavor. Smooth and globe-shaped. Indeterminate.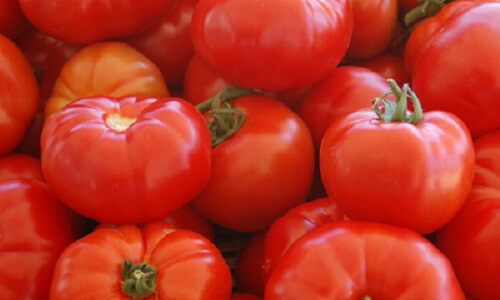 Mr. Stripey
Mr. Stripey has mild, sweet-tasting fruits with a high sugar content and grow to over 1 lb. each. Pretty and luscious, this tomato has rich yellow undertones covered with pinkish-red striping. Indeterminate.
Napoli
Compact plants that do well in containers and produce heavy flushes of fruit, perfect for cooking up into rich sauce, soup or ketchup. The bright crimson, oval tomatoes are meaty and dense with a rich, tangy flavor. Determinate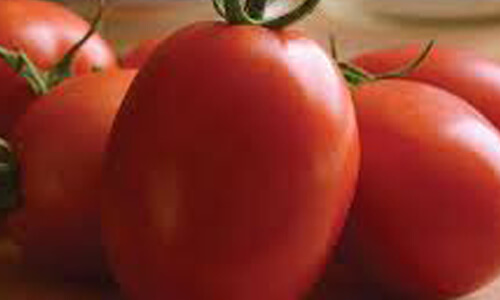 Old German
Indulge in one of these treasured heirlooms and experience the true meaning of pleasure! Routinely weighing in at over a pound and a half, Old German was one of the largest fruit in our trials. It is both delicious and beautiful with succulent, meaty fruit and golden streaked, reddish skin. Indeterminate.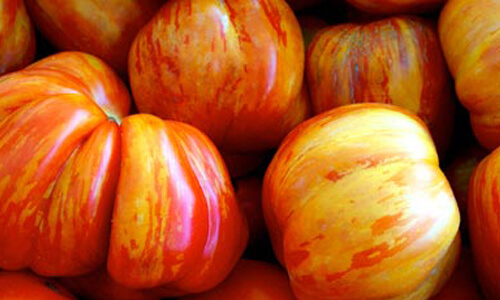 Omar's Lebanese
Straight from a farming hill town in Lebanon, this pink tomato with sweet, rich and complex flavor is disease resistant. Indeterminate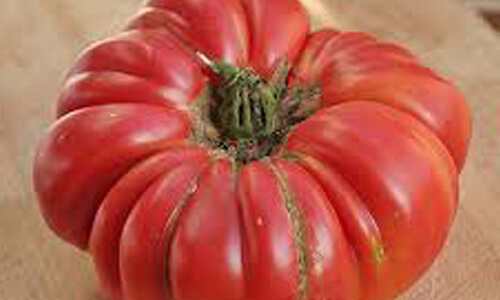 Paul Robeson
Russian heirloom produces brick-red to black fruits with a smoky, sweet flavor! This vigorous grower of beefsteak fruits are perfect for slicing, salads and sandwiches. Indeterminate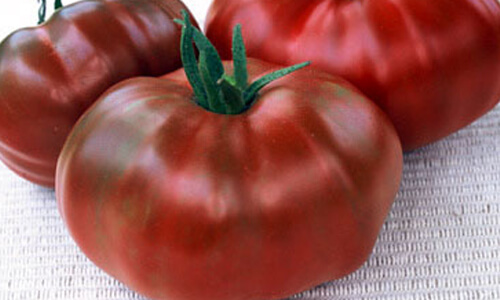 Persimmon
An heirloom originally from Russia, this beefsteak type has very large, persimmon-colored 1 lb. fruits. Uniform and blemish-free, the tomatoes have high flavor, low acidity, and a small seed cavity. Indeterminate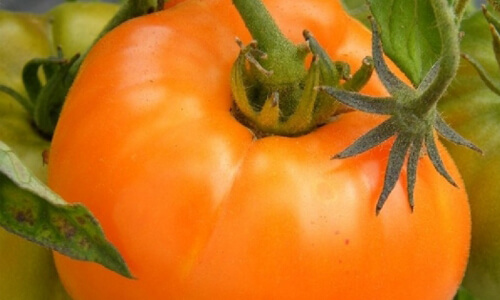 Prudens Purple
With dark pinkish-purple skin, this widely adapted heirloom produces large, slightly flattened 1 lb. fruits with firm, meaty, crimson flesh and few seeds. Indeterminate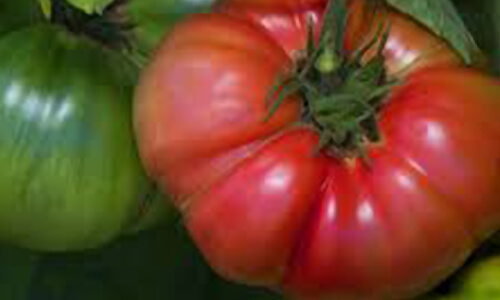 Purple Calabash
May be the most purple of all "purple" tomatoes; a deep purple/burgundy and very colorful! Flavor is intense, sweet and tart, with a lime or citrus taste. A most uniquely flavored tomato! The plants give huge yields. Indeterminate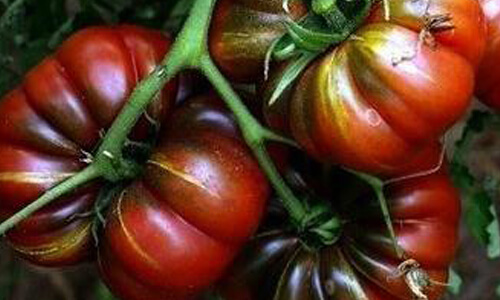 Purple Russian
Delicious purplish, egg-shaped fruit are smooth and perfect. They have no blemishes and have incredible flavor. A great producer of one of the best tomatoes for salsa, fresh eating, and preserving. Indeterminate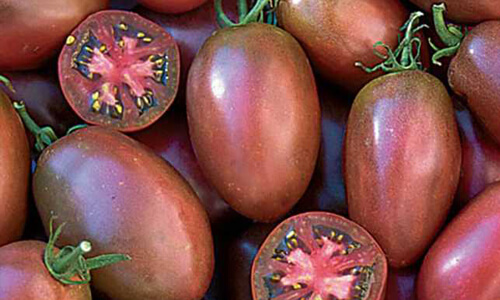 Rose
An Amish heirloom from Pennsylvania. This dusty rose colored tomato has excellent flavor. Indeterminate
Stupice
Stupice produces deep-red, 2-inch oblong tomatoes with a tangy flavor. Indeterminate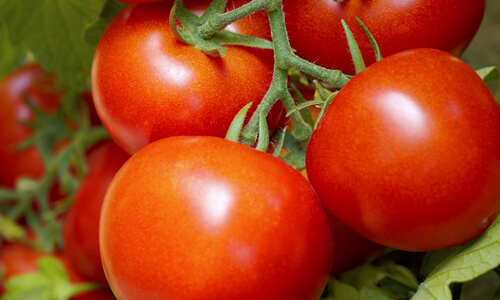 Vintage Wine
One of the very few pastel-hued tomatoes with its pale pink fruit and golden stripes. Vintage Wine tomatoes have an elegant, sweet and tasty, with a nice, mild flavor that compliments most dishes. Indeterminate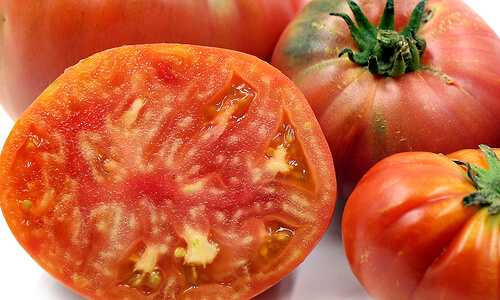 Selection may vary by location.
---
Other Tomato Types, Care and Planting
---
At SummerWinds Nursery, we pride ourselves on having the best products and most knowledgeable staff. Stop in today and let one of our Trusted Garden Advisors show you how to plant and care for your tomatoes