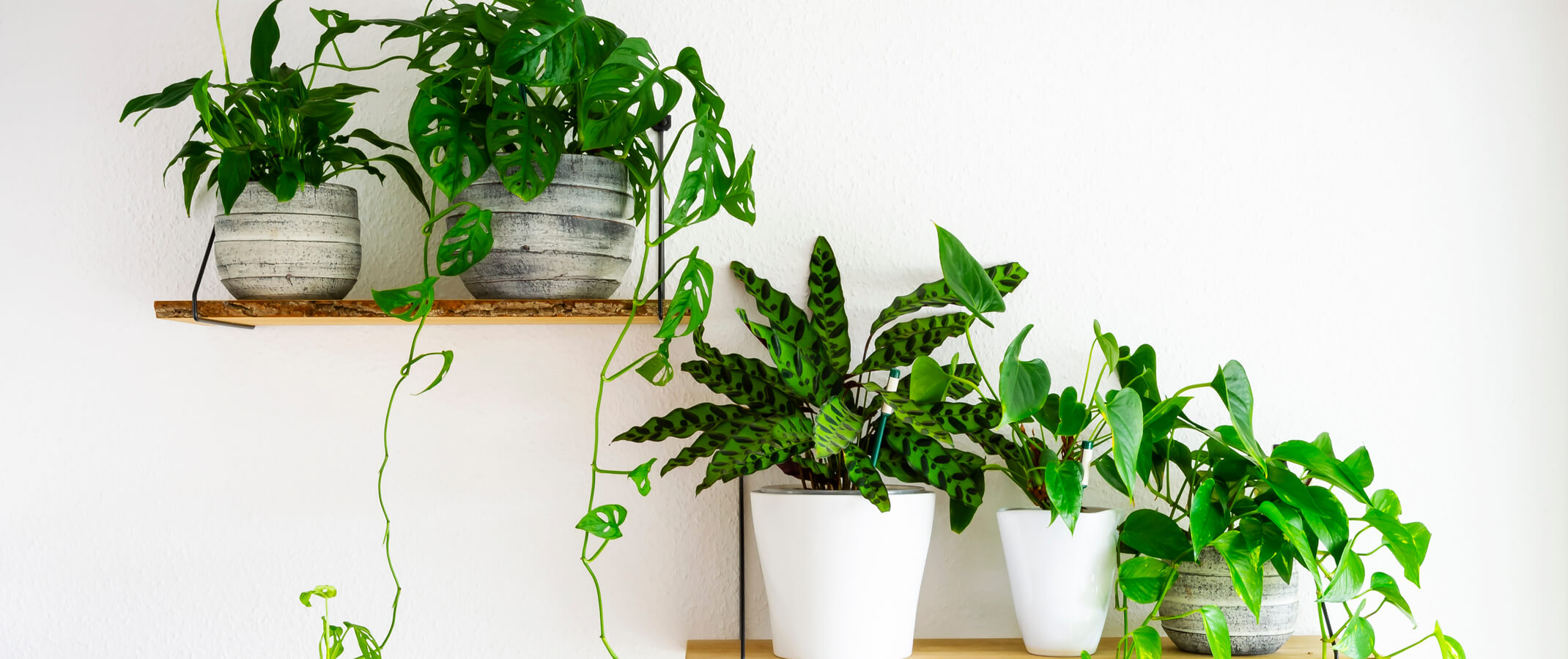 Benefit from Beautiful Plants in These 5 Areas
Posted on: Thursday, July 14, 2016
1. Your Office:
Houseplants that do well in low light and are easy to maintain
Whether you work in an office or have a home office you work from, you can improve your work environment by being "under the influence of plants." Plants improve concentration, memory and productivity. Is your office dark and lifeless? We have the plant for you.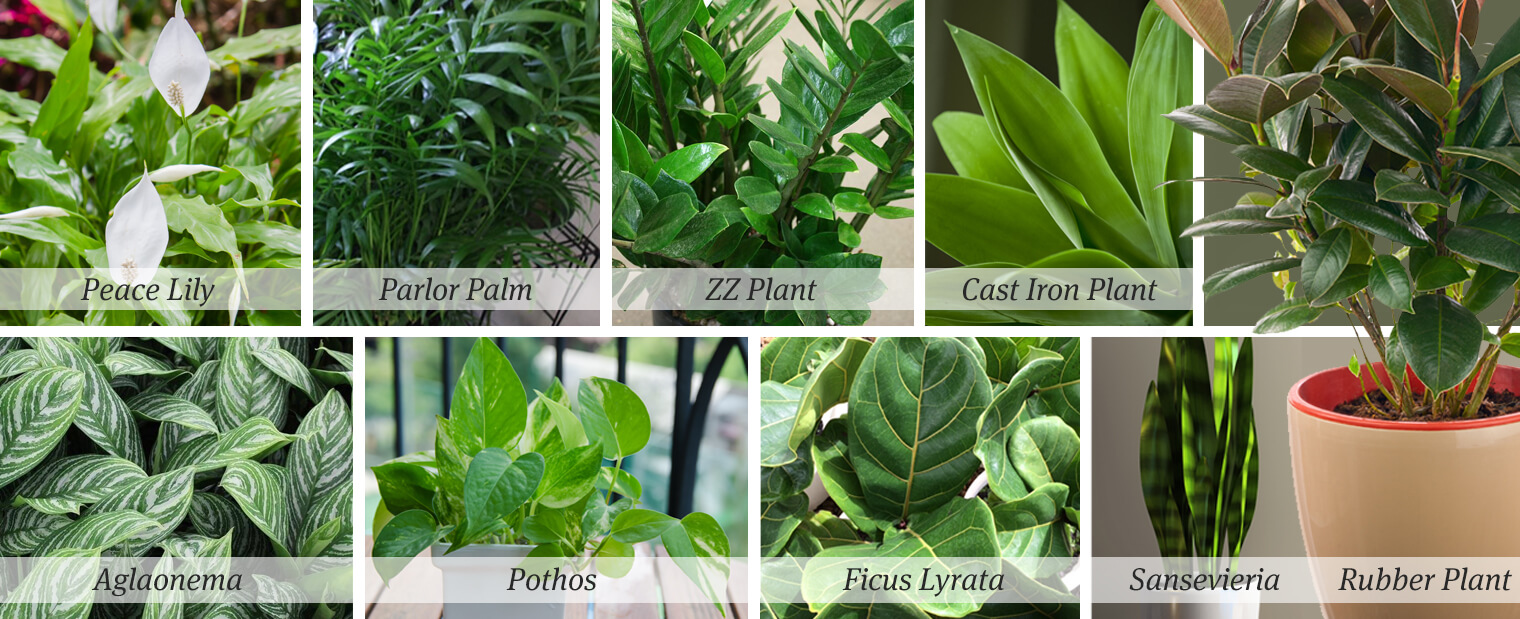 These plants do well with indirect light from a window or simply from the overhead lights that are on during the day and off at night:
Peace Lilies - Thrive in low light and will bloom white cupped flowers.
Jade or Golden Pothos - (One of my very first houseplants while attending college - I couldn't kill it if I tried). They have large lovely green and variegated leaves.
Aglaonema - These plants grow in a nice full shape and have large glossy oval-shaped leaves and small flowers, which colors change from white to greenish white or even red.
ZZ Plant - Not to be confused with ZZ Top but equally as cool. This houseplant adds great texture with it's thick straight stems and dark green leaves.
Cast Iron - As the name implies, this species can survive in the most extreme conditions under which other plants would shrivel and die. Perfect for those who don't have a lot of time for plant care but want the benefits they provide.
Parlor Palm - is a very popular houseplant with rich green, slightly arched and slender leaves. Great for small spaces.
Rubber Plant - A bold evergreen that gets its name from the sticky sap that dries into a low-quality rubber. This large plant has glossy leaves that can grow to 8" or more. And while easy to grow and maintain, it doesn't like to be moved around. It prefers the stability only your office can provide.
Ficus Lyrata - Do you have a bare corner in your office? The Ficus Lyrata is your plant. It has very large, heavily veined and violin-shaped leaves that grow upright on a tall plant.
Sansevieria (Snake Plant or Mother-In-Law's Tongue) - This plant offers a more refined look. The leaves are stiff, thick and spear-like with a glossy texture, often mottled with white, and clustered flowers on slender stalks.
Houseplants Add Color, Texture And Life To Your Home - Blog
Helpful tips on how to care for your houseplants
---
2. Balcony
Small spaces in need of big color
Even the smallest places in the shade can host lovely color. Whether it's a lush green houseplant in a brightly colored pot or a small shrub full of blooming color, we have a great selection for your balcony: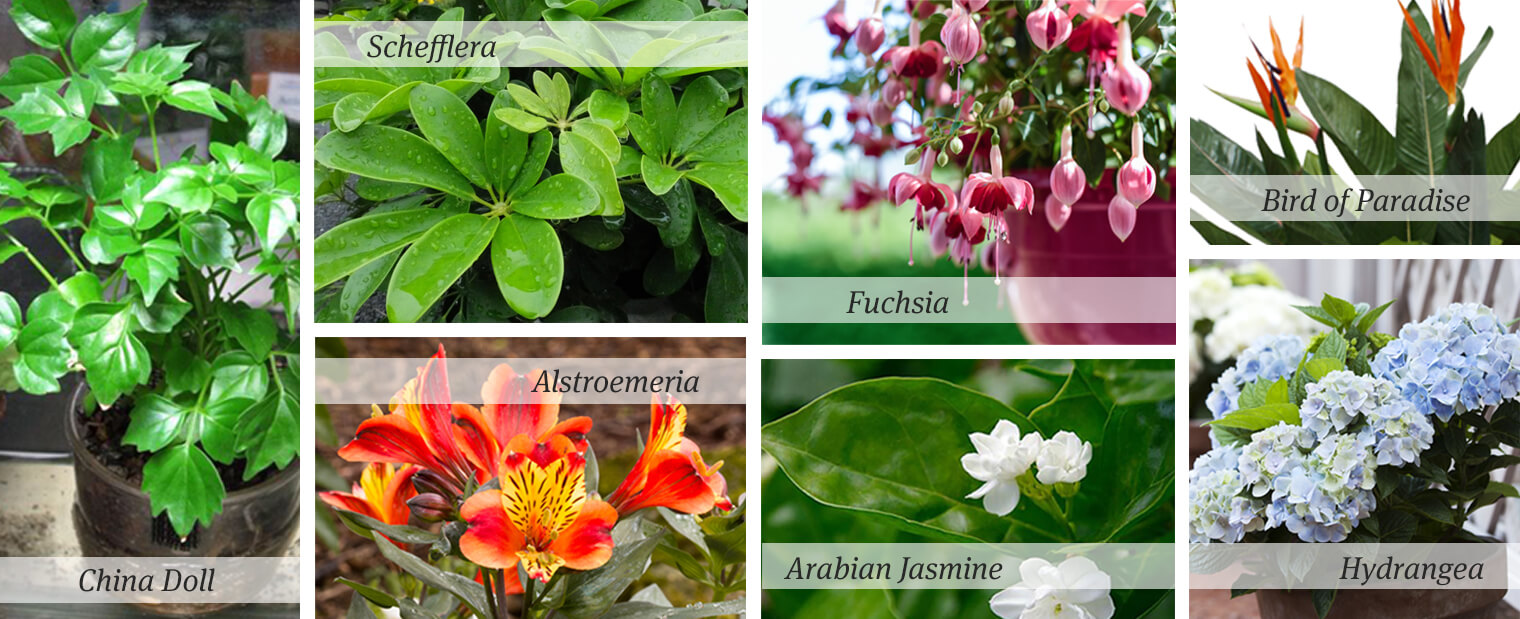 China Doll - This plant has glossy, mid-green leaves that are divided into leaflets. China Doll plants are compact and easy to care for as long as you keep these two tips in mind: They prefer lots of indirect light and are a little fussy about the temperature. China Doll plants prefer to live in temps of 65º to 75º F.
Schefflera - Also known as an Umbrella Plant for obvious reasons. This tropical plant does well next to other tropical plants. And like many tropicals, it prefers more humidity and moist soil. Be sure to bring it indoors once temps drop below 60ºF.
Arabian Jasmine - You can enjoy sitting on your balcony and taking in the sweet fragrance of the double blooms of the Arabian Jasmine. Subtle and beautiful.
Alstroemeria - This durable gem comes in an assortment of vibrant colors. Fresh cut blooms will last around 2 weeks in a vase.
Hydrangeas - There is nothing like a blooming hydrangea. Their beautiful big green leaves alone are lovely but the delicate looking blooms of blues, purples, pinks and whites are just the icing on the cake. Hydrangeas look amazing in containers and can be transplanted to the ground in the Fall.
Fuchsias - A beautiful, and unusual exotic flower with striking two-tone colors. It can bloom all summer long.
Bird of Paradise - Also known as Crane Flowers, it is another exotic plant that has blooms that truly do look like birds. It's a great conversation piece, and these birds won't leave a mess on your balcony.
---
3. Kitchen Window
Fresh, beautiful and functional
Do you have a nice window seal in your kitchen that could entertain fresh, live ingredients?

Fresh Herbs - This may seem like a no brainer - so what's stopping you? Many of your favorite herbs are easy to maintain and are incredibly handy when cooking. Basil, Thyme, Rosemary, Oregano, Chives, Cilantro and more. Plant in separate containers or together. Cute decorative pots can only add to the experience.
African Violets - Delicate, slightly furry looking and simply lovely. These old time favorites look great in vintage containers and are perfect for a bright window and indirect light.
Succulents - Easy and low low low maintenance. Succulents come in an array of colors and textures. They can be planted in almost anything - tea cups, coffee pot, mason jars, etc.
---
4. Pep up your porch with hanging planters
Shady, high and loads of color
Is your porch blah and void of plant life? We have an assortment of plants that can be hung alone or in a combination. They also make a nice draw for hummingbirds!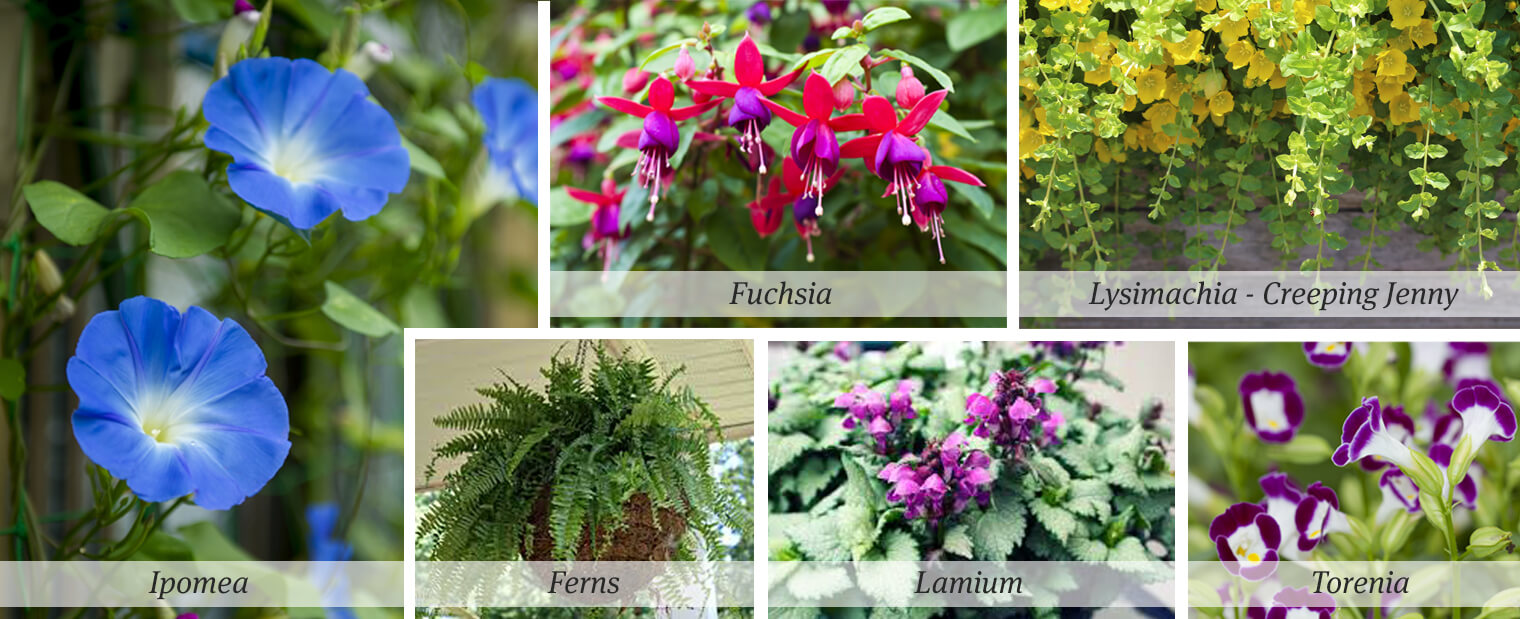 Torenia - Also known as wishbone flower, this short, ground-hugging beauty is actually perfect for hanging planters and offers a profusion of blooms.
Lamium - Another ground cover that will add interest to any hanging planter. This vigorous plant has two toned foliage and dainty snapdragon-like flowers.
Fuchsias - This one is a hanging planter favorite.
Ipomea - Color and texture in one plant.
Ferns - Lush and green, these plants look amazing on their own.
Lysimachia - Also known as Creeping Jenny and typically seen as a ground cover but once again, it's a great option for a hanging planter. Cute little green leaves and yellow bloom, make it a fun addition.
---
5. Easy Peasey for outdoor "pleasey"
Sun loving and easy going
Shrubs for borders, fillers or as a focal point.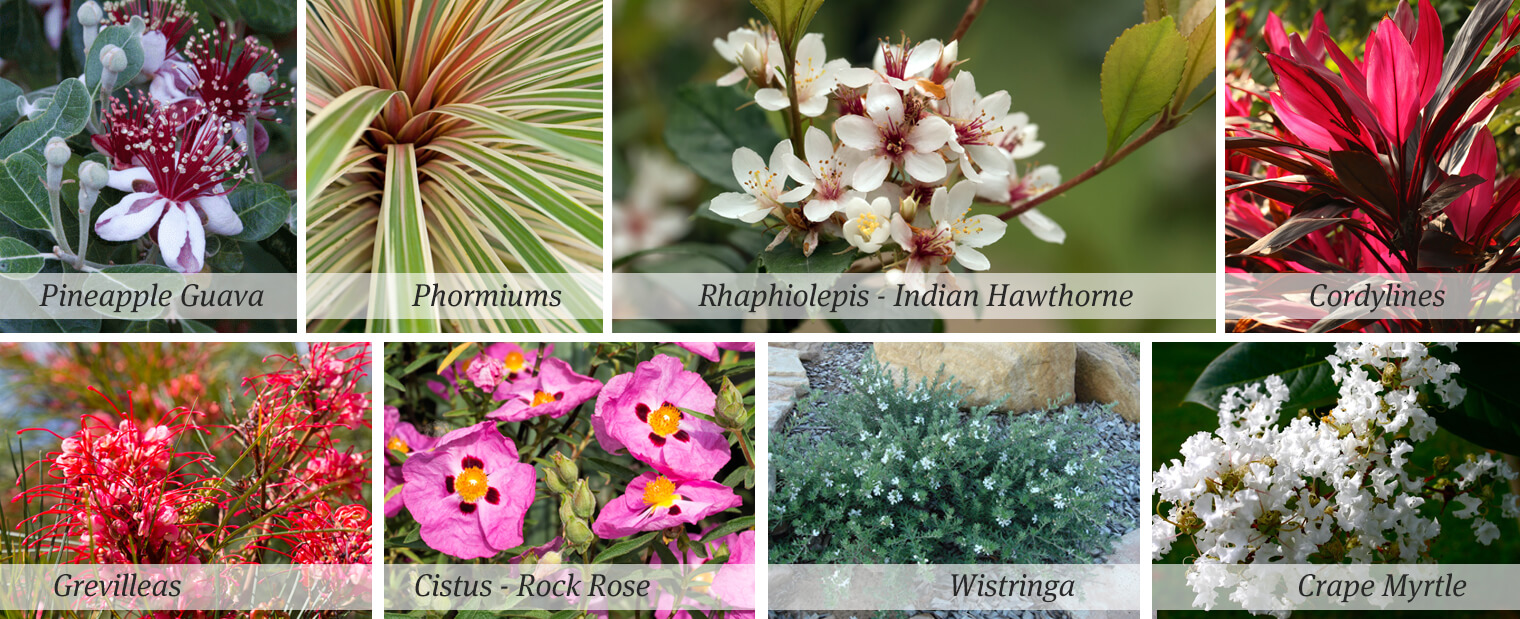 Crape Myrtles - Sun Lover.
Rhaphiolepis - Also know as Indian Hawthorne, thrives in sunny areas.
Pineapple Guava - Great for larger areas and also adores the sun.
Phormiums - Thrives with little water once established.
Grevilleas - Water-Wise.
Cistus - Commonly known as Rock Rose and definitely Water-Wise.
Wistringa - Does great with little water once established.