4 Ice Cream Treats Using Fresh Fruit
Posted on: Monday, July 13, 2020
July is Ice Cream Month, and we're beyond ready for a little treat to beat the heat! Now that our gardens are bursting with in-season fruit, it's the perfect time to experiment with some healthy and delicious frozen concoctions! These four icy treats are easy to make, even for beginners, with no ice cream maker required, and they're all made from just a handful of wholesome ingredients. Three of them can even fit into a clean-eating lifestyle!
Here's the scoop on our four must-try fruit-based ice cream ideas!
---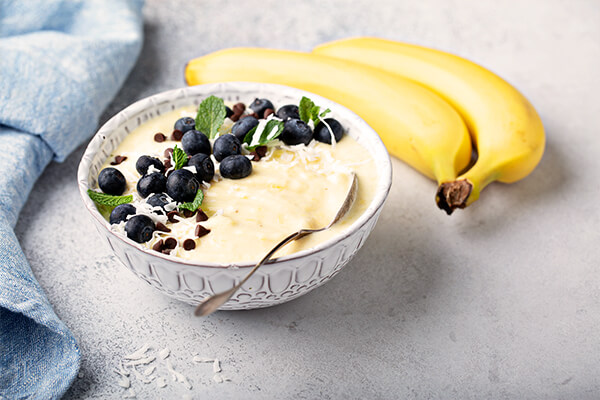 Berry Banana Soft Serve
There couldn't be an easier way to enjoy a cool treat this month! This ice cream base is as simple as it gets, and you can customize it with your choice of summer berries.
Ingredients:
4 bananas, peeled and frozen
Agave syrup, honey, or maple syrup, to taste (optional)
2 cups of your choice of summer berries
Method:
Blend frozen bananas until smooth and thick. Sweeten if desired with agave or maple syrup.
Scoop into bowls and top with your choice of fresh, frozen, or macerated berries. Or, blend them right in with your bananas!
---
What Are Macerated Berries?
Maceration involves using sugar to draw berry juices to the surface, giving them a sweeter, more intense flavor. To make macerated berries, wash the fruit well, remove any stems, and chop roughly if desired. Add 1-2 tablespoons of white sugar per cup of berries, toss to coat, and let stand for at least ten minutes.
---
Blueberry Lemon Sorbet
This light, refreshing sorbet is the perfect mix of sweet and tart—and it's packed with healthy vitamin C and antioxidants!
Ingredients:
3 cups blueberries, frozen overnight
Zest and juice of one fresh lemon
Agave syrup, honey, or maple syrup to taste
¼-⅓ cup very cold water
Method:
In a food processor, pulse the blueberries, lemon juice, and lemon zest until crushed and icy.
Add a small amount of your preferred sweetener and water and continue to pulse.
Blend while slowly adding water until the sorbet reaches your desired consistency. Sweeten to taste.
Scoop into bowls to serve, or freeze in an airtight container for two to five hours to restore firmness.
Raspberry Peach Frozen Yogurt
Sweet peaches and tart raspberries create a flavor sensation when blended with creamy, protein-rich Greek yogurt!
Ingredients:
3 cups peaches (3-4 peaches), sliced, pitted, and frozen overnight
1 cup raspberries, frozen overnight
1 teaspoon lemon juice
½ cup plain Greek yogurt
Agave syrup, liquid honey, or maple syrup to taste
Method:
To freeze fruit for easier blending, spread across a baking sheet before freezing overnight.
In a food processor, pulse frozen fruit until crushed.
Add lemon juice and Greek yogurt and pulse until just combined.
Taste and adjust sweetness with honey, agave, or maple syrup. Once sweetened, blend until smooth.
Scoop into bowls to serve, or freeze in an airtight container for an additional 1-2 hours to firm. If preferred, firmed frozen yogurt can be scooped into cones!
(Optional) Garnish with frozen peach slices, fresh raspberries, or a sprig of fresh mint.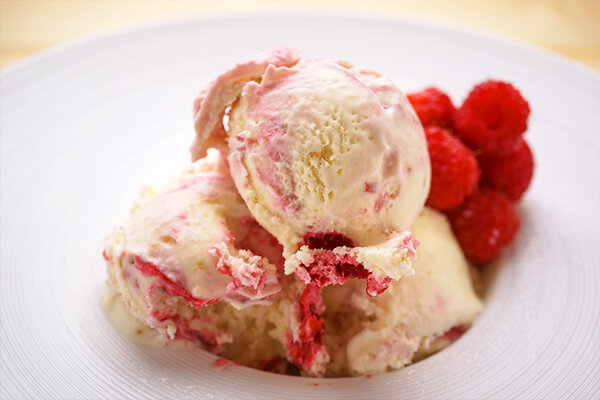 Strawberry Cheesecake Ice Cream
If you're craving some real indulgence, this too-good-to-be-true recipe is all you need. With loads of fresh fruit, rich cream cheese, and a yummy graham cracker crunch, this easy summer dessert might be your new favorite.
Ingredients:
2 cups whipping cream
1 14 oz. can sweetened condensed milk
4 oz (½ a package) of plain cream cheese
3 cups macerated strawberries, divided
1/3 cup white sugar
5 graham crackers
Method:
In a small saucepan, cook half of the macerated berries with the white sugar. Let simmer until the berries break down into a loose sauce and remove from heat. Transfer to a small metal bowl and chill for at least 2 hours.
While the sauce cools, place the graham crackers in a large freezer bag and crush with a rolling pin. Aim for a coarse texture with a variety of smaller and larger chunks.
Whip the cream and condensed milk in a bowl or stand mixer until soft peaks form.
Fold in remaining berries, strawberry sauce, and half the crushed crackers until well combined.
Place plastic wrap over the bowl and freeze 3-4 hours.
Scoop into bowls to serve and top with more graham cracker crumbs!
Love these easy recipes? Try our garden salsa ideas and Fourth of July recipes, too