Red, White & Blueberry: Patriotic Recipes from the Garden
Posted on: Friday, June 26, 2020
This Independence Day will be a little unusual with so many of us unable to spend time with friends and extended family. But that doesn't mean you can't throw a Fourth of July bash at home with your nearest and dearest! These yummy recipes show off the best your garden has to offer this month, and each one is designed to feed a family of four.
---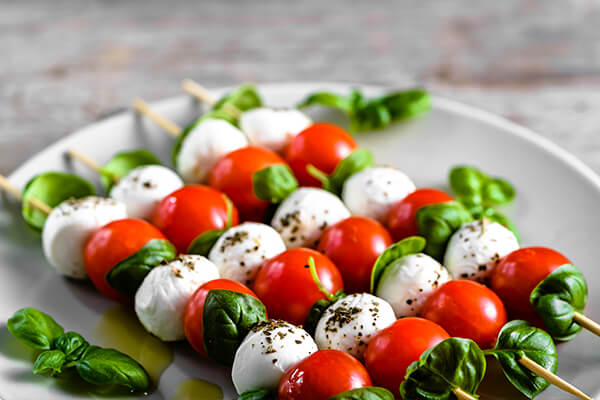 Appetizer: Caprese Salad Bites
Show off your garden cherry tomatoes with this twist on a classic salad! With a mouthwatering combination of flavors and textures, even kids will want seconds of this "salad"!
Ingredients:
20 cherry tomatoes
12 oz mini or cocktail bocconcini (fresh mozzarella balls)
3 tablespoons extra virgin olive oil
2 tablespoons balsamic reduction
1 bunch fresh basil leaves, finely chopped
Salt & pepper (to taste)
20 toothpicks or mini skewers
Blue Forget-Me-Nots (optional)
Method:
Add a mozzarella ball to a skewer, followed by a cherry tomato.
Repeat process until all 20 skewers are assembled.
Whisk olive oil and balsamic reduction to form the dressing.
Drizzle dressing generously all over skewers.
Top with chopped basil leaves.
Season to taste with salt and pepper.
If desired, add a touch of patriotism to your plating by garnishing with blue Forget-Me-Nots! The flowers are edible, but make sure you're using flowers that haven't been grown with pesticides if you plan to eat them.
Enjoy immediately!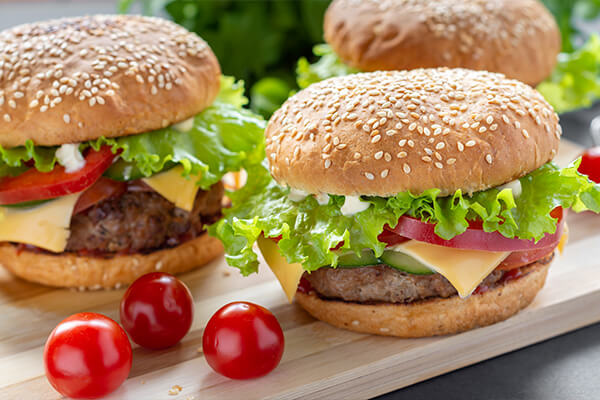 The Main Event: California Garden Burgers
These (mostly) healthy burgers are packed with in-season regional veggies and topped with a creamy, delicious sauce with just enough heat.
Ingredients:
For the burgers:
4 of your favorite burger patties (beef, chicken, or vegetarian)
4 slices sharp cheddar cheese (optional)
2 fresh jalapeño or poblano peppers, sliced and seeds removed
1/2 one large onion, sliced into discs
1 large, ripe tomato (We recommend an heirloom variety!)
4 leaves lettuce
Salt & pepper (to taste)
4 burger buns from your favorite local bakery
For the sauce:
1 ripe avocado
4 tablespoons plain Greek yogurt
2 cloves garlic
2 tablespoons lemon or lime juice
½ teaspoon salt
½ teaspoon pepper
1 chipotle pepper in adobo sauce (optional)
Method:
To prepare the sauce, combine all sauce ingredients in a blender and pulse until smooth.
Grill burger patties according to recipe or package directions. If desired, place cheese on patties 1-2 minutes before ready to serve.
Meanwhile, in a grilling basket, grill onions and sliced jalapeños or poblanos until tender and slightly charred.
Remove veggies and burgers from grill when done and transfer to a cutting board.
Assemble burgers by spooning a tablespoon of sauce on the top and bottom of the bun, and stacking patties, grilled vegetables, a tomato slice, and a leaf of lettuce.
Enjoy!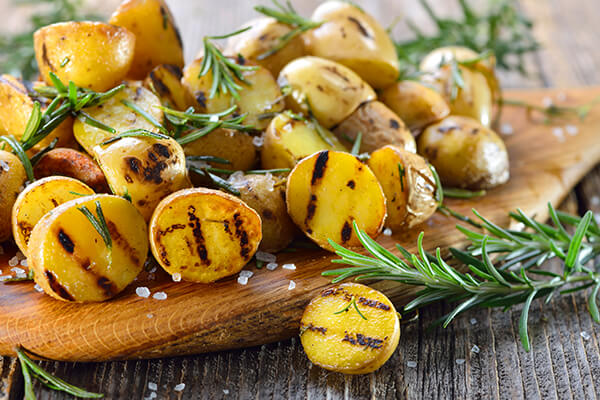 On the Side: Grilled Herbed Potatoes
Easier, healthier, and tastier than fries! Baby potatoes develop a smoky, buttery flavor on the grill, accentuated by fresh herbs. Serve in a blue dish to maintain the red, white, and blue color theme.
Ingredients:
2 lbs. red and/or yellow baby potatoes, halved
2 tablespoons extra virgin olive oil
1 teaspoon garlic powder
2 sprigs fresh thyme leaves
1 sprig fresh rosemary leaves, chopped
Salt and pepper to taste
Method:
Toss the potatoes, olive oil, salt, pepper, and garlic powder in a large bowl.
Pour mixture into the middle of a long sheet of aluminum foil. Fold the aluminum foil over the potato mixture and twist the sides to make a packet.
Transfer packet to a grill preheated to medium-high.
Cook on the grill for 20-30 minutes, or until tender. Check doneness by piercing potatoes with a fork through the foil.
Once done, transfer to a serving bowl. Add fresh herbs and toss to coat before serving.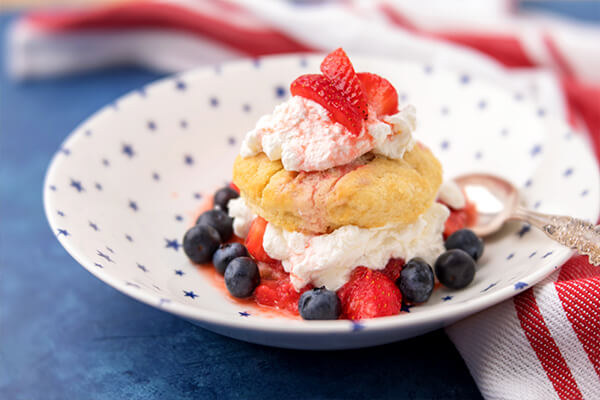 Something Sweet: Red, White, and Blueberry Shortcake
The ultimate summer dessert! The colors of this gorgeous shortcake are perfect for the occasion, and the sweet berries, tender shortcake, and whipped cream will be a hit with the whole family.
Ingredients:
2 cups all-purpose flour
¾ tablespoon baking powder
½ teaspoon salt
½ cup buttermilk (or whole milk with 2 teaspoons lemon juice or white vinegar added)
1 teaspoon vanilla extract
1 egg
1/3 cup cold butter, cubed
1 pint fresh strawberries, quartered and stems removed
⅓ cup white sugar, divided
1 pint fresh blueberries
1 cup whipping cream
Method:
Preheat oven to 425˚F.
In a medium mixing bowl, toss strawberries with half of the white sugar and set aside.
In a food processor, combine flour, salt, and baking powder.
In a separate bowl, beat egg with buttermilk and vanilla.
Add cold butter to flour mixture and pulse until the mixture forms a coarse crumb texture.
Pour the liquid mixture into the food processor and pulse until a thick dough comes together.
On a floured surface, scrape the dough out of the food processor. Gently form a ball with the dough and roll out to 1 ½ - 2 inch thick disc.
Use a pastry cutter or wide-mouthed drinking glass to cut the shortcake dough into four smaller discs, placing discs on a cookie sheet with edges touching. Bake shortcakes for 15 minutes.
While shortcakes are baking, clean food processor to prepare the whipped cream. Add the whipping cream to the food processor pitcher with the remaining white sugar and pulse until it reaches the desired consistency.
Once shortcakes are done, remove from oven and let cool.
When ready to serve, cut shortcakes in half. On individual plates, start with a dollop of whipped cream, and place the first layer of shortcake on top. Add another dollop of whipped cream, sprinkle on a handful of blueberries, then spoon on some strawberries. Place the second half of the biscuit on top, then finish with a large dollop of whipped cream, another sprinkle of blueberries, and another spoon of strawberries. Serve immediately.
Love These Recipes?
Spread some patriotic cheer by sharing these recipe ideas on social media! You may not be able to eat with the whole crew, but you can hang out on a Zoom call while enjoying the same menu. Happy Independence Day from our family at SummerWinds Nursery!
---