Small-Space-Friendly Dwarf Fruit Trees
Posted on: Monday, April 27, 2020
Many of us in Silicon Valley are working with fairly small outdoor spaces. While it may seem like a cozy landscape isn't suited for growing food, dwarf fruit trees let you grow luscious, high-quality fruit—even in a postage-stamp-sized space!
Recently, our 2020 lineup of Ultra-Dwarf fruit trees have arrived at our California SummerWinds Nursery locations, and we couldn't be more excited to share them with you. Each one of these fruit trees was bred to stay small and compact, anywhere from 5'-8' tall, to fit comfortably in smaller outdoor spaces. Yet, they all produce incredible full-sized fruit that beats the quality you'd find in the produce aisle any day!
---
Ultra-Dwarf Fruit Trees
These fabulous fruit trees are small enough to grow in containers, letting you grow fantastic fruit on your patio, balcony, or any small outdoor area.
Fuji Apple
Known for their sweetness, Fuji apples are hugely popular with kids! The crisp fruit is loaded with delicious juice and makes a satisfying snack for those with a sweet tooth. However, the firmness of the fruit is also versatile enough to use in recipes.
Perfect for: Raw eating, after-school snacks, baking, salads.
Try it in: Apple Walnut salad. Toss Fuji apple slices with chopped romaine hearts, candied walnuts, sliced red onion, blue cheese crumbles, and your favorite vinaigrette.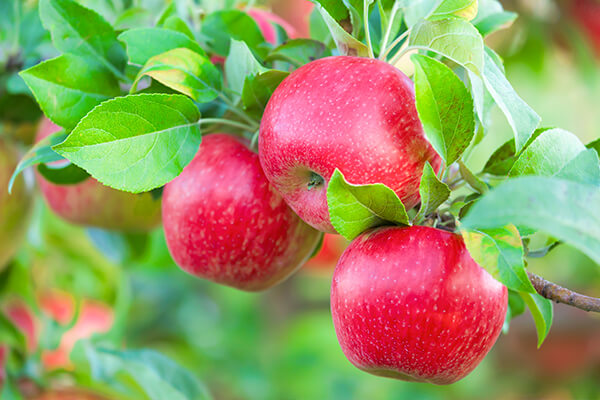 HoneyCrisp Apple
The juiciest apple around, HoneyCrisps are ideal apples for folks who love creating healthy concoctions in their juicers. The firm flesh also holds its shape well when cooked, making it a great apple variety for pies, cobblers, and crumbles.
Perfect for: Juicing, cider-making, baking, raw snacking.
Try it in: Baked HoneyCrisp apples. Remove the core from a firm HoneyCrisp and fill it with a mixture of chopped nuts, butter, brown sugar, and a pinch of cinnamon. Wrap in tin foil, bake at 350˚ for 45 minutes, and serve a la mode!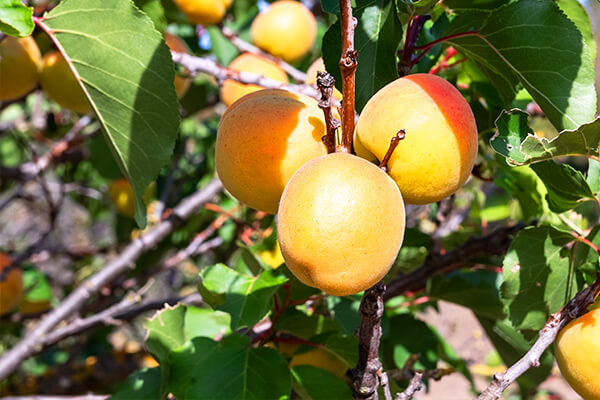 Blenheim Apricot
The sweet, tender fruit of the Blenheim Apricot is perfect for eating fresh, but it also makes an incredible jam. It's easy to can and great for cooking down into sweet sauces.
Perfect for: Fresh eating, jams, jellies, canning, dessert toppings, and making spirits.
Try it in: Apricot liqueur; a delightful aperitif on warm summer nights! Fill a jar halfway with sliced Blenheims, and pour in equal parts brandy and sweet white wine to the top. Store in the fridge for two weeks before straining out fruit, and serve chilled or over ice cream.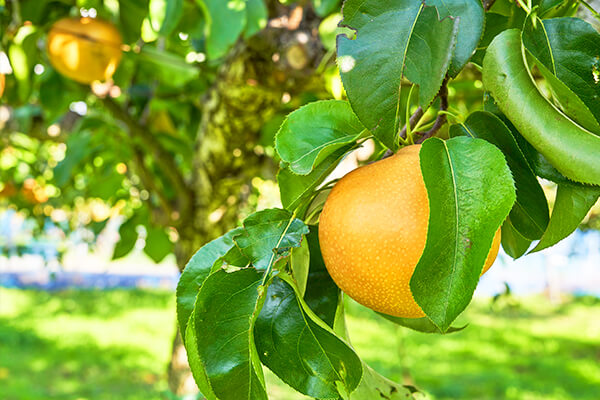 20th Century Asian Pear
These exotic fruits combine the crisp bite of apples with the juicy flavor of a pear. The texture and flavor are exceptional for fresh eating.
Perfect for: Eating right off the tree!
Try it in: Your charcuterie boards.Asian pear slices are an unexpected, but always welcome, accompaniment to your favorite selections. The apple and pear flavors are excellent companions to cheddar or blue cheeses.
Weeping Santa Rosa Plum
Not only does this fruit tree bear the most flavorful, aromatic plums you've ever tried, but the tree is also absolutely show-stopping when in bloom. The tree's beautiful weeping form is worthy of the cover of a home design magazine!
Perfect for: Fresh eating, preserving, baking.
Try it in: Santa Rosa plum compote—a fabulous topping for ice cream or waffles! Just cook down a few sliced plums with a cinnamon stick and the contents of one vanilla bean. Add sugar to taste.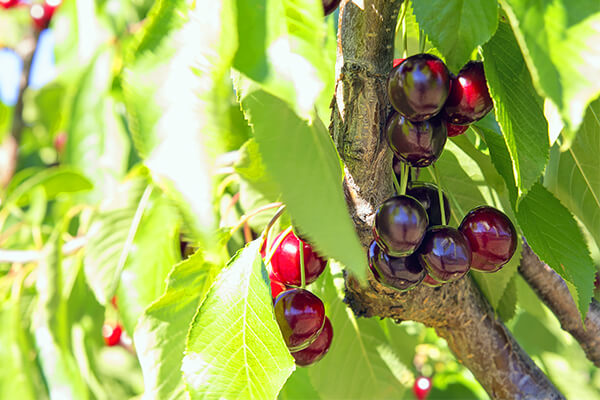 Bing Sweet Cherry
Bing cherries are famous for a reason! Their dark purple flesh and deep, complex flavor have made them the go-to cherry for bartenders, bakers, and chefs alike.
Perfect for: Fresh eating, cocktail garnish, baking, preserving.
Try it in: A classic Old Fashioned. This traditional cocktail just isn't complete without a Bing cherry and an orange twist. For maximum flavor, soak your cherries in a little brandy or bourbon a few days before serving.
Nectarine Snow Queen
From the delicate spring blossoms to the tender, fragrant fruit, it's easy to fall in love with this Snow Queen. Don't let the pale flesh fool you—the fruit is absolutely loaded with satisfying flavor!
Perfect for: Fresh eating, fruit salads, baking.
Try it in: Greek yogurt and nectarine parfaits. Top this high-protein yogurt with nectarine slices, a handful of almond granola, and a drizzle of honey for a healthy and delicious breakfast.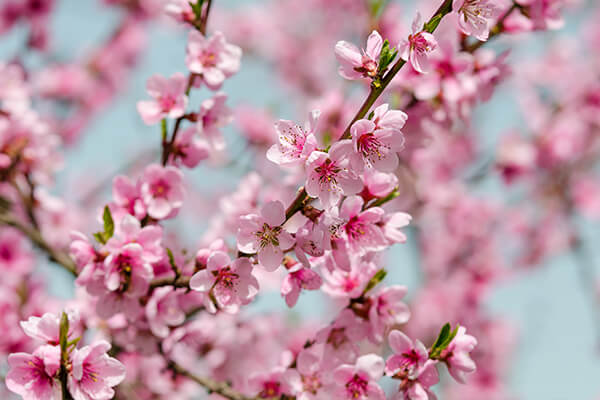 Early Elberta Peach
What's better than a sweet, fuzzy, summer peach? A sweet, fuzzy, summer peach that's ready two weeks earlier than the rest!
Perfect for: Fresh eating, baking, stewing, canning.
Try it in: Grilled peaches! Giving peaches a quick char on the grill adds a new dimension of flavor by caramelizing the sugars and enhancing the juiciness and sweetness of the fruit. Slice peaches in half, remove the stone, and grill until tender, flipping once. Serve with vanilla frozen yogurt.
---
Caring for Your Ultra-Dwarf Fruit Tree
The only thing more amazing than the fruit from your ultra-dwarf tree is how easy they are to care for!
Keep your tree in an 18-inch container with large drainage holes to let excess water pass through.

Make sure your tree is in an area that receives at least six hours of direct sunlight every day, with some protection from heavy winds.
Check the soil daily with your finger and water when the first two inches feel dry to the touch.
During the growing season, give your fruit tree a monthly application of water-soluble balanced fertilizer.
And, of course, if you have any questions, get in touch with us at SummerWinds Nursery!
These ultra-dwarf fruit trees are compact, productive, and beautiful in any outdoor space. Better yet, many of them are self-fertile and will produce fruit even without a companion plant to cross-pollinate. (Though you might adore your first tree so much, a second one may not be far behind!) Find these space-saving beauties at your nearest California SummerWinds Nursery location, while supplies last.