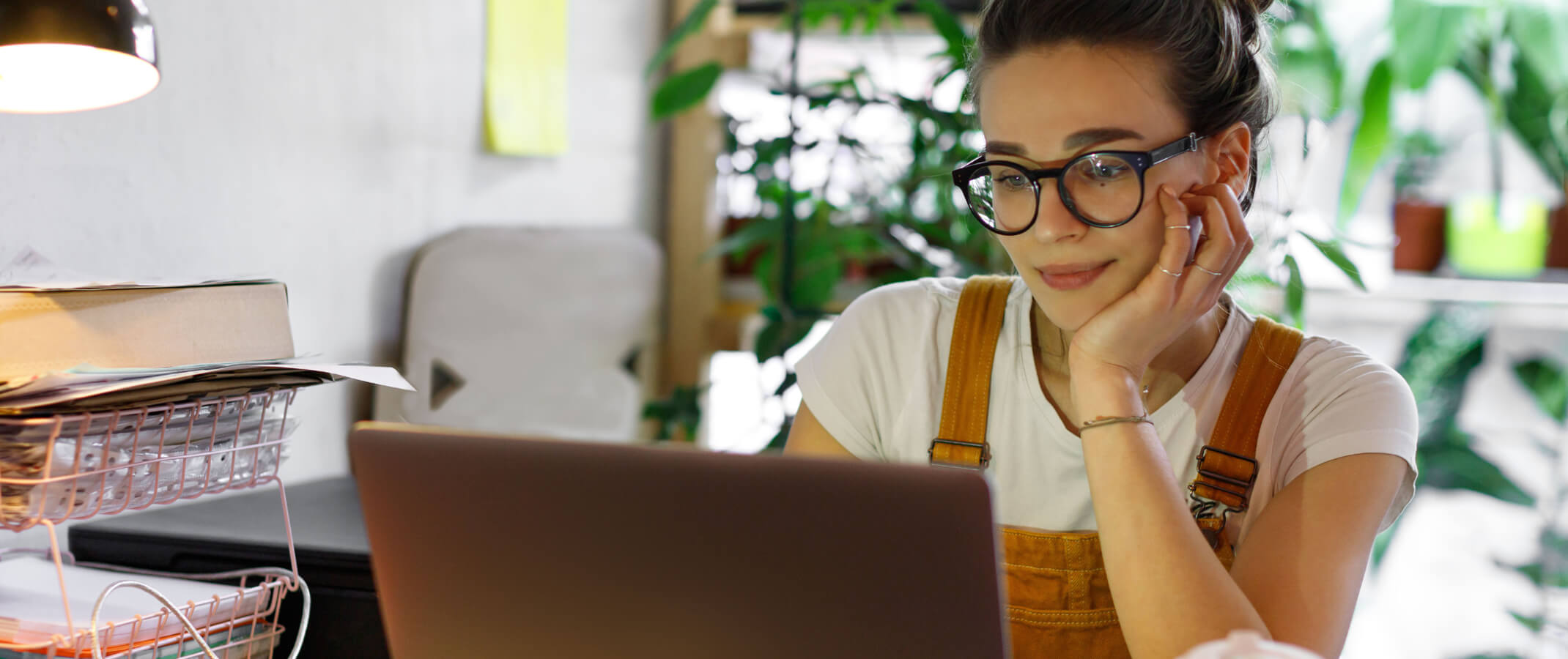 How To Use Houseplants For Beautiful Video Backdrops
Posted on: Monday, September 14, 2020
If, like many of us, you've been a little bit self-conscious about your less-than-beautiful video background during your many Zoom calls, it's probably time to invest in a few decorative houseplants and flower displays! You'll be amazed at how they add so much life and energy into your workspace—and that energy will totally translate on-screen. So, instead of downloading a photo of a fancy, flower-filled office and using that as your backdrop (because really, you aren't fooling anyone with that tactic!) try these houseplant styling tips to spruce up your background for video calls.
---
What Kind Of Plants Grow Well Indoors?
If you've got a workspace with lots of window light, you've got plenty of options for houseplants to decorate the room. But for those of you who don't have as much natural light coming into the office, you'll want to opt for flowers and plants that thrive in low light. Some of our favorite office plant options include: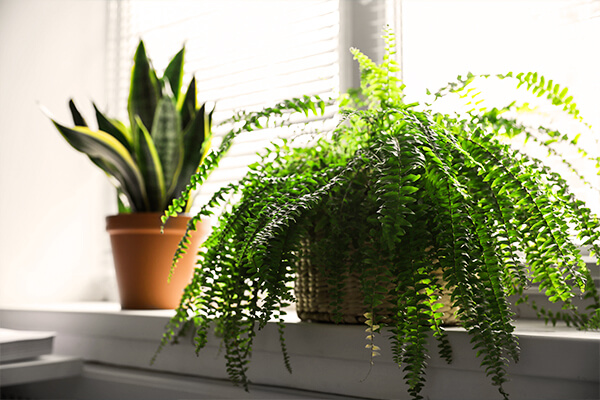 Snake plants
Pothos
Spider plants
Prayer plants
Dieffenbachia
Chinese Evergreen
Maidenhair ferns
Peace lilies
Though they all tolerate similar conditions, these houseplants all have distinctly different appearances and can be styled in all sorts of ways, so you won't have to worry about a lack of variety in your decor.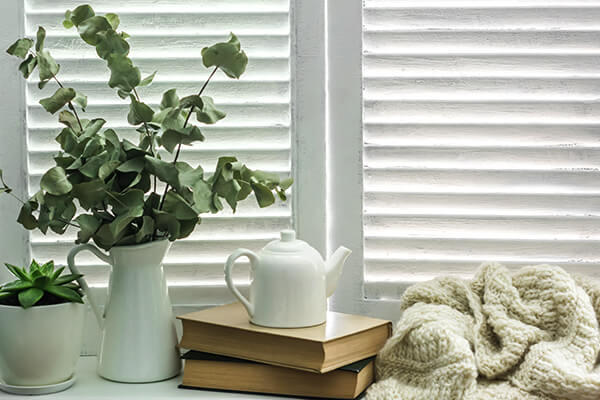 Creative Ways To Style Your Houseplants
Okay, so you've acquired some houseplants—but where do you put them? What do you put them in? The flimsy plastic containers they come in aren't exactly stylish, so you'll want to curate an assortment of pots and hangers to place throughout the room. To make sure everything looks like part of a cohesive design and doesn't just look like a cluttered mess, go through these steps: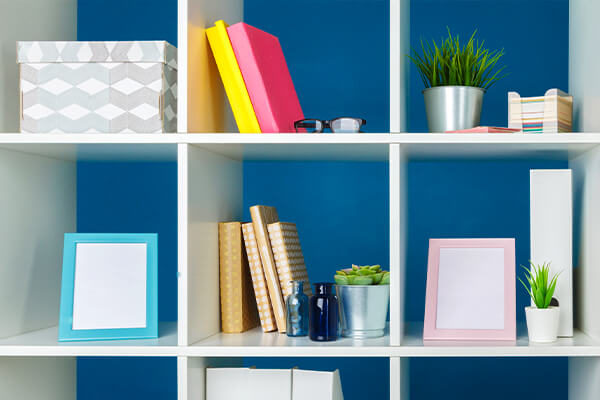 Pick a color scheme. If all the containers are within a color palette that matches the rest of the decor in your room, it will be way more visually appealing. To create an attractive, simple color palette that allows for a bit of variety, choose a primary color, a secondary color, and an accent color. Determine if your ideal palette is more warm-toned or cool-toned, then choose your shades accordingly.
Your primary color should be something fairly light, neutral, or subtle, like white, grey, or blush pink. That way, you can have several pieces featuring this shade without it looking too jarring. Your secondary color should match the primary color well, but can be a bit more vibrant, or possibly metallic like silver or gold. For an accent, choose a super bright, or deep, rich shade, to add little pops of color throughout your display.
Mix prints and styles. Pots and planters are works of art in themselves, so you're sure to find some interesting styles, especially now that there's been such a surge in popularity. Some have neat geometric designs painted on the outside, others look like hollowed-out sculptures of people or animals, and some are just satisfyingly simple. To keep things from looking too busy, we recommend picking up several simple containers, with a few of the funkier styles mixed in.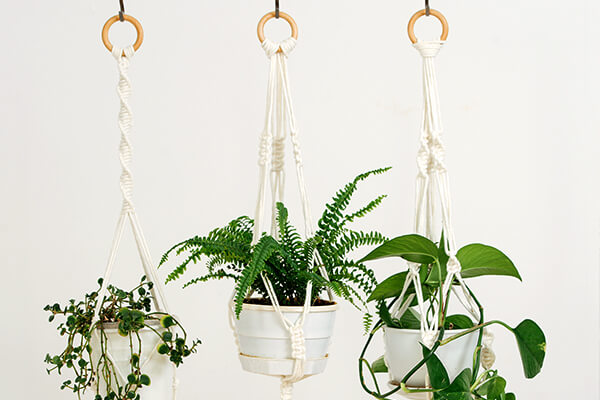 Try macrame hangers. This retro decor piece has made a huge comeback, and they bring an artsy, boho vibe to the home without looking too kitschy or dated. They're great for hanging plants directly by the window, or just overhead if you don't have a ton of free space for extra pots. You can find macrame hangers in all different sizes at most plant shops, but if you want a fun DIY project, you could always try making one yourself!
If you don't love the look of macrame, there's no shortage of other hanging planter styles to choose from. Trailing plants that hang down the side of their containers look especially beautiful in hanging baskets, so we definitely recommend getting at least one for your background display.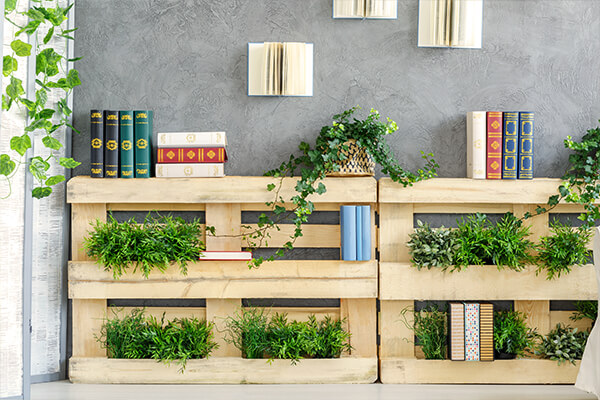 Make space on the bookshelf. Break up the monotony of rows upon rows of books, and add in some leafy greenery! Smaller plants like succulents and cacti are easy to place into corners on the shelves, but the top of the shelf can hold some larger houseplants. We love the way pothos looks when placed on top near the very edge of a shelf, so its cascading foliage can grow to amazing lengths without getting in the way of things.
Try teacup bouquets. If you love the look of colorful flower bouquets, but don't want to risk having an easily-tippable, tall vase on your desk, see if your local florist can put together a tiny "teacup" bouquet! Shorter, stout containers can look so cute with a miniature floral arrangement, and nothing starts the work week off on a high note quite like a fresh new assortment of blooms to admire at your desk.
Ready to start curating your collection of houseplants and cool containers to display them in? Visit one of our Summerwinds locations in California to see all the new stock now in store for fall. If you need any assistance picking out the right varieties, feel free to ask one of our experts, and we'll hook you up some plants that suit your skill level and your space.