The Coolest Holiday Decorating Trends for Winter 2021
Posted on: Thursday, December 10, 2020
If like us, you've found yourself totally starry-eyed over all the gorgeous fall foliage outside, then you should bring those colors into your living space with some warm-toned houseplants! No need to stick to strictly green—there are so many beautiful indoor plants that sport a warm fall color palette all year, not just in October. That golden hour glow will last all day when you've got a few of these beauties placed throughout your home.
---
How to Decorate for Christmas
The classic decor pieces we've come to associate with the season can be reinvented and reimagined in creative, modern ways to help balance out that nostalgia with some cutting edge style. Take a look at these fresh takes on winter classics to give your home a winter glow-up that will look fabulous well until the end of February.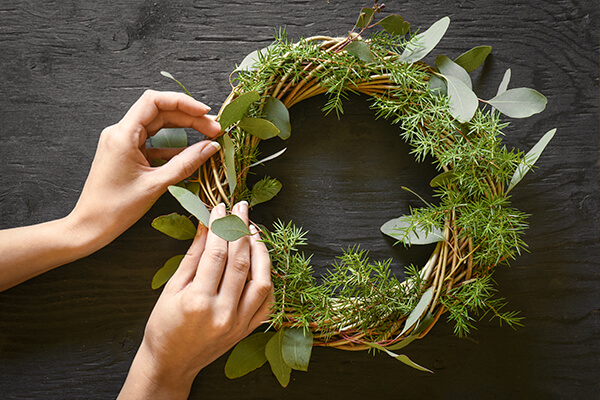 Go Minimalist with Eucalyptus Wreaths
Eucalyptus is making some big waves in the design world, definitely taking the title of most popular evergreen for 2021. While it does have a distinctly wintery vibe, its muted, dusty colors and intoxicating scent make it an appropriate cutting for all year round. You can make a traditional style wreath with greenery wrapping in a full circle, but lately, we've been seeing a more minimalist approach to wreaths that we really love.
To make a minimalist eucalyptus wreath, start with a metal ring to weave the cuttings around, in a pretty metallic shade like silver, gold, or copper. Then, only wrap half of the metal ring with cuttings, and leave the other half of the ring exposed. Use florist wire to hold the pieces in place. Hang your wreath so the greenery is asymmetrical and positioned to look like it's creeping up one side of the ring.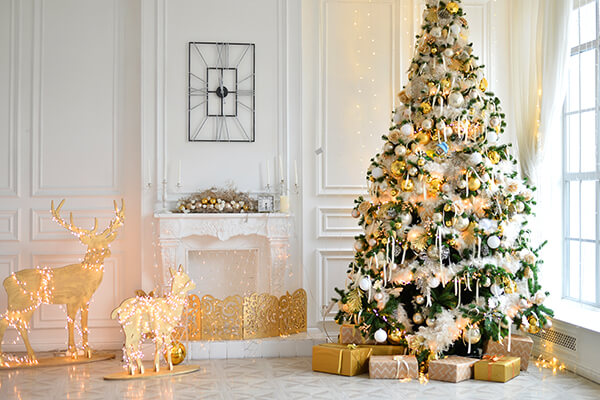 Mid-Century Modern Gold Accents
This vintage era of home decor has come back full force and feels anything but retro. Sleek, simple decor pieces featuring eye-catching geometry and a thoughtful, less-is-more approach create a timeless look that still feels as fresh as ever. Luckily, one of the common elements used in mid-century modern design is metallic accent pieces—particularly gold. And since we all know gold is one of the classic Christmas colors, you can find plenty of MCM decor pieces that work for the holidays.
Gold starburst mirrors and clocks, bar carts, and lamps are easy ways to add a little bit of 1960s opulence to your decor. Spherical, gold pots and bowls make beautiful decorative pieces to cluster together on tables and credenzas to fill with fresh evergreen cuttings. Look for cushions, rugs, and other items with abstract art-inspired motifs that feature strong geometric shapes, like hexagons and pyramids.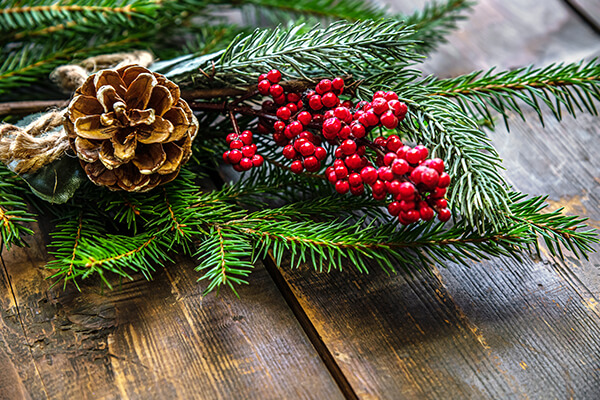 Go Rogue with the Evergreen Cuttings
It just doesn't feel like Christmas without fresh evergreen cuttings everywhere, but why stick to just the table centerpieces and garlands on the mantle? This year, crank up our red hot winter party playlist, fill a tote bag with assorted wintergreens, and find as many creative spots as you can to stuff in a few scented sprigs. The nice thing with evergreens is you can never really go too overboard with them—the more you add in, the lusher, greener, and fresher everything feels.
Here are some spots you can pop in some evergreen sprigs for little bursts of color and scent all throughout the house:
In the spice rack
Inside cocktail glasses and spread out all over your bar cart
In cups and pitchers on floating shelves
On top of stacks of books
Woven into lamps and light fixtures (far enough away from the bulb to prevent fire)
See what other clever ideas you can come up with while wandering the home with your stack of greenery. If you have kids, see if they can help you too—they're naturals at thinking outside the box!
How to Decorate for Hanukkah
The "challah days" are a blissful time full of amazing food, beautiful lights, and lots of laughs with family and friends. Set the ambiance by putting up some of these gorgeous modern decor pieces for winter 2021.

Style a Cozy Corner with Fairy Lights
It's the festival of lights after all, so illuminating your home with a warm, sparkly glow is pretty much essential Hanukkah decor. Pick a spot in your living room to pile up some decorative cushions and plush blankets, and possibly a furry shag rug for an extra-cozy factor. Then, string up some fairy lights all over the walls and around fixtures to create that perfect nighttime reading-nook look.
Fairy lights on silver wire have a much more elegant appearance than standard string lights, so try to pick up some of those—they're very lightweight and easy to scrunch up and shape in whatever style you want. They're very versatile and don't need a hundred staples to keep in place. Some are submergible, too, so you can fill up glass vases with water and evergreen cuttings and then stuff some fairy lights inside so it glows at night.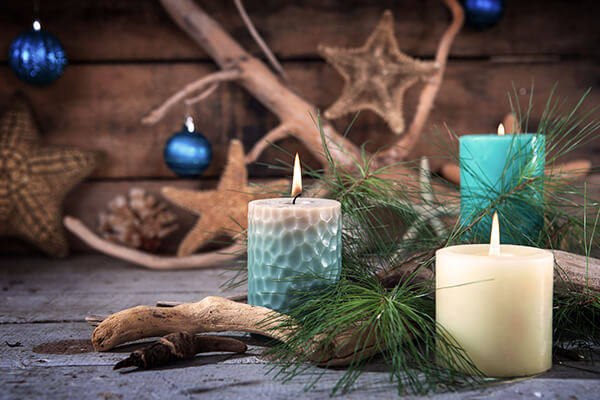 Make a Driftwood Wall Hanging
A long, twisting piece of reclaimed driftwood is one of nature's finest artworks, and it makes an excellent base to hang ornaments. Mount it high up on the wall, and attach assorted ornaments (ideally in the classic blue and white color scheme) and tie them up with different lengths of twine.
This also makes a fun craft to do with teenagers, especially if there are any budding artists in the house. Grab some paints and create your own ornaments on cut wooden discs, adding classic Hanukkah imagery and motifs like dreidels, the Star of David, candles, jelly donuts, and our personal favorite: challah bread.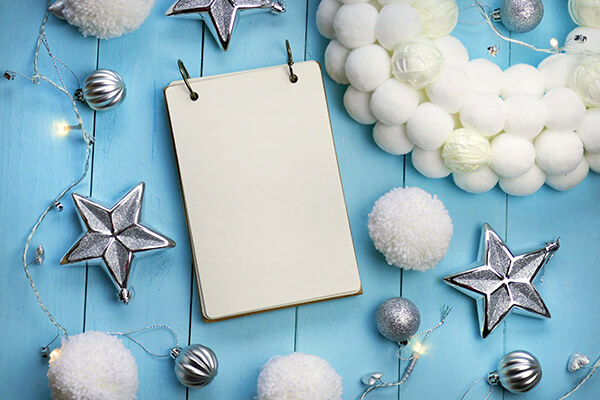 Pom Pom Garlands
For something a little more cute and whimsical that isn't too sparkly or gaudy, we love the look of colorful pom pom garlands! They've become incredibly popular for year-round decoration to add a little fun to your scenery, but if you purchase or create your own with the blue and white Hanukkah colors, they become a fantastic winter decoration that you can reuse again and again!
You can buy felted pom pom garlands from plenty of online makers and craft shops, but making your own DIY pom poms with yarn is a super fun family activity you can enjoy with the kids. There are plenty of simple tutorials online to make your own—all you'll need is plenty of yarn in assorted shades of blue and white, some cardboard, and some scissors. After the holidays have ended, your kids can hang them up in their room!
If your idea of a winter home makeover involves plenty of fresh greenery and winter plants, visit Summerwinds soon to snag some of our brand new plants and cuttings for this season. Plants make great gifts, too, so you can complete all your decor shopping and gift buying in one easy trip!
From the Summerwinds team, we hope you all have a safe and fun celebration with those you love. Whether it's in-person or over Zoom, time spent with friends and family is so special, and we hope you all make the most of it!