4 Complex Cocktails Featuring Fresh Garden Herbs
Posted on: Monday, November 16, 2020
You might not have known it, but many of the most common garden herbs make fantastic ingredients for fancy cocktails. Their distinct flavors and subtle fragrances add the kind of complexity to mixed drinks that you'd expect from a fancy lounge or upscale bar! With a little practice, you can whip up something equally impressive on your kitchen counter. To help you brush up on your bartending skills, we've created four of our own signature herb-infused cocktail recipes that you can easily make at home!
---
One of the easiest ways to add herbal flavors into drink recipes is by making your own simple syrups. These sweet, sugary reductions are called "simple" for a reason—it's almost impossible to screw up this 3-ingredient recipe. Plus, they pack all that amazing herbal flavor, with all the leafy bits strained out so you don't end up with little green flecks in your teeth after enjoying a few of these tasty sippers!
Making Simple Syrups with Common Herbs
To make a simple syrup base, all you need to do is melt equal parts sugar and water in a pot on the stove, and as soon as it starts to boil, reduce it to the lowest heat setting. From there, you'll want to add in whatever herb or other botanical flavors you'd like to infuse into the mix. As far as how much of your chosen herb you should add—really, it depends on your chosen herb and how strong you want the flavor to be. Generally speaking, if you've got 1 cup of water and 1 cup of sugar in your syrup base, anywhere from ⅓ to 1 cup of herbs should be enough. If you let it simmer for longer, the flavors will be a bit more potent.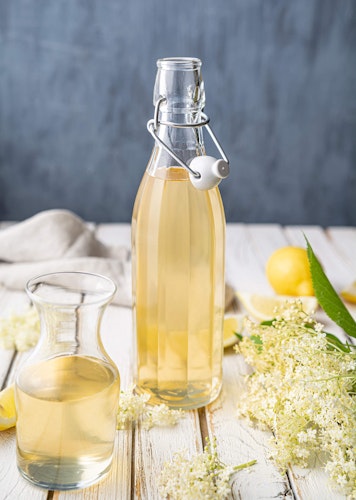 Once you've sprinkled in your herb of choice, stir well and let the mixture simmer for at least 15 minutes. Then, give it another stir, turn the heat off, and let it sit for at least two hours. For even more concentrated flavor, pop the mixture in the fridge overnight to steep. When you're ready to filter out the herb leaves, put a fine strainer or reusable coffee filter over a large jar and slowly pour the mixture through. You may need to squish the leafy bits down with a spoon to release all of the extra syrup. Pop a lid on the jar and store it in the fridge for up to 2 weeks!
4 Herb Infused Drinks To Impress Your Guests
Sage is a woodsy, savory herb often used in comfort food cooking like your Thanksgiving turkey, but surprisingly enough, it also jives really well with tart citrus flavors.
Nothing hits quite as nice as a crisp, herbaceous cocktail with complex, layered flavors that compel you to slow down and savor every sip. Stir up some of these tasty cocktails with a fresh herb or two (harvested from your garden, of course), and your next relaxing evening at home will reach entirely new levels of cool!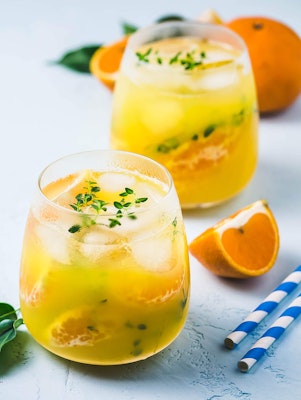 Sage Cocktail: Clementine Fizz
Sage is a woodsy, savory herb often used in comfort food cooking like your Thanksgiving turkey, but surprisingly enough, it also jives really well with tart citrus flavors. Clementines are in season from now until the end of January, so this fizzy drink is perfect for brightening up a grey winter day!
Ingredients:
4 oz. lemon vodka
Juice from one clementine
1 oz. sage simple syrup
4-8 oz. ginger beer depending on preference
Mix vodka, clementine juice, and simple syrup in a cocktail shaker. Strain into four glasses over ice. Top up each glass with some ginger beer—a little less if you like a stronger drink or a little more if you like your cocktails a little spicier.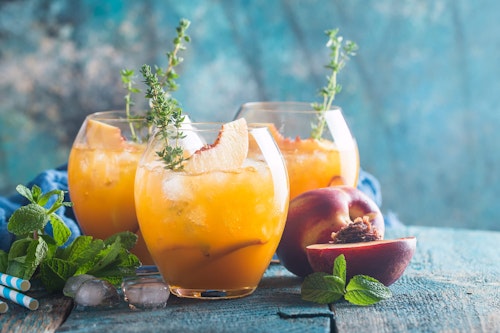 Thyme Cocktail: Peach Bellezza
While the classic bellini is a drink commonly reserved for brunches and spring break bashes, our Peach Bellezza has a seductive, Spanish twist with sparkling rosé cava and savory thyme. Cava is a fabulous sparkling wine that usually isn't very expensive, but it has a delightfully tangy, floral quality that even the pickiest wine connoisseurs will love.
Ingredients:
2 oz. thyme simple syrup
4 oz. vodka
6 canned peach halves (the equivalent of 3 peaches)
2 cups ice
Rosé cava
Toss all ingredients except the cava into a blender and blend until smooth. Pour into four highball glasses until halfway full, then top with cava. Garnish with a sprig of thyme.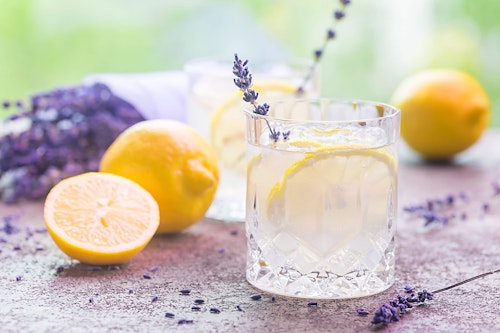 Rosemary Lavender Cocktail: Prairie Dawn
While usually considered an aromatherapy herb, lavender has plenty of culinary uses as well, providing the perfect one-two punch of flavor and fragrance! While it has a very delicate quality that can be overpowered by stronger flavors, it pairs beautifully with the comforting, nostalgic quality of fresh rosemary and is elevated with bright citrus and crisp gin.
Ingredients:
½ oz. lavender syrup
½ oz. rosemary syrup
½ oz. lemon juice
2 oz. gin
2 oz. soda
1 lemon peel twist
Pour ingredients into one glass over ice and stir. Take your lemon peel twist, and score it with a fork to release the oils. Twist it up in your hand, swirl it around the rim of the glass a few times, and then toss it in. Garnish with a sprig of fresh lavender or rosemary.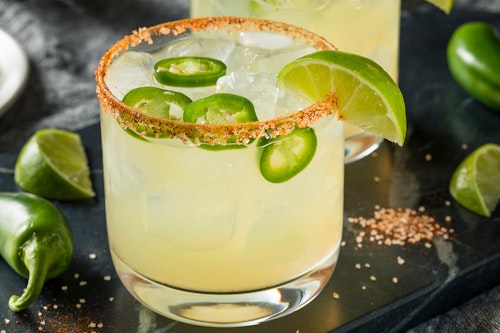 Jalapeño Cilantro Cocktail: Spiced Margarita
While not everyone seems to agree on whether cilantro is a tasty herb (some folks claim it tastes like soap), most Mexican food enthusiasts will insist it's an essential spice. So, why not make it a Taco Tuesday for the books with some cilantro jalapeño margaritas?
Ingredients:
4 oz. blanco tequila
4 oz. Triple Sec
1½ oz. fresh lime juice
1 oz. cilantro simple syrup
4 jalapeño slices, seeds removed
Combine all ingredients in a cocktail shaker and strain into four margarita glasses rimmed with salt and filled with ice. Feel free to add a little bit of finely minced cilantro into the salt for the rims! Garnish with a slice of lime, a slice of jalapeño, and a sprig of fresh cilantro.
We highly encourage you to get creative with other simple syrup ideas for drinks and desserts. (They're perfect for mocktails, too!) If you don't have a cocktail herb garden growing at home, it's easy to get started! Visit your nearest California SummerWinds location to stock up on all the supplies you need to grow your own spices at home.