6 of the Best Perennials for Fresh Cut Flowers
Posted on: Tuesday, August 23, 2022
After all the effort to plant and nurture your garden all season, few things are more rewarding than collecting fresh cut flowers to put in a vase on your table or to give to a friend. While there are plenty of annual flowers and plants that you can grow, perennials are an excellent option for growing flowers to cut because they are tolerant to California growing conditions, and will offer a fresh crop of flowers each year.
Our Favorite Perennials for Fresh Cut Flowers
These perennials stand out for their beautiful blooms and tolerance to California growing conditions. They are tough enough for the heat and elegant enough for your table!
Salvia
These striking perennials are excellent for fresh cuts, with rich-colored blooms of pink, purple, and blue that reach along a tall stem. These are excellent options for a "filler" flower in your fresh cut arrangements, adding height and texture. Salvias are drought-tolerant and can handle the heat, so they will fit in perfectly with the rest of your water-conscious garden. Don't let their beauty fool you—these flowers are hardy and can hold their own while still putting on a show!
Lavender
Another bushy flower for your fresh cuts is lavender. This prolific purple perennial is a great addition to your fresh cut arrangements, filling your home with fragrance and pleasing the eye. Lavender grows best in areas with at least six hours of sunlight per day with lots of air circulation. We recommend planting in the cool season to let them get established. Once your flowers start to fade, you can take the blooms and use them for essential oils or put them in a pouch on your pillowcase during the day for a sweet night's sleep!
Peonies
These flowers are known for their massive blooms and beautiful colors. Peonies are popular perennials that make fantastic "thriller" flowers in fresh cut arrangements—they are the center of attention! This plant takes some investment to get comfortable, but once established, you'll get beautiful blooms reliably every year. They come in various bright colors, from yellow to pink to red, and the foliage is excellent for filling out your fresh cut arrangements with some greenery. If you get particularly large blooms, you may need to add some support to the stems.
Osteospermum
These daisy-like flowers are beautiful for fresh cuts and add rich color to an arrangement. They are excellent "filler" flowers, perfect for surrounding your larger blooms. Osteospermum is a hardy perennial in zones 10-11 but will bloom most in the fall when the temperatures start to cool. Once established, they are relatively drought-tolerant, making them an excellent addition to your garden while keeping water conservation in mind.
Yarrow
Yarrow is a beautiful, water-wise perennial with long-lasting flowers for fresh cut arrangements. Their clusters of tiny blooms are the perfect accent in an arrangement, or you can fill a vase with yarrow and accent it with foliage from other plants. They are beautiful and have wellness properties, so you can't lose! You can find varieties in all shades of orange, yellow, pink, and white. Yarrow is tolerant to many growing conditions, be sure to plant in full sun for the best blooms.
Camellias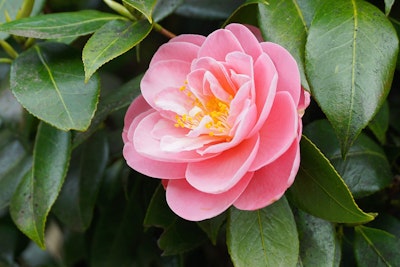 Another cool-blooming perennial are camellias, which grow as trees and shrubs and produce beautiful flowers that are the perfect pop of color. Camellias have delicate, rounded bloom heads that come in gorgeous colors like pink, red, and white. Once established, these are fairly drought-tolerant. If you want camellias for as long as possible, plant multiple varieties with staggered bloom times!
If you want to add perennials to your garden for fresh cut flowers, visit us at SummerWinds Nursery California! We're happy to help you select the perfect perennials to brighten your home and have fun creating beautiful arrangements for yourself and for loved ones.