Plants That Love Shade

Do you have an area of your garden that receives little light but desperately needs a touch of green? We have 4 of our favorite plants that will do that and more...
4 of our Favorite Shade Loving Plants
And don't forget the Essentials
---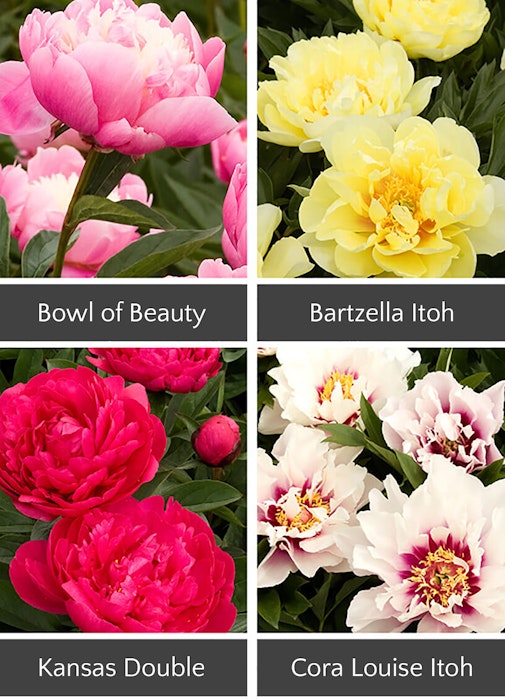 1. Peonies
Peonies, one of the most commonly planted species in North America are popular for their glossy green foliage and highly fragrant and massive blooms. They were a favorite in my Mom's garden to snip and present as a gift to my Mom, as if I had anything to do with their growth and beauty. Also known as "Chinese peonies," these herbaceous perennials are simply timeless and the perfect addition to a California landscape.
Check out our beautiful selection of peonies... Peony Varieties
What Does the Peony Flower Mean?
The Peony is mainly known for representing ideas and values like:
Honor, especially for people who are bringing honor to their entire family through success
Wealth and riches
Romance and romantic love, with a particular focus on love between two strangers
Beauty in all forms
Bashfulness and shame
---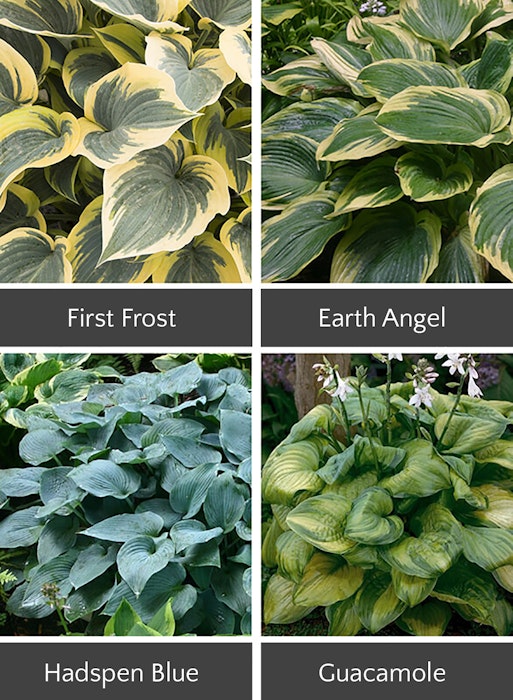 2. Hostas
Hostas, also known as plantain lilies are herbaceous perennials that are available in an assortment of colors and color variations. Hostas are low maintenance and all varieties grow best in shade with filtered sunlight. Too much sun exposure scorches the leaves. These plants grow more compact and produce more flowers in shady conditions. Available Hostas:
Hadspen Blue Plantain Lily - Hosta x 'Hadspen Blue'

Steel blue-gray leaves have a soft powdery look and create an elegant mound of foliage. Showy stalks of pale lavender flowers rise above the foliage in summer. A remarkable plant for bold foliage contrasts in shaded beds and borders. Pairs exceptionally well with bright and variegated hosta varieties. Resists slug damage. An herbaceous perennial.
First Frost Plantain Lily - Hosta x 'First Frost'

A selection prized for its robust foliage which remains attractive straight through to the first frost! Rich blue-green leaves have a creamy yellow border that gradually fades to white. Excellent adaptability to varied climates and conditions. Thick leaves resist slug damage. Selected as 2010 Hosta of the Year. An herbaceous perennial.
Earth Angel Hosta - Hosta x 'Earth Angel'

Beautiful, bold foliage for those sometimes difficult to fill shady areas. Dramatic heart-shaped, blue-green leaves edged in chartreuse that will gradually soften to creamy white. In midsummer, pale lavender flowers rise from the impressive foliage clump. A true standout in the garden. An herbaceous perennial.
Guacamole Plantain Lily - Hosta x 'Guacamole'

Soft avocado green and yellow marbled foliage with streaks of slightly darker blue-green. Large flower stalks with white lavender blooms release a soft, sweet fragrance. Requires full shade in hot summer areas. Provides a great contrast in both color and texture in the shade garden. An herbaceous perennial.
For more hostas... Hosta Varieties
---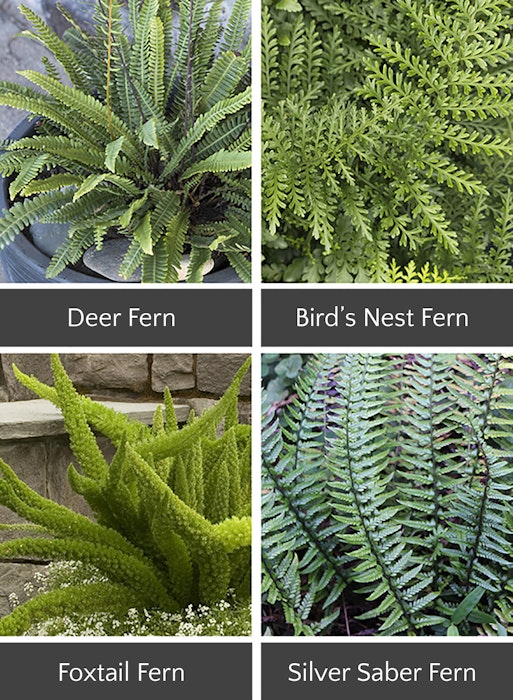 3. Ferns
Ferns have a talent of adding incredible texture to the landscape. They act as a complimentary plant to those with colorful blooms or look stunning all on their own. Fern leaves are called fronds, which are diverse in size, texture and color, depending on species. Available Ferns:
Foxtail Fern - Asparagus densiflorus 'Myers'

This unusual perennial adds textural contrast to beds and borders. Long, upright, plume-like stems hold soft, needle-like leaves. Develops red ornamental berries in fall. An excellent choice for hanging baskets and containers. Semi-evergreen in mild winter regions; use in containers and overwinter indoors in cold winter regions.
Austral Gem™ Bird's Nest Fern - Asplenium hybrid (dimorphum x difforme) 'Austral Gem'

A new, unique fern with thick and glossy dark green foliage held on strong, feathery fronds. Durable, handsome, and highly adaptable to low humidity, this sterile variety does not develop messy spores, making it an ideal houseplant in any climate. Perfect for planting in shady outdoor areas in warmer zones. Evergreen.
Silver Saber Fern - Polystichum xiphophyllum

A mound of sturdy, upright, glossy fronds emerge from a central crown with beautiful symmetry. Foliage often appears to have a light silver surface wash, but can vary from a soft gray-green to very dark green, particularly in outdoor settings in the Pacific Northwest. Perfect for lightly shaded woodland settings and containers. Evergreen.
Deer Fern - Blechnum spicant

This deep shade-loving fern produces two distinctly different types of fronds on one plant: evergreen, outward-reaching sterile fronds with denser leaflets, creating a slightly flattened rosette year-round, and stiffly upright, fertile fronds with narrower, less dense leaflets that last through summer, giving it added seasonal interest.
---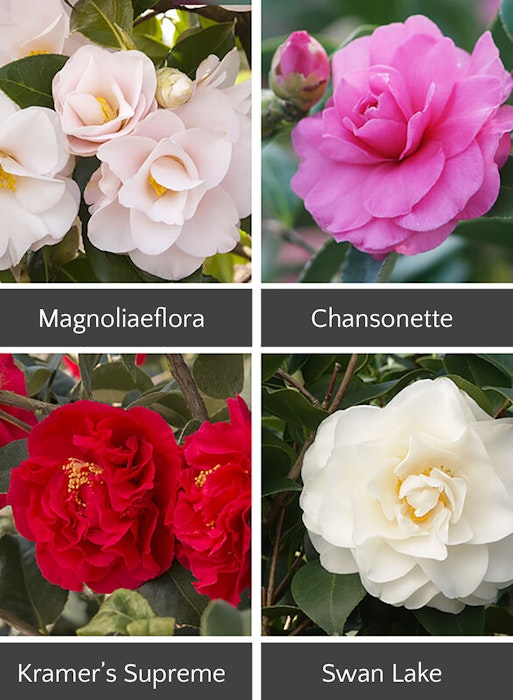 4. Camellias
When your garden feels lifeless and colors are blah during the cooler months, Camellias are blooming! They can provide those pretty pops of color during the cooler months and during spring's cooler days. Camellias are long-lived trees and shrubs that provide year-round glossy-green and cool-season flowers. When selecting camellias for the garen, start by looking at bloom time; Sasanquas bloom from mid fall to early winter (early to mid season), Japonicas from mid winter to spring (mid to late season) and hybrids can be either depending on variety. Select plants with different flowering schedules to enjoy blooms for an extended period.
Check out our beautiful selection of camellias... Camellia Varieties
The camellia flower speaks to the heart and expresses positive feelings. It's most common meanings are:
Desire or Passion
Refinement
Perfection & Excellence
Faithfulness & Longevity
---
Gardening Essentials
Sluggo
With all the well loved and appreciated precipitation comes some slimy creatures that like to feed on our lushes green foliage. - Sluggo is a safe way to rid your landscape of Snails and Slugs. Safe around pets and wildlife and perfect for organic gardening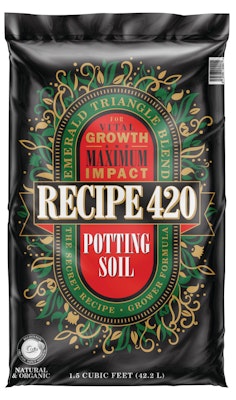 Recipe 420 Potting Soil
E.B. Stone Organics
1.5 cu ft. Bag
The secret recipe grower formula for vital growth and optimum impact. This Recipe 420 blend is a special blend of ingredients hand selected specifically for the needs of professional flower growers. Their 100% natural & organic formula is carefully crafted to provide the ideal conditions for cut flower production. Recipe 420 is a blend of premium Aged Forest Products, Coir, Sphagnum Peat Moss, Pumice, Earthworm Castings, Feather Meal, Seabird Guano, Crab Meal, Fish Bone Meal, Humic Acid from Leonardite, Gypsum, Oystershell Lime (pH adjuster), Dolomite Lime (pH adjuster), Bat Guano, Kelp Meal and Wetting agent (Yucca Schidigera Saponin) enhanced with Mycorrhizal fungi and beneficial soil bacteria.
---
Source: Flower Meaning & Symbolism | http://www.flowermeaning.com/