Hostas Varieties & Care

Do you have a shady spot in your garden or container that seems to be lacking something? Here's why Hostas, also known as Plantain Lilies, may be your solution…
Offer dramatic foliage color
Easy care
Perfect for borders
Excellent for erosion control
Look amazing in mass plantings
Play nicely in woodland gardens
Look lovely as a specimen plant
Hosta Selection:
Please note that selection may vary by location and time of year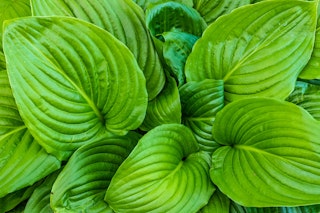 August Moon Hosta
Heavily textured, wide, heart-shaped, thick, slug resistant leaves that emerge chartreuse, turn a soft yellow as they age, and mature to a luminescent golden yellow. The dramatic, color-shifting foliage brightens shaded borders and woodland gardens. Produces large spikes of pale lavender flowers in summer.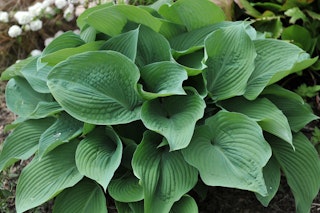 Blue Angel Hosta
The largest of the blue hostas with pointed, silver-blue leaves forming a lush, dense, cascading mound. White, bell-like flowers on tall stems adorn the huge clump in summer. Sure to attract attention in the dappled shade garden.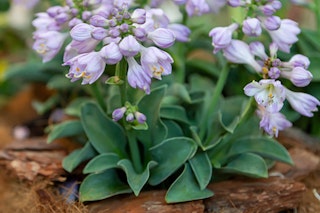 Blue Mouse Ears Hosta
Be the first to review this product A symmetrical mound of small, heart-shaped leaves with a slight curl that resemble mouse ears. The soft blue-gray foliage has a faint white edge in early spring. The thick foliage resists slug damage. Lavender flowers stand above the foliage clumps.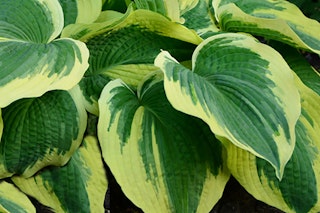 Earth Angel Hosta
Beautiful, bold foliage for those sometimes difficult to fill shady areas. Dramatic heart-shaped, blue-green leaves edged in chartreuse that will gradually soften to creamy white. In midsummer, pale lavender flowers rise from the impressive foliage clump.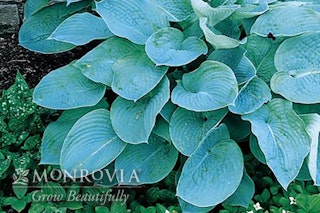 Eola Sapphire Hosta
A special selection for the shade garden with striking, seersucker-like, metallic blue-green leaves. Larger than others, this dramatic hosta is sure to attract attention. Slender spikes of purple-white flowers appear in summer. The thick, heavily textured foliage is resistant to slug damage.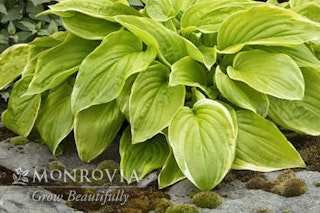 Fragrant Bouquet Hosta
Lush apple green leaves accented with wide, pale yellow to cream-colored margins. Very fragrant white flowers develop on tall scapes in midsummer. Adds wonderful texture to shaded gardens and borders or under trees.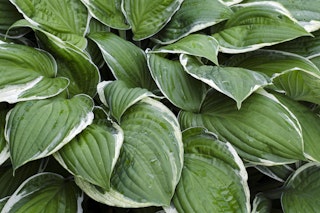 Francee Hosta
Lush foliage clumps with dramatic, heart-shaped, dark green leaves edged in white - truly a standout in the landscape. The mounding foliage with beautiful variegation is ideal for those sometimes difficult to fill shady woodland areas and borders. A wonderful hosta for containers.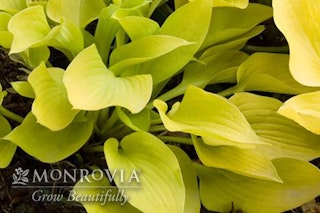 Golden Prayers Hosta
Dramatically textured, golden yellow foliage retains its color even in the shade! Handsome, pale lavender flowers are displayed on 18-inch stalks in summer. Thrives in dappled morning sun to shade, protected from harsh sun exposures. This popular selection is terrific in containers.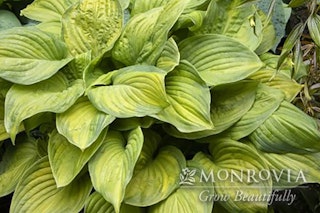 Guacamole Hosta
Soft avocado green and yellow marbled foliage with streaks of slightly darker blue-green. Large flower stalks with white lavender blooms release a soft, sweet fragrance. Requires full shade in hot summer areas. Provides a great contrast in both color and texture in the shade garden.
Hadspen Blue Hosta
Steel blue-gray leaves have a soft powdery look and create an elegant mound of foliage. Showy stalks of pale lavender flowers rise above the foliage in summer. A remarkable plant for bold foliage contrasts in shaded beds and borders. Pairs exceptionally well with bright and variegated hosta varieties. Resists slug damage.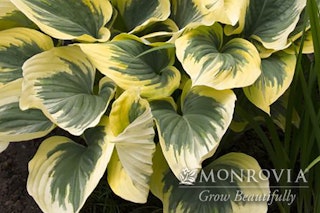 Liberty Hosta
A gorgeous sport of 'Sagae' with blue-green leaves that have wide, dramatically streaked, yellow margins which fade to a creamy white. Produces showy lavender flowers in summer. The thick foliage has remarkable slug resistance. Adds stunning color to any shade border or woodland garden.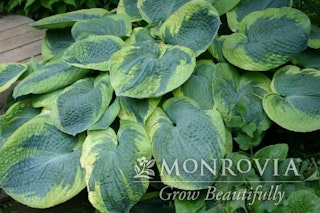 Olive Bailey Langdon Hosta
This large, festive hosta has dark green foliage with wide, light green margins. The leaves are lightly cupped with wavy margins and deeply corrugated texture. A charming addition to a large, shaded woodland area.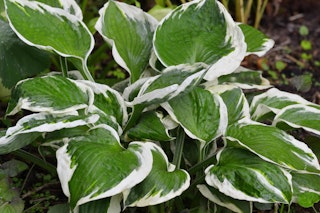 Patriot Hosta
A superb compact selection with more heat tolerance than other popular varieties. This sport of 'Francee' features glossy, bold, dark green foliage with gleaming white edges. Great for brightening a full or dappled shade border.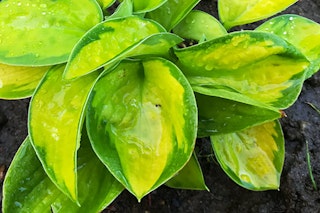 Rainforest Sunrise Hosta
Lush leaves emerge solid light green, then quickly develop dramatic dark green borders and radiant gold centers. Mild morning sunlight or bright shade brings out the best gold tones. The thick glossy foliage holds up all season and resists slugs. Pale lavender flowers appear in midsummer.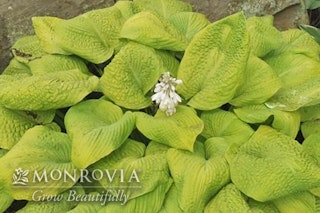 Rosedale Golden Goose Plantain Lily
Large, bright golden yellow, heart-shaped leaves provide a pop of color to any shady spot in the garden. The thick, slug resistant, heavily textured foliage of this attractive, mounding hosta has wonderful corrugation and deep veins and is accented with lavender summer blooms.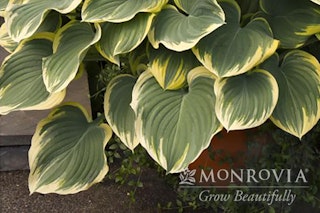 Sagae Hosta
A classic hosta with big bold foliage that features a wide gold band of color along the leaf edges. The golden margins turn to a creamy white by midsummer. The thick foliage resists slug damage. Showy spikes of lavender flowers rise above the foliage in summer.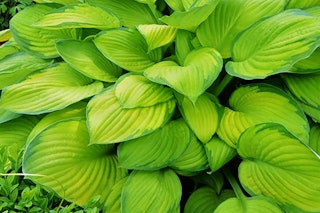 Stained Glass Hosta
Bright golden leaves with wide, deep green margins and prominent veining provide the appearance of stained glass. Large, fragrant, pale lavender flowers complement the dramatic foliage. Bold color for foundation and woodland beds in full or dappled shade.
Wide Brim Hosta
Broad blue-green leaves with a creamy edge create a large mound of attractive, lush foliage. Slender spikes of lavender flowers appear in summer. Adds a colorful accent to shady mixed borders and woodland gardens. An herbaceous perennial.
Source: Monrovia.com
---

Protect Them...
Don't let those pesty little plant eaters wreak havoc on your healthy plants.
Monterey Sluggo - 5 lb. Jug
This is a great alternative to traditional slug and snail bait. This product contains iron phosphate and is safe for use around pets and wildlife. Sluggo controls snails and slugs in vegetable gardens and breaks down into an organic fertilizer. It will continue to be effective for up to 4 weeks.
Bonide Neem Oil - 32 oz. Spray
An all-purpose insecticide for Organic Gardening, miticide, and fungicide for organic gardening that is derived from the Neem seed. Safe to use on roses, flowers, vegetables, herbs, spices, houseplants, trees, turf and shrubs. Kills all stages of insects including eggs, larvae, and adults. Kills aphids, spider mites and more.
---