Spring Flowering Bulbs

Spring Flowering Ornamental Bulbs
Netherland Flowering Bulbs have arrived at SummerWinds. We've chosen the very best from traditional favorites to the many unique varieties. Selection is great right now and they are guaranteed to energize your spring.
Please note: Selection may vary by location.
---
Allium
Purple Sensation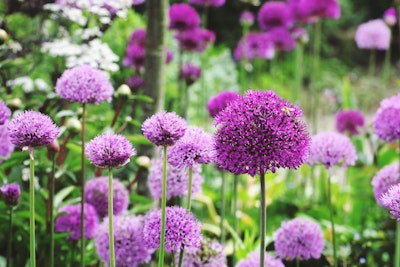 Globemaster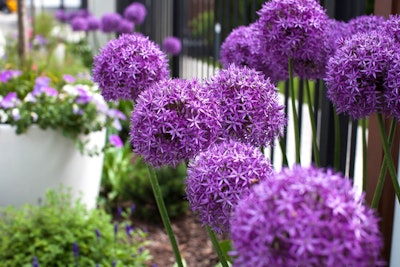 Mount Everest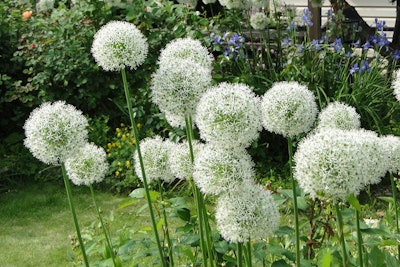 Allium, common name ornamental onion, would make a wonderful addition to your garden. Their slender stems and gorgeous round purple blooms give the appearance of lollipops standing out amongst other lovely flowers. They bloom May to June, on the heels of late tulips and look best when planted in clusters. They prefer full sun to part shade and these lightly scented flowers attract butterflies!
---
Bearded Iris
Concertina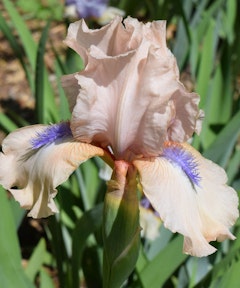 Clarence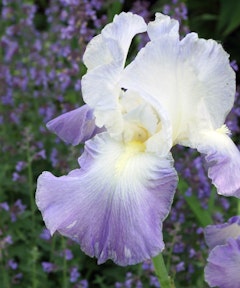 Harvest of Memories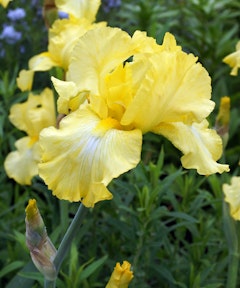 Invitation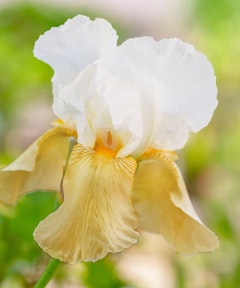 Bernice's Legacy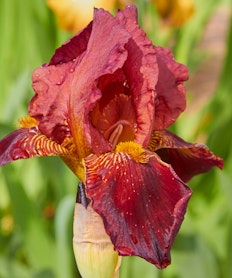 Bearded Irises are hardy perennials that are very easy to grow. They bloom in late spring, typically after tulips and daffodils. Plant in medium moisture, well-drained soil in full sun. Plant pre-potted iris in late spring or dry roots in late summer. Irises are popular for their beauty and in many cultures for their meaning.
In ancient Greek times, "eiris" meant "messenger" or "eloquence", which related to the messages the Greek goddess, Iris, carried.
In Japanese culture – iris is revered for its purifying properties. It had the ability to remove evil energies
The Chinese portrayed the iris in a lighter form - it was seen as "the dancing spirit of early summer."
Less of a culture but more during a period in time, the Victorian Era, irises represented faith, hope, courage, wisdom and admiration.
What will these beauties mean to you in your landscape?
---
Crocus
Large Flowering Mix
Orange Monarch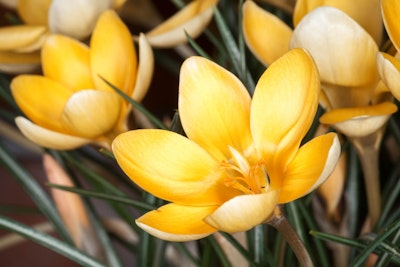 Sativus Saffron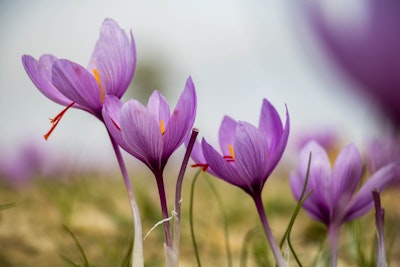 Crocuses are those cheery flowers that announce, "Aw shucks, spring has officially arrived!" They are one of the more easy to pop in the ground and grow bulbs. And while you can't force spring to come any sooner, the appearance of these delightful little blooms will get you revved up for a great gardening season.
---
Tulips
When you think of spring flowers, chances are you are thinking of tulips. Delicate and colorful cups that sit atop a long green stem. These are just a few of our lovely pinks and reds. Tulips are available in a variety of colors in which to "paint" your garden with.
Akebono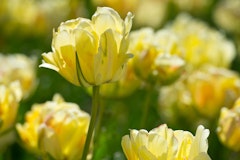 Apricot Beauty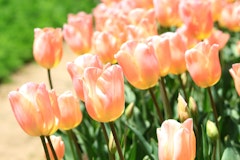 Banja Luka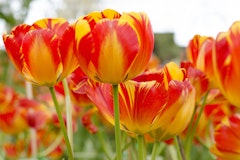 Big Smile
Black Parrot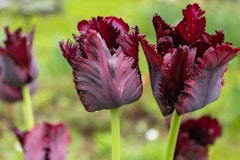 Blushing Beauty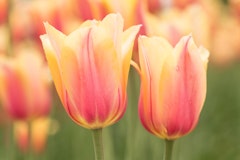 Bourbon Street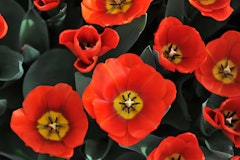 Dream Touch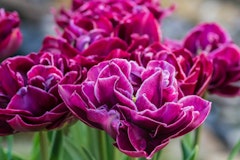 Flaming Parrot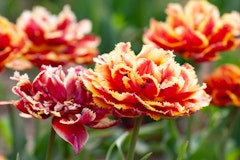 Golden Parade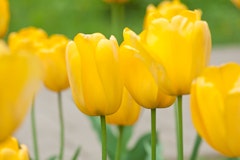 Hakuun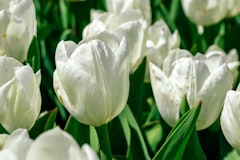 Little Beauty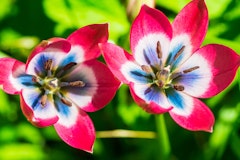 Mount Tacoma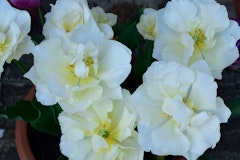 Orange Emperor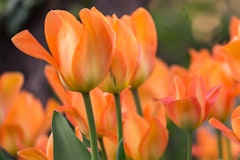 Pretty Impression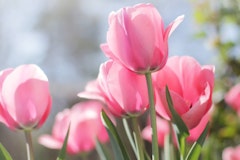 Pretty Princess
Princess Irene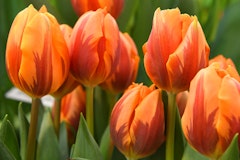 Purple Passion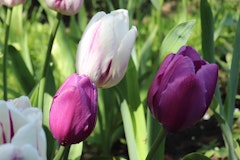 Queen of the Night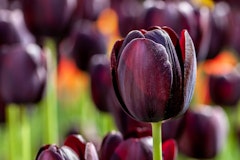 Rainbow Mix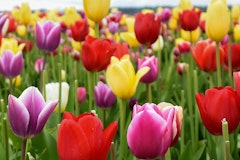 Red Impression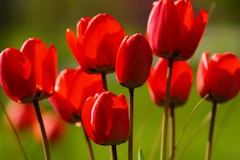 Sunlover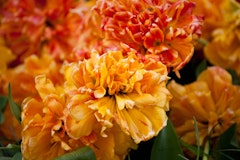 ---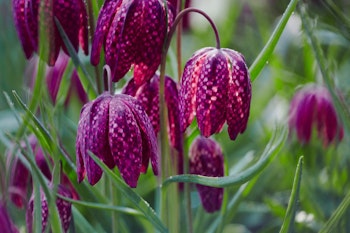 Checkered Lily
Also known as Fritillaria meleagris, this upside looking tulip is easy to grow in moist, well-drained soil in full sun or partial shade. They multiply naturally year after year. Plant in groups where the unique color will get noticed. Allow foliage to die down naturally and it will come back year after year.
Mature Height:

8-10 Inches

Bloom time:

Blooms mid spring
---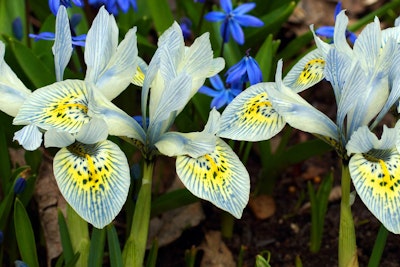 Dutch Iris Mix
Dutch iris, have orchid-like flowers with silky petals. They make stunning cut flowers, due to their bright and long lasting nature in vases. And unlike other types of iris that grow from thickened roots called rhizomes.
Sapphire Beauty
Dwarf Katharine Hodgkin
---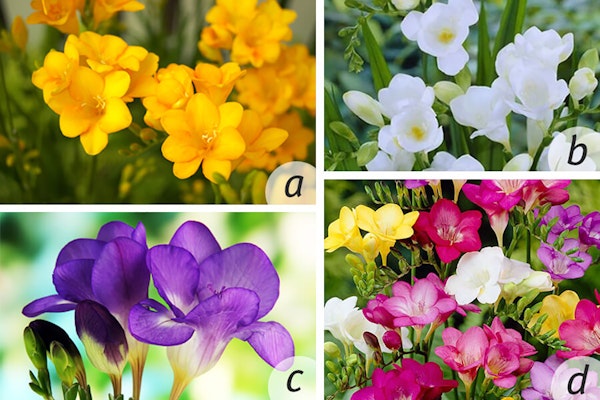 Freesia
a. Freesia Single Yellow
b. Freesia Single White
c. Freesia Single Blue
d. Freesia Single Mix
These beautiful perennials have so much to offer. They are loved for their pure colors, sweet perfume and grow incredibly well in containers. Freesias are one of the most popular cut flowers and have a long vase life.
Prefer full sun or part shade and grow best at 55 to 60°F
Well-drained spot, in sun or light shade. Add plenty of organic matter to improve thin soils
Water sparingly before sprouting, then water consistently, keeping the soil lightly moist
To create a generous display of flowers, plant groups of at least 6 to 10 freesia corms and position them no more than 2" apart
---
Hyacinth
Hyacinths are hardy, deer resistant, very fragrant, and like other bulbs; easy to grow in well-drained soil in full sun to partial shade. Wear gloves when planting, as bulb dust may cause a harmless skin irritation. Bulb dust can be easily washed off with soap and warm water. Their fragrance is worth the effort.
Carnegie
Delft Blue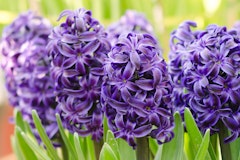 Easter Joy Mix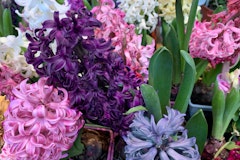 Gypsy Princess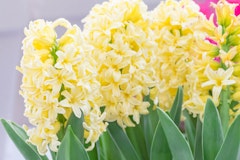 Jan Bos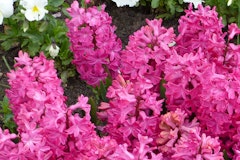 ---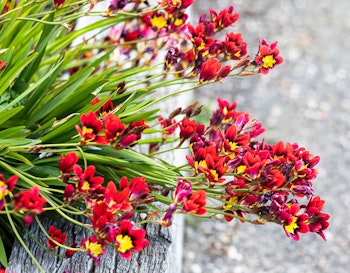 Ixia Mix
Ixia, also knows as the Wand Flower, are the perfect perennial for the hot, sunny spots in your garden. Their tall spikes of star-like blooms stand out with various shades of pink, yellow and white, all which open to reveal contrasting colors. Ixias bloom in late spring and will attract our fluttery friends, the butterfly. Available in an assortment of colors.
---
Narcissus
This beauty, loved by many, is a name of genus, which includes flower bulbs like Daffodils, Jonquils, Paper whites, etc.
According to classical mythology, a young lad Narcissus, was so enamored with himself that he stared at his reflection in a pool of water until he eventually turned into his namesake flower. And this is how Narcissus flowers earned their name.
Narcissus bloom in late winter or early spring and are great for planting between shrubs, in a border or for forcing blooms indoor.
Dutch Master
Ice Follies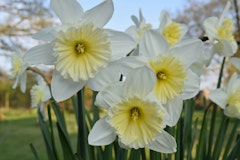 Jetfire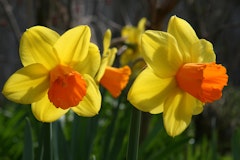 Large Cupped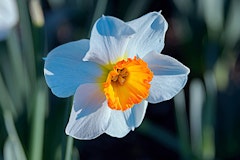 Mount Hood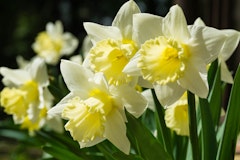 Original Poet's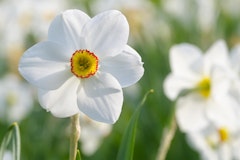 Peach Cobbler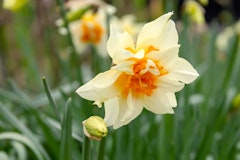 Pink Charm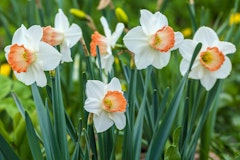 Rosy Cloud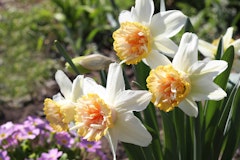 Tahiti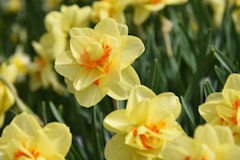 Tete A Tete
Thalia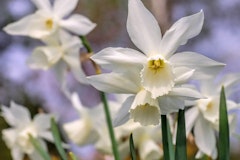 Trumpet Mixture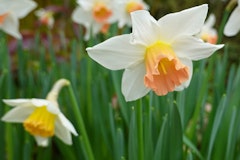 Unsurpassable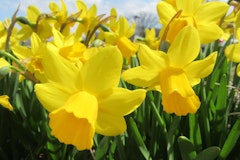 White Lion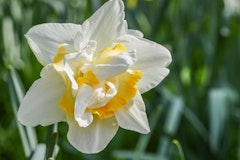 ---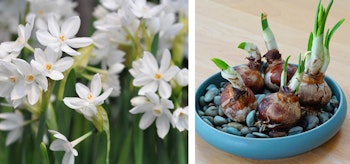 Paperwhites
Indoor Narcissus - Paperwhite Ziva has green foliage and an upright stem supporting a ball of cheerful white blooms to be enjoyed indoors. Place course sand or decorative gravel over potting soil to keep roots from pushing the bulbs out of the pot as they grow. Fragrant.
Plant Height:

16-20 Inches

Light Requirements:

Full Sun
---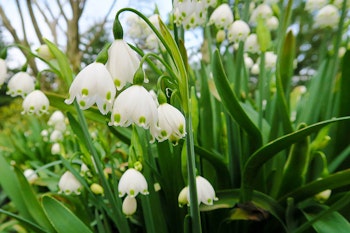 Giant Snowdrop
Also known as Leucojum Aestivum or Summer Snowflakes. Plant a large number of bulbs in clusters to create a dramatic effect. Mounds of green foliage support arching chalice-shaped flowers. Easy to grow in well-drained soil in full sun or partial shade.
Light Requirements:

Full Sun, Partial Shade

Mature Height:

14-16 Inches

Bloom Time:

Blooms late spring
---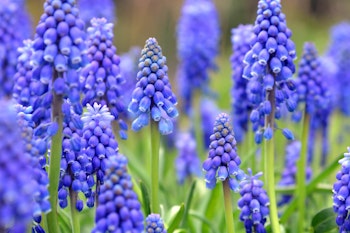 Muscari
Also known as Grape Hyacinth and Julia. Grass-like foliage supports beautiful cone-shaped flowers. Muscari are deer resistant, naturalize well, and easy to grow in well-drained soil in full sun to partial shade. Plant muscari in large clusters or drifts for a spectacular spring show. Perfect for co-planting with tulips or daffodils. Fragrant.
Blooms: Mid-Spring
Light Requirements: Full Sun to Partial Shade
Height: 6-8"
---
Ranunculus
Ranunculus blossoms display layer upon layer of silky petals in bright colors, making this flower almost too perfect to be real. Perhaps this is one flower bulb you hadn't thought to plant and grow yourself but it can be done in both containers and your garden.
Grow in full sun with some afternoon shade. Ranunculus like the bright light but not the hot temperatures of the sun.
Plant in light, well-drained soil
Bloom in late spring
Ranunculus Mix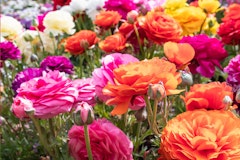 Ranunculus Pink
Ranunculus Picotee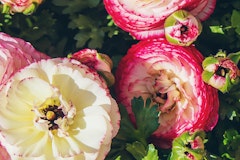 Ranunculus Red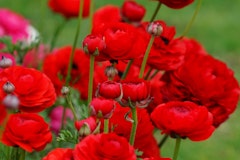 Ranunculus White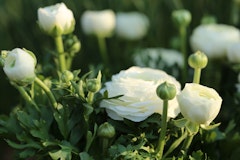 ---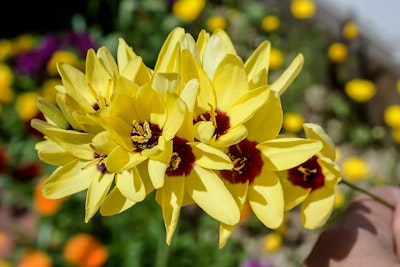 Sparaxis Mix
Sparaxis Mix, also known as a Harlequin flowers, bring bursts of color to your garden with their trumpet-shaped blooms and contrasting star-shaped throats. Stunning in mass planting, they will create a carpet of color. Harlequin flowers are perfect for borders, rock gardens, and containers.
Blooms early to mid summer
---
Content Source: Netherland Bulb Company: netherlandbulb.com
---

Back To The Top
Still Not Sure Which Flowering Bulb Is Right For You?
Check out Drop. Dig. Done® Bulb Personality Quiz. If nothing else, it's entertaining.
---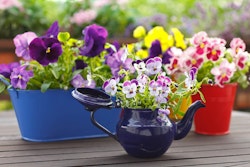 Companion Plants
Pansies and Violas
This is the time of year when Pansies and Violas shine. They make a natural and hardy cover for your sleeping bulbs.
---
Interested in seeing your bulbs bloom sooner than spring?
Many of the bulbs we carry look amazing in fall planters or indoors for the holidays. There is a sure fire way to encourage your spring blooming bulbs to shine this fall and that is to force them. Sounds gruff but it's actually an easy and effective way to enjoy your bulbs this fall.
---
Gardening Essentials - For Planting Flowering Bulbs
---
SummerWinds Planting Mix
SummerWinds Planting Mix is a Natural and Organic Blend formulated with your growing conditions in mind. It is an all-purpose mix, great for flowers, trees, vegetables and ornamentals. Available in 2 cu ft. Bags.
---
E.B. Stone Organics Bulb Food
E.B. Stone Bulb Food is a blend of premium organic fertilizer formulated to provide the nutrients vital for abundant growth and flowers. The long lasting ingredients are ideal for feeding bulbs throughout the bloom period and will provide the nutrients necessary for a strong root system and vigorous bulbs. Contains: Feather Meal, Bone Meal, Dried Chicken Manure, Bat Guano, Alfalfa Meal, Kelp Meal, Potassium Sulfate, Humic Acids and Soil Microbes including Mycorrhizal Fungi.
---
Fiskars Bulb Planter
This handy little tool will make planting your flowering bulbs a breeze.
---
---