Create A Garden Inspired by a Mediterranean Climate

We are so fortunate to be able to live in an area where we can grow the beautiful plants found in a Mediterranean climate. Whether you are trying to recreate the feeling you had when visiting Spain, Italy or Greece or you just simply love the look and feel a Mediterranean climate provides, creating that happy place is possible in our California landscapes.
15 of our Favorite Plants, Perfect for Your Mediterranean Climate
1. Kangaroo Paws
Anigozanthos flavidus - A tough and durable perennial with strap-like leaves and tall flower stalks. Kangaroo Paws have unusual velvety, paw-shaped flowers available in an assortment of colors (red, pink, yellow). They make great container plants and interesting cut flowers.
Moderate growing; reaches 2 to 5 ft. tall, 2 to 3 ft. wide.
Excellent in Containers, Mass Planting and in Rock Garden
This plant loves full sun
Care - Provide average well drained soil. Drought tolerant once established, but prefers regular moisture when flowering. Pruning time: fall after flowering.
---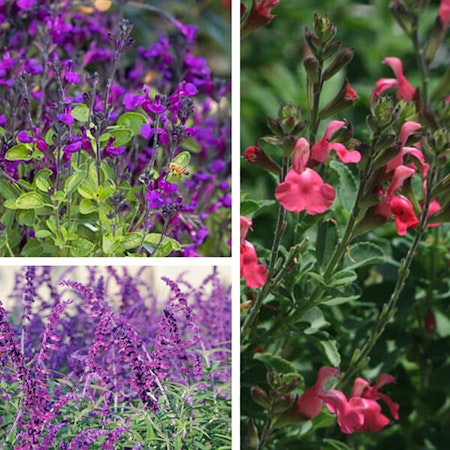 2. Salvia/Sage
Salvia plants are extremely versatile, hardy, and attractive to bees, butterflies and hummingbirds. They are also available in many varieties. We have 3 of our favorites to share with you.
VIBE® Ignition Purple Salvia

Salvia x jamensis - is notably heat and drought tolerant, this petite sage explodes with dark purple buds that open to vibrant purple flowers throughout summer. Vibe® Ignition Purple from Monrovia is one of the most humidity tolerant varieties of its type. Add to summer garden borders, wildlife or cutting gardens, or feature in containers.
Heatwave™ Blast Sage

Perfect for water-wise gardens! This carefree, shrubby perennial blooms all summer, attracting hummingbirds and butterflies with masses of vibrant salmon pink flowers and aromatic green foliage. Simply thrives in heat and drought when established. This variety from Monrovia is a fantastic selection for borders, mass plantings or large patio containers. Evergreen.
Mexican Bush Sage

Salvia leucantha is a favorite among many with because its blooms are showy velvety spikes that appear late summer through frost while other summer plants are petering out. Easy to grow and extremely drought tolerant once established.
---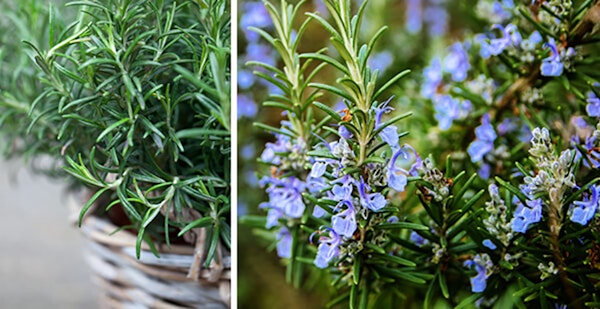 3. Rosemary
Rosemary offers the texture and aroma only an herb can provide. It looks great in containers and beds.And if that isn't enough, this simply irresistible dark green plant also produces lovely purple blooms.
---
4. Lantana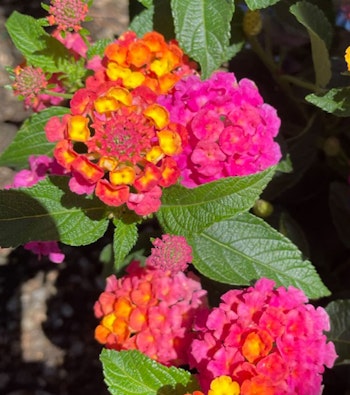 Lantanas offer a profusion of bright color year round from masses of blooms that are available one or multiple colors. Beautiful mounded, trailing form makes a great display in low borders, containers, or featured as a accent in topiary form. With support, provides an exceptionally showy cover for low fences and walls.
Natural form is 2 to 3 feet tall, 6 to 8 feet wide.
Perfect for borders, container as trailers, or poolside or near water feature.
Thrives in Full Sun
Care - Follow a regular watering schedule during the first growing season to establish a deep, extensive root system. As a groundcover, space plants 5 ft. apart, (closer for faster coverage). Control weeds with mulch until the plants cover the area. Pruning time: spring.
---
5. Succulents
Succulents come in so many shapes, sizes and colors to add interest and texture to containers, borders and rock gardens. These sun-loving plants require very little effort to maintain. For a list of 12 easy to grow succulents...

Learn More
---
6. Ornamental Grasses
Lomandra



Lomandra Breeze is a drought-tolerant ornamental grass with narrow, blue-green foliage. It adds a touch of elegance to landscapes and gardens, thriving in the Mediterranean climate of the Bay Area.

Blue Fescue

Blue Fescue is a compact grass known for its striking blue-gray foliage. It's a low-maintenance ornamental grass that brings a cool and calming presence to gardens and landscape borders.
Purple Fountain

With its vibrant purple foliage and graceful arching growth habit, Purple Fountain Grass adds a splash of color and movement to gardens. It's well-suited for Mediterranean climates and can thrive in the Bay Area.
---

7. Citrus
Citrus trees, such as oranges, lemons, and limes, flourish in Mediterranean climates like the Bay Area. They produce fragrant blossoms and delicious fruit while adding a touch of evergreen beauty to your landscape. Learn More about our citrus selection and care.
---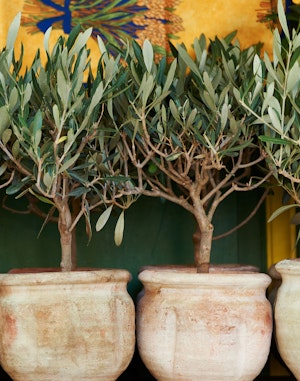 8. Little Ollie® Dwarf Olive from Monrovia®
Compact and evergreen, this non-fruiting variety displays an elegant, multi-branched structure. Its deep green leaves reveal silvery-green undersides, offering a delightful contrast. It serves beautifully as a formal hedge or a standout individual shrub. Whether fashioned into topiary shapes or trained as a singular trunk tree in limited areas, it excels. Moreover, it possesses resilience, thriving in heat, drought, and even salty conditions.
Light: Full Sun
Water: Once established – water if very dry.
Blooms: Inconspicuous; prized for foliage.
Size: Reaches 6 ft. tall and wide.
---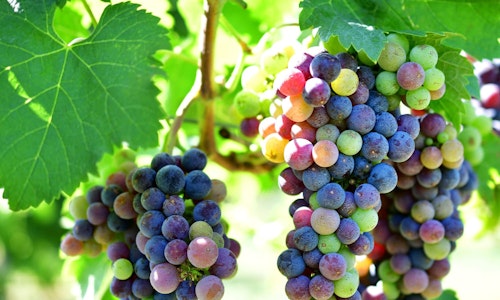 9. Grapes
Zinfandel Grapes

Zinfandel grapes are well-adapted to the Mediterranean climate of the Bay Area. They produce juicy, flavorful grapes that are used to make red wines with various levels of complexity and spiciness.
Merlot Grapes

Merlot grapes also thrive in Mediterranean climates. They yield smooth, medium-bodied red wines with soft tannins and flavors ranging from red fruit to chocolate, making them a great choice for vineyards in the Bay Area.
---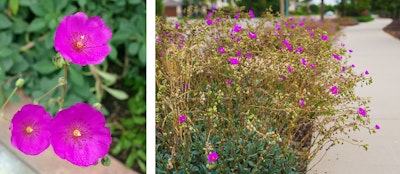 10. Rock Purslane
Rock Purslane is a low-growing succulent that's perfect for sunny spots in Mediterranean gardens. Its fleshy leaves and colorful flowers make it a charming addition to rock gardens and container plantings.
---
11. Loropetalum
Razzleberri® - An exciting plant with vibrant, multi-season interest! Clusters of raspberry red, fringed flowers appear throughout the year. Showy new growth is burgundy tinged, maturing to olive green. Use as a colorful specimen or accent in borders and containers.

Sizzling Pink Fringe Flower - Clusters of rich, pink, fringed flowers bloom repeatedly throughout the year. The showy new deep burgundy foliage matures to a lovely bronze-green, maintaining a purple tinge as it as it ages, creating a colorful year-round accent to the landscape. Works well for containers, borders, and foundation plantings, as a single specimen or in groupings.
---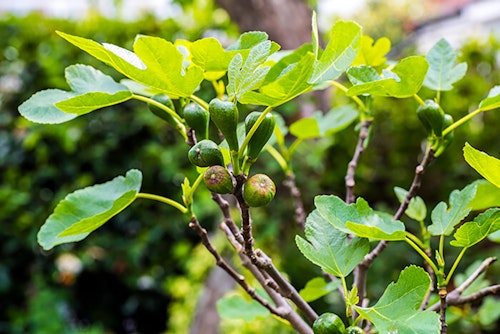 12. Figs
The variety shown is a Brown Turkey Fig but other varieties available. This one is an attractive deciduous tree with an intriguing winter silhouette. Produces very tasty, brownish purple fruit in late spring and again in late summer. Highly adaptable, and often root hardy. A beautiful specimen for garden or landscape, requiring only light annual pruning.
---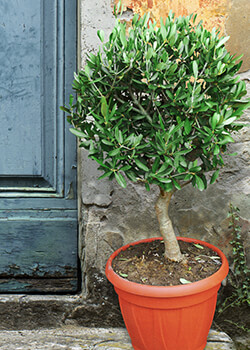 13. Dwarf Olive Tree
Deep green leaves have silvery green undersides. Attractive as a formal hedge or specimen shrub. Excellent in topiary form, or trained as a single trunk tree in smaller spaces. Heat, drought and salt tolerant.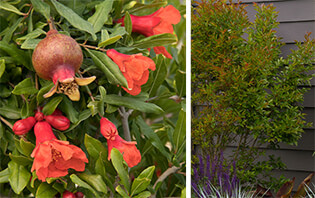 14. Ornamental Pomegranate
Simply the best pomegranate on the market! Large, showy, bright, orange-red blooms on upright, fount-like branches produce large, vivid red fruit that ripens late summer to fall. Less pulp and higher juice content than others, with seeds soft enough to be eaten fresh.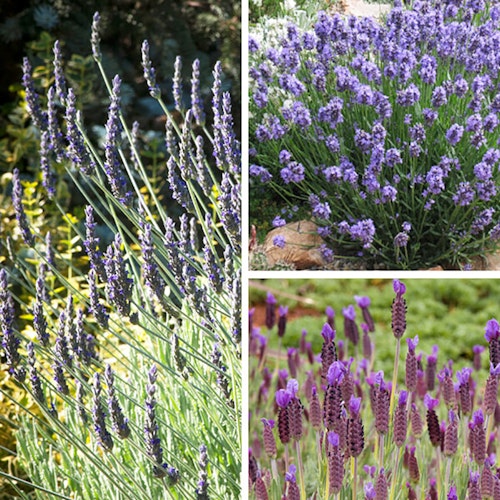 15. (last but not least) - Lavender
Lavender is the ultimate addition to borders, herb gardens, or rock gardens. This fragrant shrubby perennial has showy blooms from purple to sometimes pinkish flowers and the gray-green foliage remains attractive well into winter. We have 3 of our favorites to share with you...
Goodwin Creek Gray Lavender



This lovely lavender offers a dense mound of finely toothed, silver-grey foliage with beautiful, long, slender, dark purple flower spikes. It is very tolerant of heat, sun, and periodic drought. They are ideal for sunny perennial borders or rock gardens, and raised beds or containers. In colder climates, overwinter potted plants indoors until spring, after danger of frost. This evergreen is a moderate grower; reaching 2 to 4 ft. tall and wide.

Otto Quast Spanish Lavender



Fragrant, rich royal purple flower spikes rise above the dense mound of fine, gray-green foliage, providing months of seasonal color. A wonderfully rugged and fuss-free choice for borders and gardens that will tackle summer heat and drought with grace. It is an excellent choice for an accent in sunny borders and rock gardens. This evergreen is a moderate grower; reaching 20 to 28 in. tall, 18 to 36 in. wide.

English Lavender

Lavandula angustifolia -

may appear English by name, it is actually native to the Mediterranean. Violet-blue blooms top gray-green foliage with narrow leaves that stand upright from late spring through late summer. This variety is generous with its pleasing fragrance and looks great along walkways, in containers, on raised walls or borders, in rock gardens and in mass plantings.
There many varieties of lavender available. Still not certain which is best for your garden? Monrovia's How to choose the best lavender for your garden is sure to help.
---
Gardening Essentials
---
E.B. Stone Raised Garden & Potting Mix
E.B. Stone Raised Bed and Potting Mix is an ideal soil for any raised bed. It can be used as a stand alone soil or mixed with garden soil. E.B. Stone Organics Raised Bed and Potting Mix is designed with carefully selected, premium ingredients. Rich compost holds the nutrients plants need, Coir (Coconut fiber) hold moisture in the root zone, Naturally-aged forest fiber feeds soil microbes and provides organic matter, Volcanic pumice drains away excess water, Beneficial microbes enhance plant's root zone.
Contains: Regionally Sourced Bark, Coir, Compost, Pumice, Earthworm Castings, Aged Chicken Manure and Mycorrhizae.
Bonide Liquid Copper Fungicide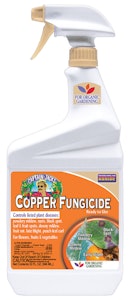 Controls powdery mildew, downy mildew, black spot, peach leaf curl, rust, and other listed diseases. Perfect for use on vegetables, roses, fruits, nuts, herbs, ornamentals, and turf. Incredibly easy to apply and can be used up to the day of harvest.
32 oz. Ready-To-Use
For Organic Gardening
Controls plant diseases
Approved for organic gardening
Dormant and growing season applications
Powdery mildew, black spot, rust, downy mildew, tomato blight
Fruit rot, late blight, peach leaf curl and more
---
There are so many great resources to help you create the Mediterranean climate you desire, here are a few that we think offer some great ideas:
Please note that not all plants recommended may not be available at all SummerWinds locations. However if there is something we don't have, we will do our best to order one in for you or recommend and alternative to that desired plant that will thrive in the Bay Area of California.