Fresh Herbs You Can Grow For International Cuisines
Posted on: Tuesday, November 19, 2019
Growing herbs for cooking at home can bring global culture into your kitchen without a trip to specialty stores. International cuisines rely on specific herbs and spices to capture the flavors of their cultures of origin. Although American herb gardens tend to focus on Mediterranean plants like rosemary due to their hardiness and general popularity, home gardeners can grow herbs from all over the planet with the right methods.
Herbs For Cooking Mexican Dishes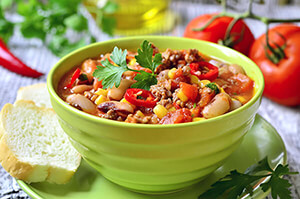 Some of the best-growing herbs for international cuisine on the California coast hail from Mexican culinary traditions. Although Mexican cuisine is influenced by European colonization, many of the herbs for cooking it are native to North America. Yet despite their history and continued use, many Mexican herbs are difficult to find in the average grocery store. For those craving authenticity and freshness in their Mexican food, cultivating ingredients in the garden may be the best option.
Cilantro (Coriander)
Although it originated in the Middle East, cilantro grows well in sunny, warm climates worldwide, according to Burpee Seeds and Plants. Since this plant develops a taproot, it resists transplanting and grows best from seed. If sown indoors or during the warm season, seeds germinate in about a week. Frequent harvest of a plant's top-most leaves prevents flowering, keeping the plant alive by conserving its energy. When cooking with it, use the leaves when they're fresh.
Epazote (Mexican Tea)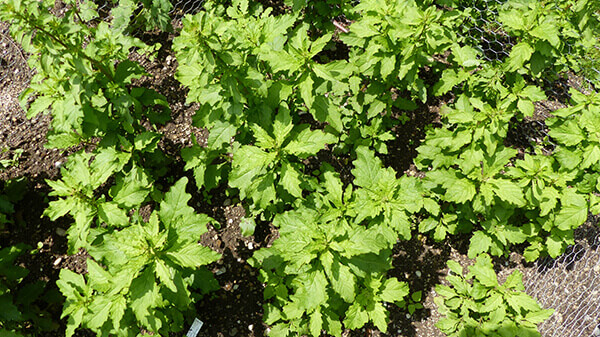 This native Mexican plant is an annual that self-seeds once established, according to the LA Times. Epazote sprouts quickly from seed in full sun and moist, well-draining soil. New leaves near the top have a milder flavor while older, tougher leaves toward the base of the plant tend to taste stronger. Epazote leaves can be used fresh or dried in combination with other herbs for cooking a variety of dishes like enchiladas, salsa and tamales.
Mexican Oregano (Lippia graveolens)
Distinct from European oregano, this plant prefers full sun, according to Gardening Knowhow. It can establish itself from cuttings or seeds under warm conditions with moderate watering. Leaves harvested just before flowering are said to have the best flavor as herbs for cooking.
Marjoram
This oregano relative originated in Europe, but became an important ingredient in Mexican soups through cross-Atlantic exchange. Due to its place in several cuisines, marjoram is often available as both starts and seeds at your local SummerWinds Nursery. According to the Old Farmer's Almanac, seeds germinate more quickly when soaked in water prior to planting. In Silicon Valley, Marjoram can be grown as an annual or brought indoor for part of the year In southern hardiness zones, marjoram can be grown as a perennial, while in areas with winter frost, it can be grown as an annual or brought indoor for part of the year. Once harvested, leaves can be used fresh or dried as herbs for cooking international cuisine from the Americas or Eurasia.
Purslane (Verdolagas)
According to Gardening Knowhow, purslane prefers full sun and somewhat dry soils. Seeds need sun or heat-lamp light to germinate, rather than being lightly covered in soil upon planting. Its weedy nature makes it a candidate for frequent harvest or container planting. Although purslane is an annual, it tends to reseed - leaving seed stock for the following year. The herb is a common ingredient in pork stews and savory dishes.
---
Herbs for Cooking International Cuisine of Southern Europe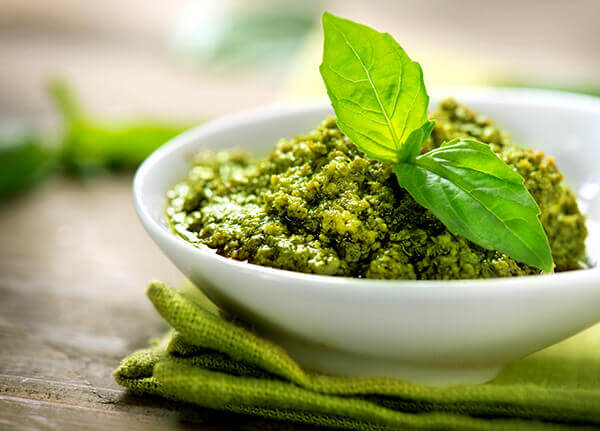 Growing herbs from Mediterranean Europe in central California takes advantage of similar climate factors between the two regions. Also, the culinary traditions of Italy, France and Greece are perhaps those most familiar to many Americans. Used to flavor pasta dishes and meat marinades, herbs for cooking southern European foods have long populated spice racks in the United States. Ranging from light to bitter, these green, leafy plants lend themselves to oil and butter infusions as well as stews.
Italian Basil
This versatile herb is one of the few Mediterranean herbs that is completely frost-intolerant, according to Grow Italian. Its pest-resistance makes it hardy outdoors during the warm season, but the plant also grows well in containers. Basil tolerates prolific harvest as long as flowers are clipped off regularly. Growing herbs like basil gives gardeners a sustainable source for Italian sauces like pestos and marinaras.
Sage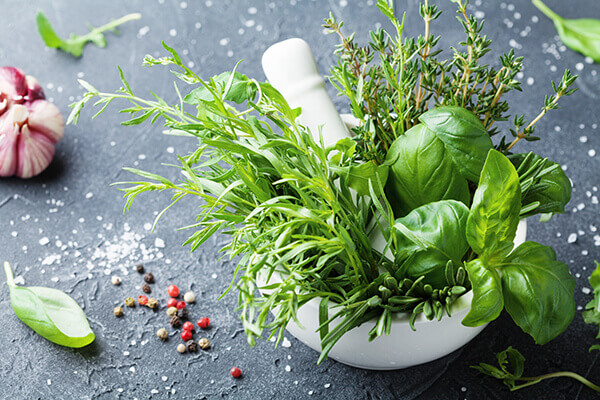 Several species of Salvia are used as herbs for cooking traditional French and Italian foods. It is a hardy perennial that grows best in well-drained soils and temperatures 60-70 degrees Fahrenheit, according to The Old Farmer's Almanac. Sage starts, the ideal way to begin growing sage at home, are available at your local SummerWinds Nursery. Recommended companion plants for growing near your sage plants are cabbage, carrots and rosemary.
Parsley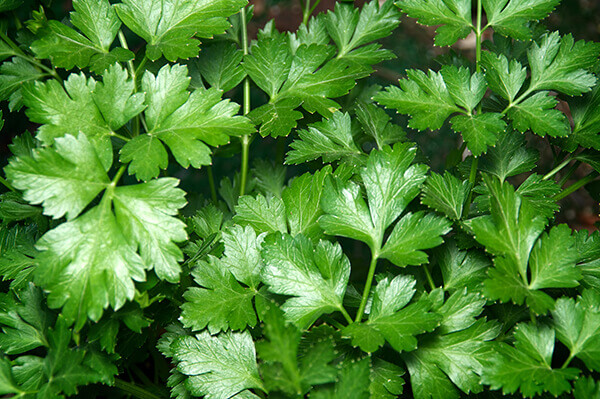 This biennial herb is used in foods from the regions of Greece, Italy and France. Parsley's frost and pest resistance give it special advantages when growing herbs, according to Gardener's Path. However, its seeds are slow to germinate, so soaking seeds in warm water 24 hours before planting can shorten parsley's usual four-week germination period. Enhance post-harvest storage by setting stalks in a glass of water in the refrigerator or by freezing, which sustains flavor better than drying.
Leeks
The tender upper leaves of leeks offer a lighter flavor and texture than their relatives, onions and garlic. According to The Spruce, leeks are frost-tolerant plants that respond well to regions with a long growing season. As biennials, they often do not bloom until their second year of growth. Cut flowers off when they do appear to keep flavors brighter and less bitter.
Rosemary
Rosemary is an evergreen perennial that flourishes in full sun, according to The Kitchn. Grow this European native from nursery starts for best results. Planting rosemary near beans will repel potential pests from them. Rosemary's drought-tolerance makes it easy to maintain, but also means that overwatering will endanger young plants. Harvest fresh stems as needed, making sure not to clip branches back to the plant's base.
---
Herbs for Cooking Chinese Dishes
For much of its history, modern-day China was an unincorporated, ethnically diverse collection of regions - each growing herbs distinct to their environments. What we know as "Chinese" cuisine is a fusion of international cuisine from all around Southeast Asia. Herbs for cooking Chinese fare are as diverse as their history reveals yet mild enough to have wide appeal. Regional variations are increasingly popular in the United States. For instance, herbs and spices are often paired with spicy peppers in dishes from the region of Szechuan.
Green Onion (Scallions)
Although green onions seem distinct from red, white or yellow onions, they are actually immature shoots of various onion varieties. According to WikiHow, planting young onion bulbs can provide gardeners with green onions throughout the growing season. Provide evenly-spaced bulbs with full sun and generous watering for flourishing green onions. Clip off tender tops to keep your kitchen stocked with herbs for cooking stir fries and soups, then harvest mature bulbs when a recipe calls for onions.
Radish Greens
The green tops of radishes are a milder alternative to radish bulbs while providing dishes with greater degrees of flavor than traditional Asian greens like bok choy. Start radishes from seed indoors and transfer during cool seasons. Radishes grow best in cool temperatures, according to DIYNetwork. These plants require even watering and even spacing. Thinning plants that are too close together doubles as an opportunity to harvest greens for Chinese recipes.
Fennel (Foeniculum vulgare)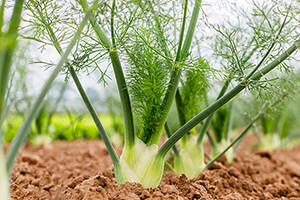 This sweet, aromatic herb is related to carrots, parsley and dill. According to Gardening Knowhow, fennel can be sown from seed or planted from dividing the bulb of a mature plant. Like parsley, fennel thrives in full sun and well-draining soil. This perennial blooms in its second year of growth. Its fruits, known as fennel seeds, can be dried and stored between growing seasons and used as a spice. Also, gardeners can harvest fennel bulbs at the end of the growing season as vegetables for sautéing or baking.
---
Help Growing Your Own Herbs For Cooking International Cuisine
Has this article inspired you in regards to growing herbs for cooking international cuisine? SummerWinds' nurseries carry a variety of herb seeds and starts for you to choose from. Our gardening experts can advise you on flavor profiles and alternate varieties as well as ideal growing conditions to bring global traditions into your garden. Visit one of our Bay Area locations to get started!
About SummerWinds Nursery: SummerWinds Garden Centers is a leading high-end retailer of garden and nursery products. Headquartered in Boise, Idaho, SummerWinds operates retail nurseries in the greater Phoenix, Arizona area, and in Silicon Valley, California, making it one of the largest independent retail nursery companies in the west. SummerWinds appeals to both the serious and casual gardeners, with a broad selection of premium gardening products and a friendly and knowledgeable staff.