How to Create an Outdoor Room in Your Backyard
Posted on: Monday, May 23, 2022
An outdoor room is a perfect place to lounge, especially in the summer! With the right tools and design layout, it's easy and affordable to make it happen. By creating an outdoor room, you'll make the most out of your backyard's space, no matter the size.
Why You Should Create Outdoor Rooms in Your Garden
Gardens are all about the plants, but your backyard is also an extension of your home! By creating outdoor rooms, you can designate specific parts of your yard for different purposes, just like the rooms in your home. Surrounding those rooms with some gorgeous plants will add structure and bring the entire space to life.
You can do as much or as little as you'd like to create an outdoor room in your garden; you can plop a chair in the corner of your garden full of rose bushes or add a gazebo with trellises covered in vines with lovely garden furniture underneath it! Whatever you choose, if you integrate plants into your design, you'll reap all the benefits of outdoor rooms without sacrificing your garden.

Trees for Shade and Privacy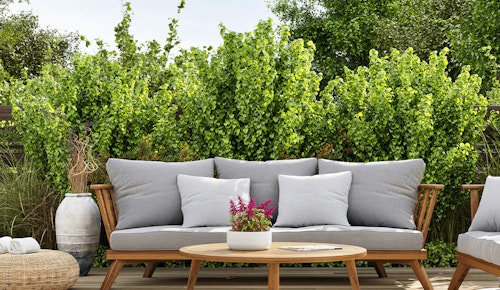 Blooming trees in the spring and summer are stunning and can providesome privacy while you're relaxing; they don't have to be very tall to do so! Even ornamental trees, such as Japanese Maples, can offer sightline privacy, perfect for keeping peering neighbors out of your business. Plus, with temperatures rising in the summer months, you'll need space to cool down. A shady reading nook in your backyard is the perfect place to enjoy some iced tea and relax; you won't get a sunburn, and your yard will look fabulous.
Create Walls for Designated Areas
Building walls for your outdoor room creates a sense of privacy and intimacy. In addition, these walls can separate the space from the rest of the backyard if you want a secluded space to enjoy. You can build divisions out of trellises, fences, hedges, or tall ornamental grass. If you choose to install hardscaping, you can add flattering vines to decorate the natural wood with a finishing touch.
Incorporating plants into your dividers will keep the cozy garden feel while still creating a space to read, entertain, or relax. Consider your views when you are designing your outdoor rooms so that you have privacy where you want it without losing beautiful garden views.
.
Outdoor Partial Shelters
Gazebos are a fantastic way to create a covered seating area. A wooden gazebo looks rustic and cottage-like if you want to add some aesthetic value to your home. In addition, you can buy DIY gazebo sets manufactured from comparable materials for a more budget-friendly solution that you can easily put together.
Pergolas are another excellent option for providing shade, and they look fabulous covered in vines and surrounded by plants—it becomes part of the landscape! You can add lanterns or twinkle lights for added flair to enjoy spending late nights in your garden room!
Add some deck furniture under these outdoor shelters and you've got the perfect reading nook for cool mornings with a cup of coffee. Autumn is here, and we're eager to decorate our homes and gardens to complement the breathtaking outdoor scenery. Try adding outdoor throw pillows to your deck furniture, or sprucing up your outdoor planters with a coat of paint.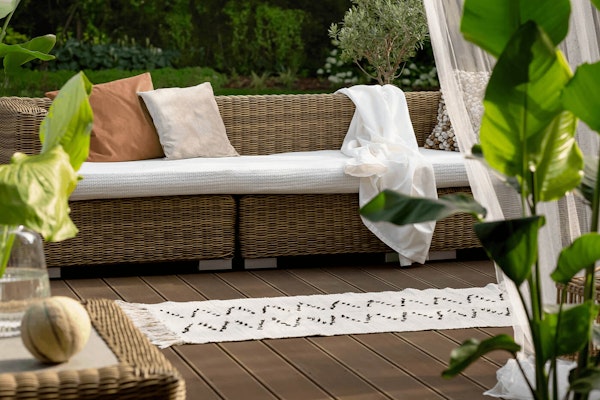 Outdoor Flooring
Creating a floor for the patio table is perfect for creating an outdoor dining area. For example, pavers are fantastic for backyard dinner entertainment. They prevent the legs of your chairs and tables from sinking into the soil, and they're easy to clean if you drop food! Plus, a designated area will add some structure to your yard so that it doesn't look like you just set up your table and chairs in the middle of the yard. Be sure to add some shade so that your guests don't overheat, and you'll be ready for summer entertaining in no time!
If you're looking for plants to decorate your outdoor garden room, visit Summer Winds Nursery California! We're happy to help you create your outdoor dream space today.