Fiskars Garden Tools
Fiskars Pruners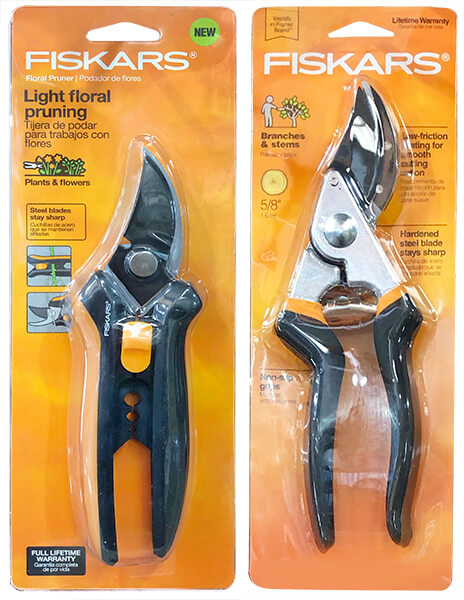 We are excited to be able to offer Fiskars. They utilize a holistic philosophy is called Advanced Human Engineering, and it results in tools that outperform the competition and feel like a natural extension of your body. Award-winning tools with a Full lifetime warranty
Choose From:
PowerGear® 2 Pruner - enhanced to maximize leverage where you need it most, so you can power through stems and light branches
Forged Pruner with Angled Head - An ultra-durable, ergonomic design provides comfortable use when cutting stems and branches
Floral Pruner - Ambidextrous handle design with softgrip handles for increased comfort.
Micro-Tip® Pruning Shears - Ambidextrous design with micro tip stainless steel blades and a safe blade cover included.
Vegetable Shears - Ideal for making healthy cuts on a variety of herbs and cutting a wide range of vegetables in the garden.
Lopper - Make clean cuts into branches up to 1 1/2 inch thick with a sharp, durable lopper.
Power-Lever® Hedge Shears - An innovative design gives you up to 2x more power on every cut, plus self-sharpening, serrated blades.
Power Tooth® Folding Saw - a great combination of cutting power and comfort, whether you're cutting overhand or making undercuts.
Hori Hori Knife with Sheath - designed to complete an array of jobs in and around your garden, our rugged Hori Hori knife is as versatile as it is durable.